YouTuber Jaclyn Hill Reveals Tragic Loss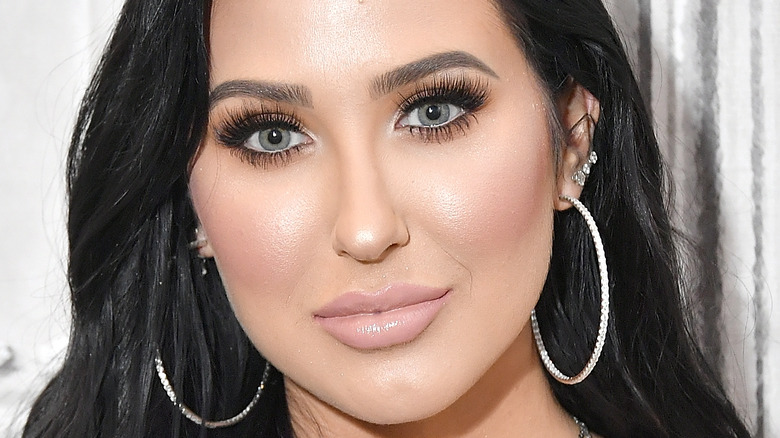 Michael Loccisano/Getty Images
Jaclyn Hill has earned quite the reputation for being an open book, as she never holds back on sharing bits of her life with fans. A quick glimpse at her Instagram would give you an idea of what the famous YouTuber is up to per time. Whether it is promoting her million-dollar makeup business or gushing about her seemingly blissful love life, Hill has more than enough to keep you interested in her comings and goings.
Speaking of her love life, the beauty influencer is currently engaged to food vlogger Jordan Farnum, who popped the big question with a big diamond ring in December 2021, per Insider. The pair started dating in 2018 and if her frequent social media posts are anything to go by, Hill and Farnum are still very much in love. "Happy Birthday to the most amazing man in the world @farnumgrindtime," Hill gushed on Instagram in March 2022. "I am blessed to be celebrating another year by your side! I could go on & on about how much I love this guy but I'm keeping it short so I can celebrate him today!"
But long before Farnum came into the picture was another man — a man Hill is currently mourning.
Jaclyn Hill will 'forever miss' her ex-husband
On August 11, Jaclyn Hill shared on Instagram that her ex-husband, Jon Hill, had died at the age of 33. "I was asked by Jon's family to post this next slide ..." she wrote on Instagram Stories (via Page Six). "It is with profound remorse and sorrow that we must report that our beloved Andrew Jonathan Hill passed away on Aug. 10, 2022."
One day after her announcement, Jaclyn was back on Instagram, this time penning the sweetest tribute to her late ex-husband. "I can't believe this day has actually come," the cosmetic mogul began. "I am so out of my mind right now, I don't know how I'm even going to type this. But I'm going to try." Jaclyn then went on to describe Jon as the "most kind and compassionate person," adding that while she is indeed heartbroken about his death, she is comforted that he is now truly free.
Though a cause of death is yet to be announced, Jon had previously struggled with substance abuse and addiction — something he once confirmed to Billboard to have "kicked off" when he was only 17. Jon and Jaclyn got married in 2009 and remained together for nine years before splitting in 2018. Despite the end of their marriage, however, Jon and Jaclyn remained cordial through the years.