The Truth About Bradley Cooper And Brad Pitt's Friendship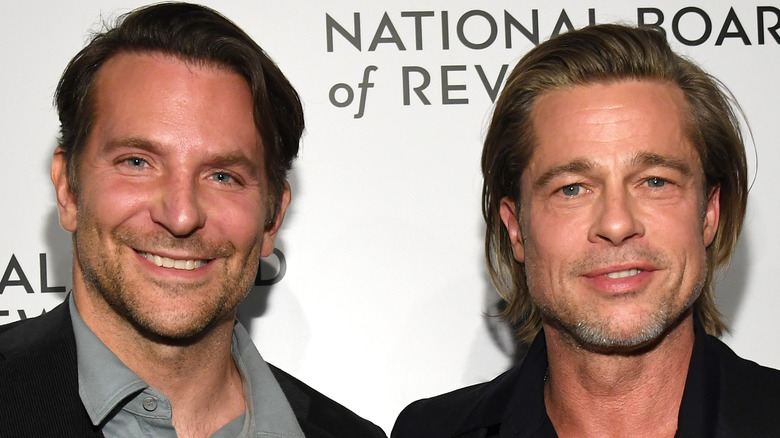 Kevin Mazur/Getty Images
The following article contains discussion of addiction.
Brad Pitt and Bradley Cooper have never worked together, but they do have quite a bit in common. First off, both stars have struggled with addiction. Pitt's alcoholism has undergone much public scrutiny as it supposedly played a big role in his complicated divorce from Angelina Jolie. Jolie and Pitt had been reportedly fighting over his drinking during the infamous plane incident of September 2016, Us Weekly reported. The situation escalated when their eldest child, Maddox, attempted to intervene, prompting the "Fight Club" star to "put his hands on" the then-teenager, The Cut detailed.
After Jolie filed divorce papers, Pitt embarked on his sobriety journey and began attending Alcoholic Anonymous meetings. "You had all these men sitting around being open and honest in a way I have never heard," he told The New York Times in 2019. According to a 2022 GQ profile, Pitt has been sober since 2016. However, the relationship with his six children has suffered amid he and Jolie's ongoing custody battle (as of this writing).
Cooper, on the other hand, experienced addiction in a less public manner. The "A Star Is Born" actor's wake-up call happened in July 2004, before Cooper skyrocketed to fame as the lead in the 2009 comedy "The Hangover," he said on Will Arnett's podcast "Smartless" (via CNN). His sobriety journey ultimately began at 29, according to USA Today. Their sobriety journeys have brought Pitt and Cooper together, who find all kinds of ways to have fun without alcohol involved. 
Bradley Cooper helped Brad Pitt in his sobriety journey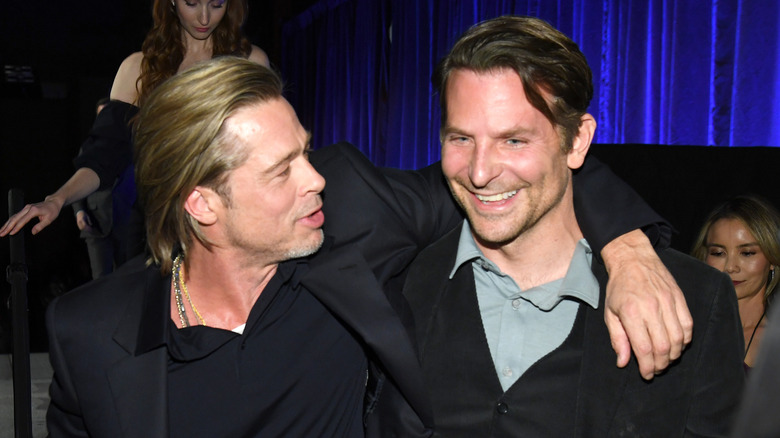 Kevin Mazur/Getty Images
Bradley Cooper played a huge role in Brad Pitt's sobriety journey — and he isn't afraid to give credit where credit is due. "I got sober because of this guy, and every day has been happier ever since," Pitt said in his acceptance speech after winning Best Supporting Actor from the National Board of Review for "Once Upon a Time in Hollywood" in 2020, which was presented by Cooper. "I love you and I thank you."
Presenting the winner, Cooper described how, despite being friends with Pitt and regularly hanging out with him, he is still taken by the star's magnetic presence. He told the audience about a time Pitt left his jacket at an event they had attended together, so Cooper kept it to give it back to him later. "I'm not going lie to you. I tried it on," he said, drawing laughter from the crowd. "And you know what, it felt really good ... that is the power of Brad Pitt."
A bromance between two of Hollywood's most handsome blondes has fans begging for them to share the screen at some point. Some have even crafted posters reimagining them as the leads in classics, like "Wedding Crashers," "Lethal Weapon 3" and even a male version of "Thelma & Louise," which Access showed to him 2020. "Brad and Bradley? Bradley and Brad?" he mused. Pitt seems to have a better idea. "I think we need an original, though," he joked.
Brad Pitt and Bradley Cooper have been spotted together for years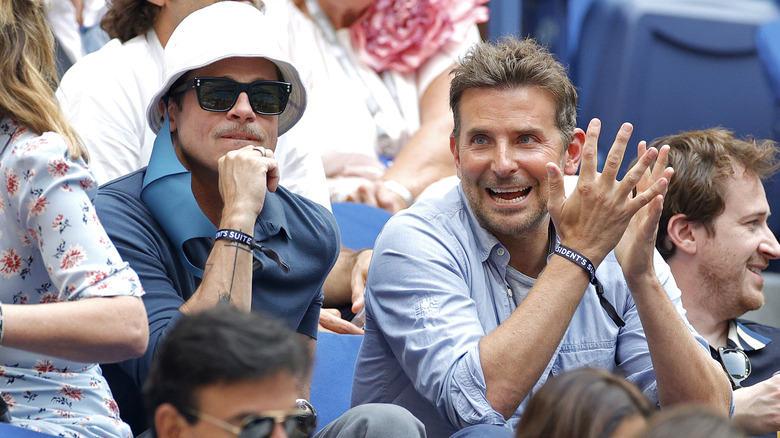 Sarah Stier/Getty Images
Bradley Cooper and Brad Pitt's relationship made headlines in September 2021 when they were spotted watching the men's singles final match at the U.S. Open (pictured above), Harper's Bazaar reported. While they had their eyes intent on the match, they used the time between sets to chat and share a few laughs. That was far from the first time they hung out in public, though. In August 2019, Pitt took his buddy to the Los Angeles Philharmonic to distract Cooper from his split from Irina Shayk, according to The U.K. Sun. 
In June 2017, Pitt and Cooper were also together at Glastonbury Festival, ET noted. Cooper even made a special appearance when local musician Chris Simmons attempted to snap a selfie with Pitt. "When you get your photo with Brad Pitt photobombed by Bradley Cooper!" he captioned an Instagram post. Pitt and Cooper have been spotted hanging out at least since 2015, when the "Ocean's Eleven" actor flew to London in the summer to watch Cooper perform in the Broadway revival of "The Elephant Man," per JustJared. The two later grabbed some grub at Kitty Fisher.
As two celebrities who forgo alcohol completely, Cooper and Pitt know they can turn to each other to have some good, clean fun without external influence. "They can't go out partying like they used to back in the day because they've quit boozing," a source told The Sun.
If you or anyone you know is struggling with addiction issues, help is available. Visit the Substance Abuse and Mental Health Services Administration website or contact SAMHSA's National Helpline at 1-800-662-HELP (4357).