The Lavish Way Cristiano Ronaldo Romanced Georgina Rodriguez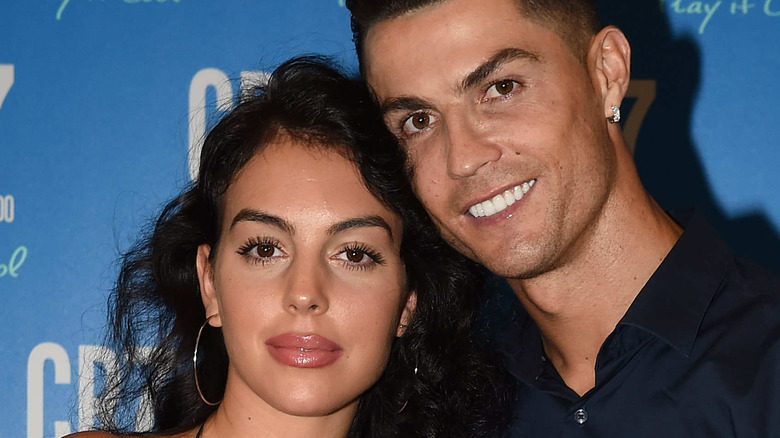 Tullio M. Puglia/Getty Images
Cristiano Ronaldo is synonymous with sports and culture in much the same way as superstar David Beckham. In 2020, he became the first soccer player to earn a billion dollars, cementing his place in sporting history. Best known for his time playing with teams like Manchester United and Real Madrid, the Portuguese goal-machine has won multiple titles in Europe's top divisions, and has been awarded the Ballon d'Or (the most prestigious individual honor in the soccer world) on five separate occasions.
Naturally, Ronaldo's love life has generated almost as much interest as his soccer career. According to The Sun, he once was something of a playboy, and dated the likes of Irina Shayk, Kim Kardashian, and Paris Hilton. As of 2016 however, he's strictly a one-woman man. That was when Ronaldo first met Georgina Rodriguez, with whom he shares two children: daughters Alana Martina and Bella Esmeralda. Due to interest swirling around Ronaldo's long-time partner, Netflix launched the reality show, "I Am Georgina," which explores Rodriguez's glamorous daily life, paying close attention to the ways in which her life changed when she met Ronaldo, per The Independent. Billing her as a "mom, influencer, and businesswoman," Netflix peels back the curtain on her life. In the documentary, Rodriguez shares previously little-known anecdotes about her life, such as how Ronaldo first met and romanced her.
Cristiano Ronaldo picked up Georgina Rodriguez in flashy sports cars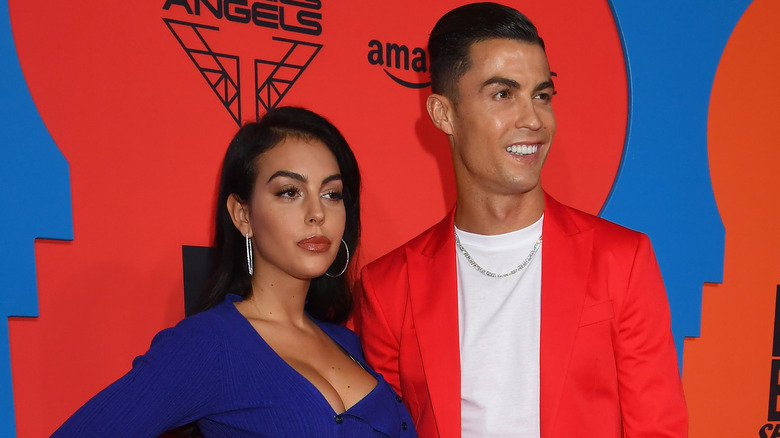 Dave Hogan/mtv 2019/Getty Images
In "I Am Georgina," Georgina Rodriguez details the start of her unlikely relationship with megastar Cristiano Ronaldo. At the time, she was working as a Gucci store assistant when her boss asked her to stay late for a high-profile client, according to Soccer Stories. Though Ronaldo wasn't shopping for love, he immediately singled out Rodriguez as a "very interesting girl" — thus changing her whole world overnight. She shared in "I Am Georgina" (via People), "[Ronaldo] would come [to pick me up after work] ... I remember once, in a Bugatti. My coworkers went crazy. They get there on the bus, and I would leave in a Bugatti. People couldn't believe it," she said.
Glitz and glam aside, Ronaldo and Rodriguez were instantly drawn to each other. "It was funny because I would wait for her outside the store in these flashy cars I have," Ronaldo shared on the show. "We would go home and there we would go into our own world."
Of course, Ronaldo also romanced Rodriguez with his good looks and charm. "The day I met Cristiano ... I stopped and started to feel ... butterflies in my stomach," Rodriguez revealed in "I Am Georgina" (via Soccer Stories). The soccer star felt similarly. "It stuck in my head and it was a 'click' moment," he said, reflecting on his first meeting with Rodriguez. "I didn't expect ...[that] she [would become] the woman of my life," he added (via People).
Cristiano Ronaldo changed Georgina Rodriguez's life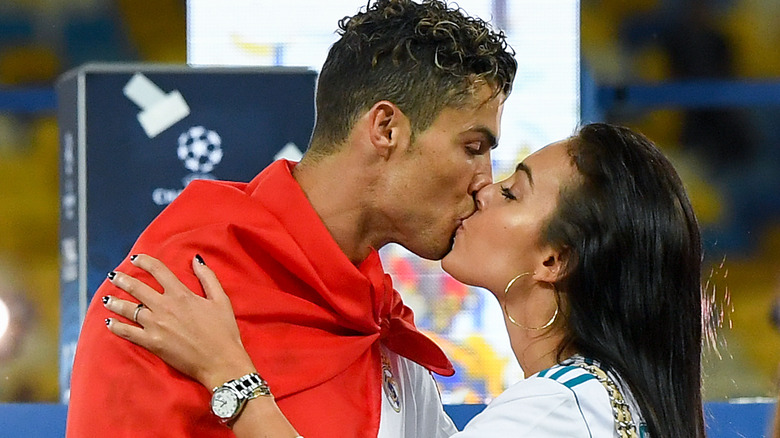 David Ramos/Getty Images
Cristiano Ronaldo and Georgina Rodriguez share an epic love story, but did the Manchester United player's wealth and fame play a role in winning over the Argentine-born model? According to The Sun, Rodriguez grew up in a small town in northern Spain, though ambition propelled her to pursue new opportunities. As a child, her parents couldn't afford to send her to ballet school. Rodriguez therefore did everything in her power to provide for herself, including becoming an au pair in England, in order to learn English and eventually land a job in luxury retail. In "I Am Georgina" (via the Daily Mail), she said, "Thanks to love, my life is now a dream. Nothing in life has come easy. I know what it is to have nothing and to have everything."
As a result of launching her modeling career, Rodriguez's relationship with Ronaldo has rocketed her net worth to $10 million, per Celebrity Net Worth. She has appeared on the cover of high-fashion magazines like Harper's Bazaar Spain, VIP, and Diva E Donna, and that's just the tip of the iceberg. The model's 39 million Instagram followers (and counting) continually help land her new, lucrative sponsorships and brand partnerships.
Today, Rodriguez's elevated status in life has only cemented her empathy for the less fortunate. "I empathize with people a lot due to my humble origins," she told InStyle Magazine (via Lecturas). "The universe has rewarded me with the greatest thing: a beautiful family."