How Many Times Has Johnny Depp Been Married?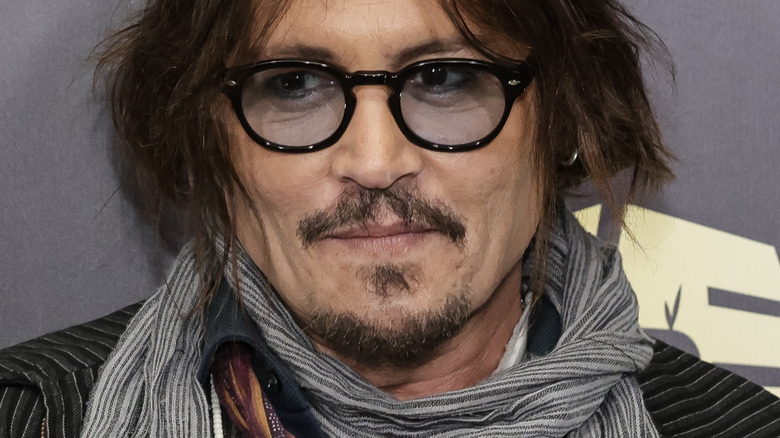 Srdjan Stevanovic/Getty Images
Johnny Depp's personal life has become a topic of tabloid fodder in recent years. In June, the actor was named the victor of a heavily publicized defamation trial against his ex-wife, Amber Heard. The case saw the "Pirates of the Caribbean" star sue Heard after she wrote an op-ed in the Washington Post in which she recalled alleged abuse at the hands of an unnamed ex. As a result of the trial, Depp was awarded $10.35 million in damages, per TMZ.
Heard's legal team has since filed an appeal, suggesting in a statement to USA Today, that the "Aquaman" actor was denied a fair trial. "We believe the court made errors that prevented a just and fair verdict consistent with the First Amendment," the statement read. It continued, "We realize today's filing will ignite the Twitter bonfires, there are steps we need to take to ensure both fairness and justice."
And while Depp's relationship with Heard may be one of his most tumultuous to date, the actor has been married before.
Johnny Depp was married to Lori Anne Allison
Johnny Depp has had a storied love life, as the actor has been previously linked to 90s stars like Kate Moss and Winona Ryder. However, long before Depp's acting career took off, he was married to makeup artist Lori Anne Allison. According to the Mirror, the pair tied the knot in a small ceremony in 1983, before moving to California. Per the outlet, Allison helped Depp get his first big break after introducing him to Nicolas Cage.
In a 2004 interview with Playboy, Depp detailed how the chance meeting led to his starring role in "Nightmare on Elm Street." "I was literally filling out job applications at the same time, any kind of job," Depp recounted. "Nic Cage said, 'You should try being an actor. Maybe you are one and don't know it.'" Depp has been a prominent fixture in Hollywood ever since.
However, as Depp's career was taking off, his marriage was dissolving and he split from Allison in 1985. Despite the end of their romantic relationship, the pair seemed to have maintained a healthy friendship throughout the years. Allison even came to Depp's defense in 2016 following Amber Heard's initial claims of abuse. She told TMZ that the actor was a "soft person" and had never displayed signs of aggression during their marriage.
Depp was also in a relationship with French singer Vanessa Paradis from 1998 until 2002 (per Page Six). They have two children together, Lilly-Rose and Jack, but never tied the knot.
Johnny Depp's marriage to Amber Heard was also brief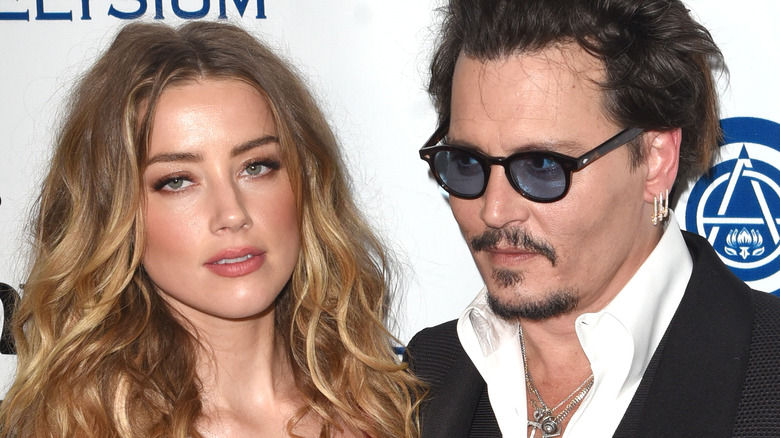 C Flanigan/Getty Images
Although it seems as if the saga between Johnny Depp and Amber Heard has lasted a lifetime, the pair's romantic relationship was much shorter than some might expect. During their messy defamation trial, Depp recalled meeting his ex-wife on the set of their 2011 film, "The Rum Diary." "I think there was something in the kiss in the shower that was real," Depp testified. He went on to explain that the pair did not begin their romantic venture until some time later, as both were involved in other relationships at the time.
Depp has previously opened up about his once-happy romance with Heard. At the 2013 Santa Barbara International Film Festival, the actor revealed that he realized he was falling for Heard when they began the film's press tour. "We tracked each other down. Actually, incidentally, it was amazing," he said (via People). The pair eventually split from their respective partners and made their relationship public. Depp and Heard got married in 2015 but divorced nearly two years later.