Here's What Mila Kunis Really Looks Like Without Makeup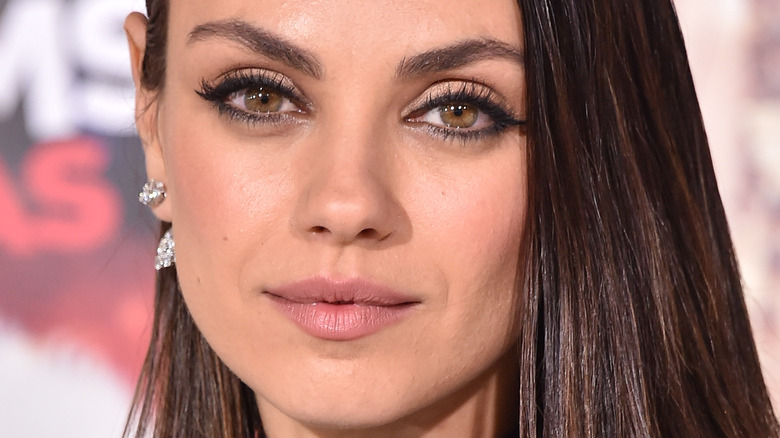 DFree/Shutterstock
Over the years, Mila Kunis has been praised for her comedic charm and distinctive speaking voice in popular television shows and movies. Playing a range of characters, she's also shown off an array of looks. And though she typically kept things laid-back in the beauty department for the sitcom "That '70s Show" and the romantic comedy "Friends with Benefits," many of her other roles have featured notable makeup designs.
When a photo revealed Kunis' bold makeup look in the 2015 film "Jupiter Ascending," makeup fanatics collectively dropped their jaws. In addition to her fancy flower-decorated headpiece, Kunis wore heavy, red eyeshadow and glossy, magenta lipstick on the character's wedding day, per Cosmopolitan. Back in 2013, Kunis went even further, working with special effects makeup artists for her embodiment of Theodora in "Oz the Great and Powerful." In a transformation video for Make-Up Artist Magazine, the star eventually looked unrecognizable with green skin and altered features.
Fans may assume Kunis' experiences with makeup apply to her everyday life, but the actor is the first to point out the differences between an on-screen career and an off-screen routine. For the "Family Guy" star, going sans makeup is pretty standard for an ordinary Monday — but that doesn't mean Kunis has tossed her products aside altogether.
Mila Kunis admitted why she doesn't wear makeup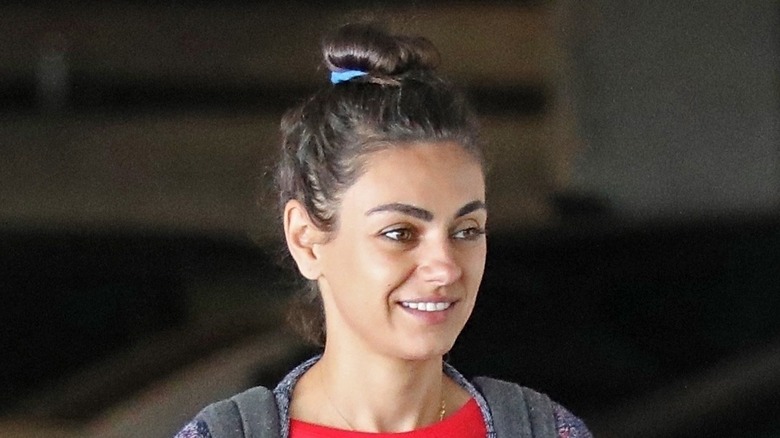 BACKGRID
On a variety of occasions, Mila Kunis has been spotted without makeup. In December 2012, she appeared makeup-free following a massage session in Studio City, California, per E! News, and in 2016, the actor was photographed with very minimal makeup for Glamour Magazine. But this wasn't a particularly new experience for Kunis, who said, "I don't wear makeup. I don't wash my hair every day. It's not something that I associate with myself." But according to her, there's no shame in opting for a full face. She continued, "I commend women who wake up 30, 40 minutes early to put on eyeliner. I think it's ­beautiful. I'm just not that person."
But Kunis did spill one reason why she doesn't wear makeup on a daily basis. In 2014, she told Harper's Bazaar, "I think because I have to do it everyday for work, when I don't work I get out of the shower I don't do anything to it." And Kunis doesn't want her pictures dramatically photoshopped either. She told Glamour, "I hate it. There was a company that I did a photo shoot for once that manipulated the photo so much, I was like, 'That's not even me.' Like, what's the point?" However, Kunis is not opposed to a little finessing on camera. She explained, "Now, do I sometimes want them to depuff my eyes? Help me out with a little bit of lighting."
Mila Kunis is a fan of these makeup products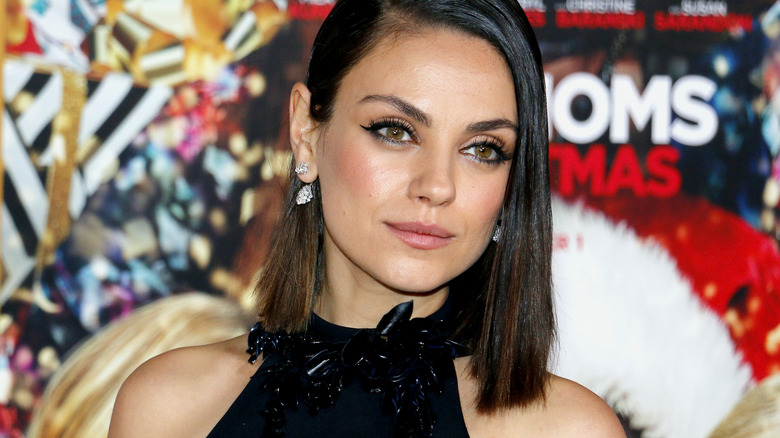 Tinseltown/Shutterstock
Though Mila Kunis typically doesn't wear makeup in her daily life, she does have a few product preferences. Her trick for getting rid of tired eyes? Putting on mascara. And she loves contouring. "I think contouring changes the whole face. Put on a little blush and a little contouring and call it a day," she told Harper's Bazaar. Speaking to Allure, Kunis revealed that when it comes to beauty, she reaches for perfume, mascara, and lip balm. But in her everyday makeup routine, it's a thumbs down for eyeshadow and lipstick. She occasionally wears eyeliner, explaining, "If I wore eyeliner on my bottom lashes in L.A. at 1 in the afternoon, I would look a little crazy, because I have such dark features anyway."
Ironically, the often makeup-free Kunis has inspired fans with her signature red-carpet makeup looks, including heavy usage of eyeliner. A Refinery29 piece showed photos of her iconic smokey cat-eye, offering tips on how to achieve the look at home. And of course, plenty of online influencers have posted makeup tutorials transforming into the striking star. Popular influencer and makeup artist Eman shared a YouTube video on achieving Kunis' smokey eyes, a tutorial many subscribers had requested. She said, "[Kunis] has the perfect eyes for this look because her eyes are so big and the color is gorgeous." Whether she's embellishing her fierce eyes or ditching the eyeliner, Kunis is a radiant beauty.