Why Jason Momoa Doesn't Want His Kids To Follow In His Footsteps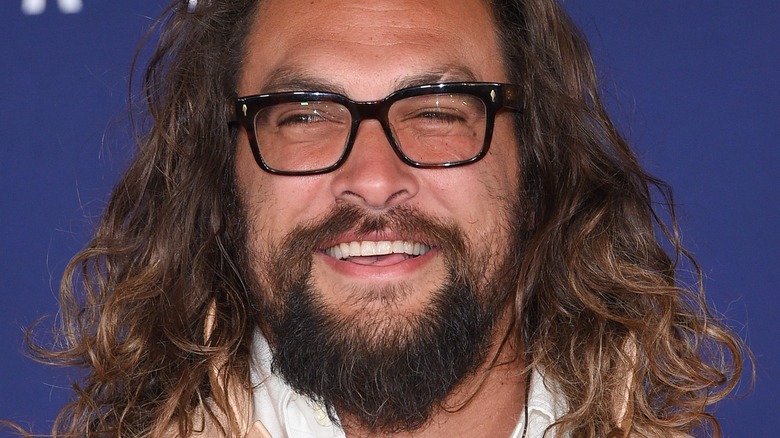 DFree/Shutterstock
Jason Momoa has come a long, long way since he made his foray into acting as Jason Ioane in the 1999 series "Baywatch: Hawaii." With his hunky physique, his long wavy hair, and his signature eyebrow slit, the Hawaii-born actor has become a fixture in Hollywood thanks to his notable roles in "Game of Thrones," "Aquaman," "Justice League," and "Dune." Despite hitting a rough patch in his career after his memorable stint in HBO's hit show (which left him and his family "starving", per Entertainment Weekly), Momoa is now one of the most successful and highest-paid stars in the 'biz, with an estimated net worth of a whopping $25 million, per Celebrity Net Worth.
But even as he found success in his career as an actor, Momoa said that he would not want any of his children to also catch the acting bug and follow in his footsteps. In his interview with Entertainment Tonight in 2021, the "Sweet Girl" star said that he is not a huge fan of the idea of his children Lola and Nakoa-Wolf also getting into showbiz. "I don't know. ... I love storytelling, I love theatrical things, I like directing and filmmaking, but I just want them to, you know, really to go for other things," he said, adding, "I don't know. I'll try my damnedest to keep 'em out of it." Okay, but why?  
Jason Momoa wants his kids to take a different path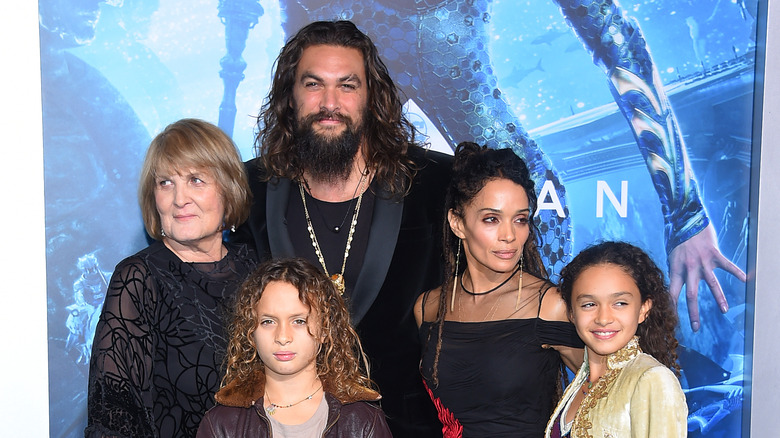 DFree/Shutterstock
Hollywood, for all its glitz and glamor, can be a tough and unforgiving industry, and only those who are strong enough to handle the crushing pressure would last. Jason Momoa, in his 2021 interview with ET, said this is exactly why he doesn't want his kids to follow in his footsteps and join Tinseltown — even though one of them has already expressed interest. "I'm not a fan," the actor, who shares his kids Lola and Nakoa-Wolf with his former wife Lisa Bonet, said. "I don't want them to."
Acting, he explained, is a rewarding but very demanding job, and the stress it entails is something that he wouldn't want for his children to ever go through. "It's very hard on people and I don't want them to have that pressure," he said. "I'm tough, I can handle it, but I wouldn't want to put someone I love [through] that." Momoa, however, said that he would not get in the way if one or both of his kids turn out to be passionate about the craft like him. 
Notably, Momoa isn't the only celebrity who has expressed his disapproval of his children going to Hollywood. Stars such as Johnny Depp, Matt Damon, Brooke Shields, and Britney Spears have also argued against their kids following in their footsteps, with the pop superstar telling Cosmopolitan in 2010 (via HuffPost), "If my sons told me they wanted to be in the entertainment business, I'd lock them in their rooms until they turned 30." 
Jason Momoa is a strict father
It wouldn't be much of a surprise to anyone, however, if Jason Momoa and Lisa Bonet's kids would follow in their tracks — after all they practically grew up in the spotlight. In addition to visiting their father on-set and meeting their idols, Lola and Nakoa-Wolf have been tagging along with their parents to red carpet events, including the "No Time to Die" world premiere in London and "The Batman" premiere in New York just this March. Although, per Momoa, they're not allowed to interact with fans and the press just yet. "Mahalo to the fans and press for being generous and giving us space for the children," wrote the actor in his March 4 Instagram post. "It's hard enough separating in the public eye. We appreciate the continued privacy through these times."
Momoa's strict and protective parenting is due in large part to his own upbringing, which he talked about on "The Kelly Clarkson Show" in 2019 while promoting his film "Aquaman." "I'm definitely strict [as a father]. I was raised by a very strong single mother who's German, so..." he said. And unfortunately for future suitors of her daughter Lola, this means bad news. "I feel sorry for [them]," he said. "I mean, it's gonna be fun when the boy does arrive. All those weapons, you know what I mean?" Though if it were up to him, Momoa said he would like for Lola to steer clear of boys forever. "She is gonna be a nun!" he exclaimed. "Lola is a nun, she is a saint!" Oh, dads!