How Gwyneth Paltrow Really Felt About Working With Johnny Depp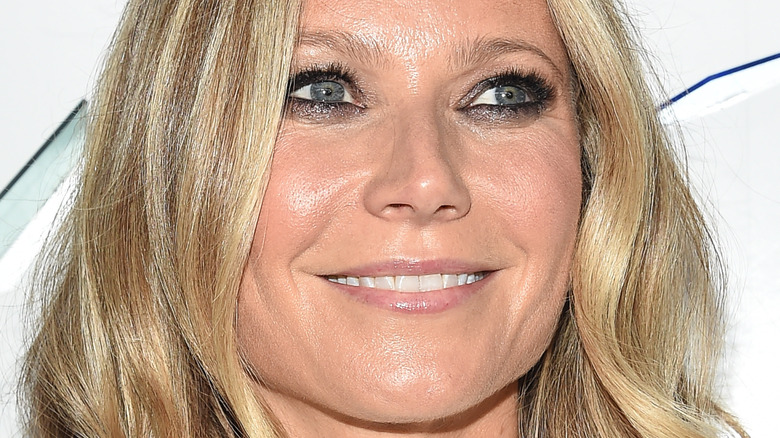 DFree/Shutterstock
Despite ranking among the "It" celebs of the '90s, Johnny Depp and Gwyneth Paltrow never had the opportunity to work side by side until 2013, when the A-listers began filming the 2015 comedy "Mortdecai," according to Collider. The two weren't complete strangers, but their previous interactions had been limited to small conversations at big Hollywood events. Paltrow and Depp first met around 2010 at an after-party in London, they recalled on "The Ellen DeGeneres Show" in 2015. He immediately made an impression on her for all the expected reasons. "I thought I was, like, sort of cool until I met him," she laughed. "And then he was so cool and rolling cigarettes and stuff. And I was like, 'Wow, I'm a total nerdy mom.'"
Paltrow came onto David Koepp's project with a lot of expectations. "I'd always wanted to work with Johnny Depp," Paltrow revealed on "Good Morning America" in January 2015. "Mortdecai" was poorly received in the U.S., nationally grossing under $7.7 million against a $60 million budget, according to Box Office Mojo. But viewers were unlikely bothered by the onscreen husband and wife pairing. "Depp and Paltrow make a sleek screen couple," Variety's Guy Lodge argued, while noting their interactions could've been sexier.
It sounds like Paltrow's admiration for the "Pirates of the Caribbean" star didn't reflect on the final product. Could it be because the experience of working with Depp failed to meet her expectations? Well, one of his personality traits certainly made her life more complicated.
Johnny Depp was often late — very late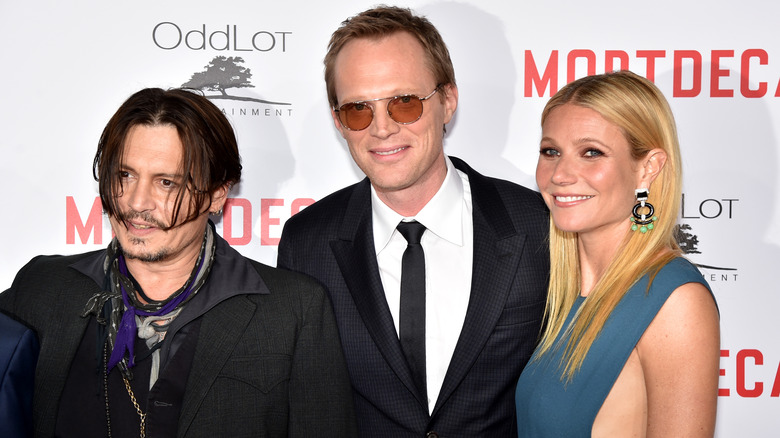 Kevin Winter/Getty Images
Evidently, Johnny Depp isn't the most punctual of co-workers. "You know how your alarm clock might go off and you might say, 'Oh, it's 8 a.m., I need to get up and go to work'?" Gwyneth Paltrow said on "The Ellen DeGeneres Show" in a joint interview with Depp. "I think when Johnny's goes off, he's like, 'Oh, I need to sleep for six more hours.'" Depp didn't deny it, laughing along with the crowd. "He's too cool to follow a regular 24-hour schedule like we do," Paltrow laughed. The problem, he explained, is that his biological clock just runs differently from most people's. "I mean, my on time is just slightly late, that's all," he said.
This isn't the first time co-workers have pointed out Depp's propensity for tardiness. During the filming of "Pirates of the Caribbean: Dead Men Tell No Tales," crew members and extras often had to wait hours for Depp to show up, forcing them to come up with ways to work around it, The Hollywood Reporter noted in 2017. But there doesn't seem to be hard feelings. "He's not a morning person," one extra brushed off.
The same is true for Paltrow. Her overall experience of working with Depp was positive. "He's a true genius and when he works, he envisions the whole thing," she said on "Good Morning America." She also had nothing but praise for his behind-the-scenes behavior. "He's the funniest person I've ever worked with," she told DeGeneres, later adding: "He's sort of perfect." 
Gwyneth Paltrow turned to Johnny Depp for marital advice
Gwyneth Paltrow and Chris Martin's "conscious uncoupling" was formally announced in March 2014, but the Oscar winner and the Coldplay frontman's marriage had been on the rocks since 2012, according to Us Weekly. During that time, Paltrow was working alongside Johnny Depp in "Mortdecai." She thought he was a good person to reach out to in the early days of trouble, as Depp had split from Vanessa Paradis, his partner of 14 years, around the same time. "Nobody knew what Chris and I had been going through, so I didn't say, 'Hey, this is what's happening,'" Paltrow told Marie Claire Australia at the time, via Grazia.
Paltrow was more interested in gathering information about how Depp's children, Lily-Rose and Jack, coped after his and Paradis' separation. "I did ask him mostly children-centric questions, like, 'How is it on them? How did you do it?'" she detailed. Paltrow didn't delve into his response. But amid their separation, Depp and Paradis opted to take the honesty approach. "We were just very truthful with them and they were just incredibly understanding, incredibly accepting," Depp said on "CBS This Morning" in 2013, per Us Weekly.
On "The Goop Podcast," Paltrow explained that in the end, working through her emotions was what ended up helping Apple and Moses amid their parents' divorce. "The closer I got to myself, the more you give the kids a space to have their own feelings," she said, via Hello!.