The Medical Condition That Cyndi Lauper Lives With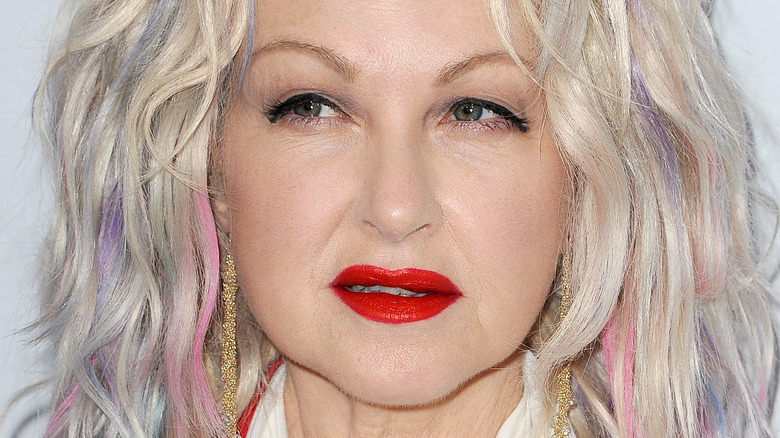 Tinseltown/Shutterstock
Besides being a legendary artist, Cyndi Lauper is known for her work as an activist — particularly, as a longtime champion and ally of the LGBTQ+ community. Throughout her career, the singer behind the hits "Girls Just Want To Have Fun," "Time After Time," and "True Colors" has used her platform to fight for gay rights and help end homelessness among LGBTQ+ youth in America through her foundation, True Colors Fund. In fact, for her advocacy work, Lauper was bestowed the Logo Trailblazer Honor in 2017, which is given to pioneers of the LGBTQ+ rights movement, per Logo TV.
"I've been involved because if it's your friends and family, how long are you supposed to stand by and watch their civil rights be stripped?" she told Billboard in 2017. "I decided to do what I always do. If you're Italian, you always do that. You stand up for your own. You don't keep your mouth shut; you stand up. You tell your story and you allow other people to tell their story."
But, aside from gay rights advocacy, did you know that Lauper has also been lending her voice to another cause that is just as close to her heart? And this time, it involves her own physical health. 
Cyndi Lauper suffers from this chronic medical condition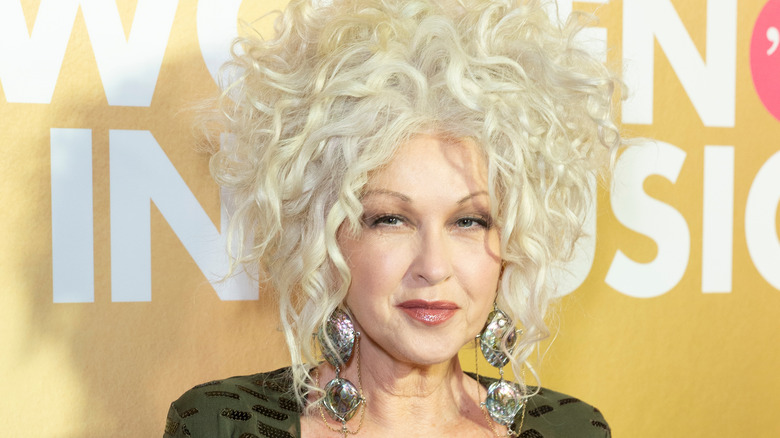 lev radin/Shutterstock
There are more than 125 million people worldwide who have been diagnosed with psoriasis, according to the National Psoriasis Foundation, and one of them happens to be Cyndi Lauper. According to the foundation, psoriasis is a disease that's characterized by the speeding up of skin cell growth due to an overactive immune system. It causes raised plaques and scales on the skin that may "itch, burn, and sting", and are most commonly found on the "elbows, knees, and scalp." People of all ages, races, and sexes can get this disease, and approximately 3% of the U.S. population is affected.
Lauper first started having symptoms of psoriasis on her scalp in 2010. "I thought I just had a really bad bleach job," she told People. She was eventually diagnosed with the disease and her dermatologist prescribed a special shampoo. For two years, the "True Colors" singer was able to manage her psoriasis breakouts, until it suddenly "kicked into something crazy." "My whole entire body was covered in a rash and scaly skin. And then it just stared creeping up my neck," she said. "I felt swallowed by it."
Lauper said it got to a point where her skin was so inflamed that she was having chills all the time. "It was so bad, I felt like the Elephant Man," she added. Per Glamour, the likes of Kim Kardashian, LeAnn Rimes, and Cara Delevigne also suffer from psoriasis.
How Cyndi Lauper manages her psoriasis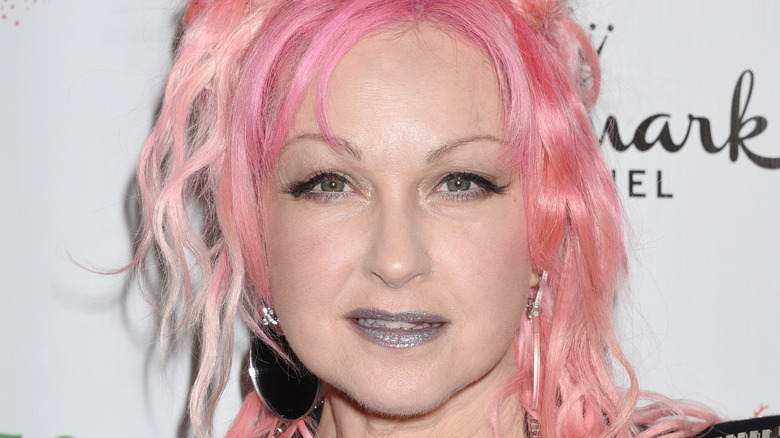 Ga Fullner/Shutterstock
It goes without saying that her psoriasis negatively affected Cyndi Lauper's career as a performer and a public figure. Speaking on "Psound Bytes," Lauper talked about some of the challenges she faced at work due to her autoimmune condition. "I had to put makeup on and change the kind of clothes I wore so that my psoriasis wouldn't show, and I had to do that while I was performing. And it made me uncomfortable," Lauper recalled. 
Fortunately, Lauper has learned how to manage her disease in the years since she was diagnosed. Per the American Academy of Dermatology Association, the singer-activist studied the Japanese technique reiki to help manage her stress, which is a common trigger for psoriasis. She also practices yoga and meditation, as well regular walks to keep her relaxed and grounded. To fellow psoriasis patients, Lauper also recommends making time for self-care, even if it's as simple as putting on a cream or taking a quick bath. "It's not a bad thing to take care of yourself," she said. "Make a little time for you."
Since her diagnosis, Lauper has also used her platform to bring more awareness to her skin condition. She has spoken with skin doctors and other people living with psoriasis, and starred in campaigns that aim to shed light and destigmatize psoriasis. "You don't have to suffer in silence or live in pain," said Lauper (via People). "It's not just a rash. It's a disease."