Inside Jamie Campbell Bower And Joseph Quinn's Real-Life Friendship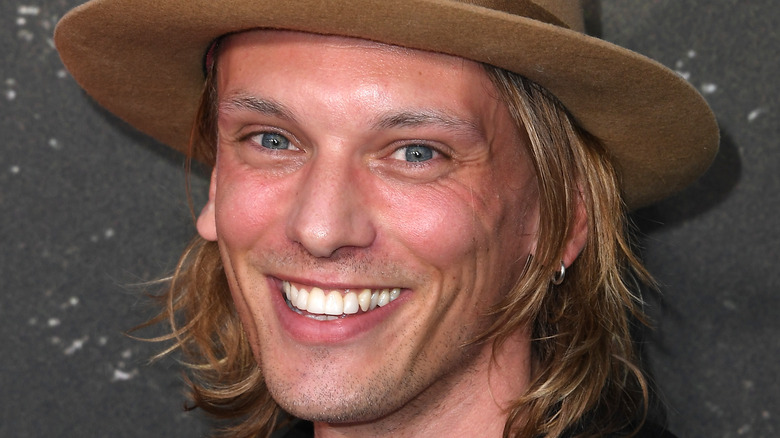 Steve Granitz/Getty Images
There is no doubt that "Stranger Things" will go down in history as one of the greatest series ever made. Jamie Campbell Bower and Joseph Quinn are rising stars who were first introduced in Season 4. Bower plays the role of Vecna — the monster terrorizing the city of Hawkins and Quinn is known for his portrayal of Eddie Munson, a larger-than-life high school student.
According to Variety, Season 4 of "Stranger Things" is Netflix's second series to hit over 1 billion hours in watch time and it's also the streaming platform's most famous English-language show. Although "Stranger Things" turned into a massive global phenomenon, the series almost didn't happen because networks weren't essentially interested. "The first week, I think, we had 15 pitches, and it was all passes," the Duffer Brothers said during an interview with The New York Times. "There was a moment where we're like, 'Oh, I think people aren't getting it.' And then the next week, offers started to come in, and luckily Netflix understood it right away." 
What also makes "Stranger Things" an epic show is the on-screen chemistry these characters have with each other. And, although Quinn's character may be focused on killing Vecna throughout the season, the pair actually has a really unique relationship when cameras aren't rolling. 
Jamie Campbell Bower and Joseph Quinn share a bromance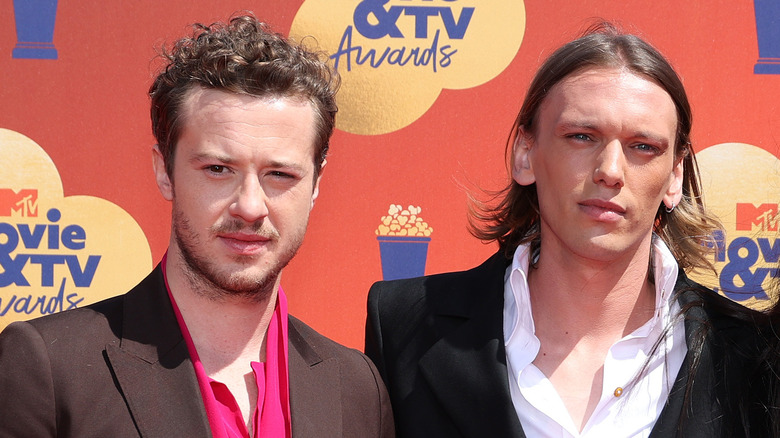 Rich Polk/Getty Images
Jamie Campbell Bower and Joseph Quinn being friends in real life is both contradicting and pretty amazing. Spoilers ahead. Although Vecna ended up killing Eddie Munson in Season 4 of "Stranger Things," the two seemingly share a lot of the same qualities and also developed a relationship beyond the show. "The bromance is very real. He's a great guy," Bower said during an interview with Vanity Fair. "I would relish the opportunity to work with him again. 
The dynamic duo are both English actors from London who were introduced as newcomers on Season 4, and according to Bower, Quinn helped calm his nerves during their first read-through. "I remember in the first break that we had, Joe and I went outside and had a cigarette and just propped each other up and gave each other love and support," Bower said.  "Everyone was very welcoming and very kind to us, but it's such a jarring experience to join any cast."
Although they were new to the series, fans resonated with both their characters, and luckily for them they were able to rise to stardom together. "I think I can speak for the both of us here, we relished you know that's a real blessing for us," Bower said during an interview with Hugo Gloss. "I think we both aren't used to it; it still feels very surreal," Quinn added (via Meaww). And, one thing about these two, they love giving each other compliments. 
Joseph Quinn thinks Jamie Campbell Bower is beautiful
Jamie Campbell Bower and Joseph Quinn can't get enough of each other. During an interview with Gil Do Vigor, the host asked the men who was the fun one in their friendship and the pair couldn't answer without complimenting each other. "Let's really break that down ... I think you're so fun," Quinn said. "That's very kind, I'm fun in a very spooky way," Bower responded.
Not only does Quinn think his dear friend is fun, but he's also in awe of his looks. During Elle's "Who Said That?" segment, Bower praised Quinn for his performance in one of his notable scenes. "It was beautiful said," the "Urban Myths" actor said. "Thank you, I think you're beautiful," Quinn quickly responded. And, that wasn't his first time he jokingly complimented his friend's appearance. Quinn joined co-stars Maya Hawke and Joe Keery for a fun game of "Kiss, Marry, Kill" and his three options were Murray Bauman, Victor Creel, and Vecna. After choosing to marry Murray and kill Creel, the host was left stunned about his kissing partner. "You're going to kiss Vecna? You're sure about that answer?" the interviewer asked. "Have you seen Jamie?" Quinn said without hesitation. 
Although everyone hates Vecna because he was responsible for Eddie Munson's death, it's good to see that Jamie Campbell Bower and Joseph Quinn were able to put their differences aside and create an undeniable bond.