James Tupper Shuts Down An Upsetting Rumor About His Ex Anne Heche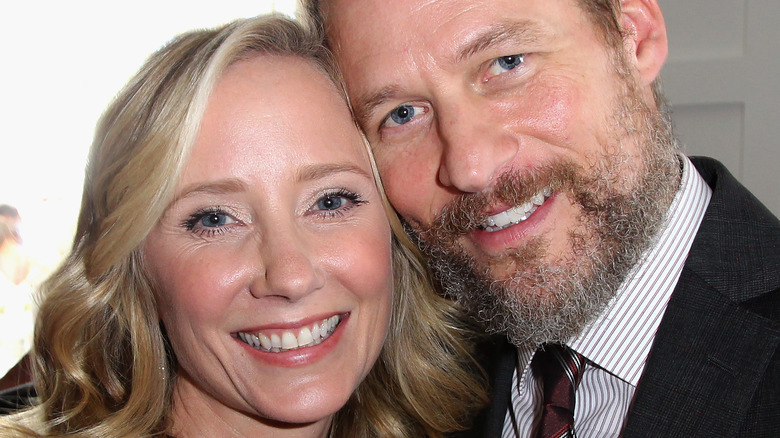 David Buchan/bafta La/Getty Images
We may receive a commission on purchases made from links.
Anne Heche and James Tupper fell for each other while working on the series "Men In Trees." Both actors had other partners at the time, and Tupper described the romance as "unexpected" when speaking to Access in 2007. "Out of our understanding that we want to live life the same way, have the same point of view on life, we just were lucky enough to fall in love," Heche said while describing their relationship that would last over a decade. Before working with the "Donnie Brasco" actor, Tupper read about his co-star's mercurial personality. "I'd heard a lot of things about Anne like everybody else and I came up here keeping my mind open," he told Access.
The couple never tied the knot, but they did develop a unique tradition that involved Tupper popping the question. "One of the really fun things we do is every year I ask Anne to marry me," the "Big Little Lies" actor told Cupid's Pulse in 2015. A couple years later, Heche confirmed the perpetual proposal. "Eternally engaged is fantastic," she told Closer Weekly in 2017 while discussing their relationship. Meanwhile, Tupper said he bought "a new ring" for each proposal.
In 2018, Heche and Tupper called it quits. Initially, they appeared on good terms, but by 2020, the formerly "eternally engaged" pair was then engaged in a bitter custody battle over their son, Atlas Heche Tupper, per Us Weekly. Despite the apparent bad blood, Tupper still had kinds words for Heche following her fatal car crash.
A former co-star defends Anne Heche and James Tupper agrees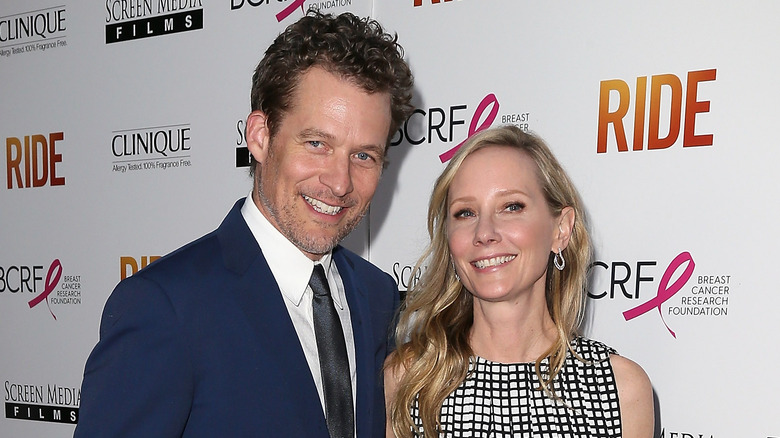 David Livingston/Getty Images
Shortly after Anne Heche's untimely death, actor Emily Bergl — who worked with Heche and James Tupper on the show "Men In Trees" — penned a lengthy, and fairly candid, Instagram tribute to the deceased actor. Bergl mentioned how she was often asked about "crazy Anne Heche" during interviews. "She elicited more curiosity than any other famous person I've ever worked with," the "Shameless" actor wrote on August 13 before heaping praise on her former co-star. "Anne was not only a genius, but one of the most astoundingly focused and prepared actors I've ever worked with," she added. After discussing the "Six Days Seven Nights" actor's many talents, Bergl mentioned the hardships Heche endured off-camera. "But despite a sometimes harrowing life, she was so much fun to be around," Bergl wrote.
The heartfelt tribute that dismissed claims of Heche's reportedly "crazy" behavior was noticed by Tupper who responded in the comment section. "Oh god thank you for writing this. Is all completely accurate and true. love you e," the "Revenge" star replied. After it was announced that Heche would not recover from her fiery car accident, Tupper posted is own subtle, but moving, tribute to his ex on Instagram.
Throughout the years, Heche was aware of how she was perceived by some fans, and others in the industry. "It's my heart ... I gotta go where it leads," she told Access in 2007. "People are somewhat confused by me and I understand that, but I am also proud that I'm a woman who represents."
Anne Heche could never escape her reputation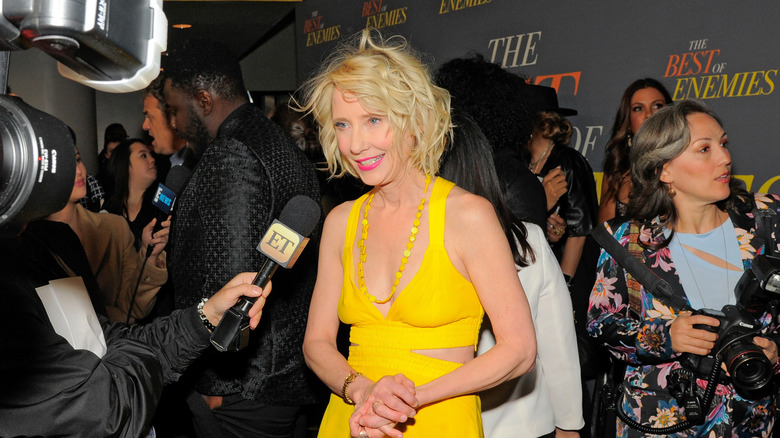 Ron Adar/Shutterstock
Anne Heche knew she had a reputation for being "crazy" – she named her 2001 memoir "Call Me Crazy." She did little to quell the rumors, but the woman behind the headlines was, by most accounts, a pleasure to be around and to work alongside. After Heche landed a starring role on "Men In Trees," she knew she had to show her mettle, showrunner Jenny Bicks recalled in a recent op-ed published by Variety. Bicks praised Heche as a "showrunner's dream" and addressed claims that Heche was crazed and unreliable professionally head-on. "None of those things was ever true," she wrote, adding that "[Heche] was a joy to work with as an actor ... there was no version of her that was flippant or lazy."
Heche didn't beat about the bush when discussing her history of mental illness, which she believed stemmed from the sexual abuse she experienced as a child. "Well, look at me, I went crazy! I didn't talk to anybody about it; I escaped into my fantasy world; I became an actress," she told The Advocate in 2001. "It's a crazy life," the actor told Barbara Walters that same year. "I was raised in a crazy family, and it took 31 years to get the crazy out of me." Heche's comments in the early aughts didn't do her any favors, and unfortunately, her reputation for being "crazy" would precede her for the remainder of her career.