What Sadie Sink Was Doing Before Stranger Things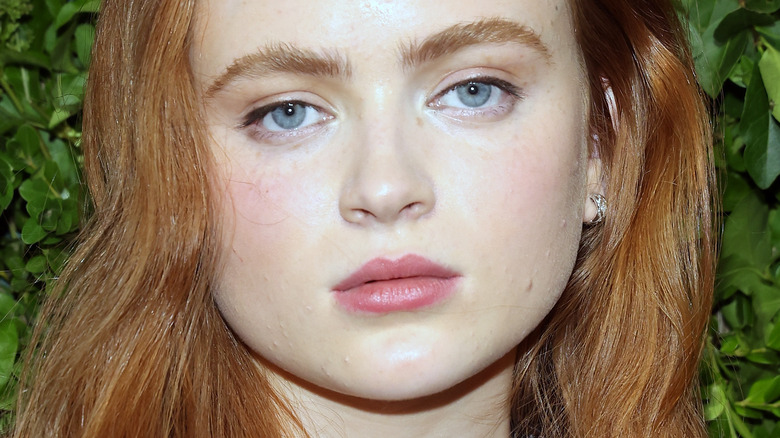 Taylor Hill/Getty Images
Sadie Sink is just one of the breakout talents to have emerged from "Stranger Things." The star, who plays the role of the feisty Maxine Mayfield, stole viewers' hearts as they watched her grow from a gangly 14-year-old in Season 2 to a stunning young woman who graces the covers of fashion magazines. And she has the world at her feet. Not only does she have over 24 million followers on Instagram alone, but co-star Winona Ryder could not stop singing her praises. The actor, who plays Joyce Byers on "Stranger Things," told E! News, "Sadie is like Liv Ullmann." Adding, "She's going to be like Meryl Streep." All eyes on you, Sadie, no rush.
However, the "Fear Street" actor was blown away when she got the part of Max. Apparently, she had been a fan of the show and had followed the first season. She told Interview Magazine, "So it was a really exciting project when I got the audition and then I got four callbacks and then after the callbacks, they wanted me to do a screen test, and the next day I found out I got the part." It seems as if the producers recognized her talent immediately, and she's been taking the world by storm since then. But, before Sink auditioned for "Stranger Things," she took Broadway by storm with her portrayal of another iconic character.
Sadie Sink astonishes as Annie on Broadway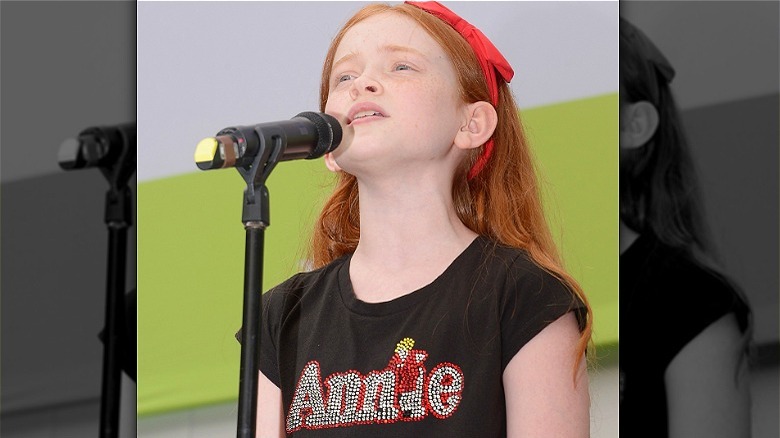 Michael Loccisano/Getty Images
With her trademark red hair and spunky attitude, it's a no-brainer that Sadie Sink made the perfect Annie. At the tender age of 11, per Teen Vogue, the young star belted out timeless classics such as "It's the Hard Knock Life" and "Tomorrow." The thespian was thrilled when she landed the role of the ginger-haired orphan and told Flaunt, "It was my first Broadway show. It was like a dream come true. At the time it was all I really wanted." She also met her "Stranger Things" co-star Caleb McLaughlin, who plays Lucas Sinclair, when she was just 10 years old thanks to her Broadway career. Sinclair told Variety, "We used to see each other in Times Square at this park that all these Broadway kids used to go to."
Sink, who was born in 2002, has already learned so much about working in the entertainment industry. She feels that she is a latecomer to the Hollywood scene and sees herself as a "theater kid." She told Coveteur about her experience since starring in a popular Netflix series. "Coming from theater, it's such a smaller world with fewer bells and whistles. I never really got the chance to process what was happening. I didn't really think that this [kind of fame] was going to come with everything." Yet, at one point, the star thought that her career was over even before it really began. 
Sadie Sink thought she would 'never work again'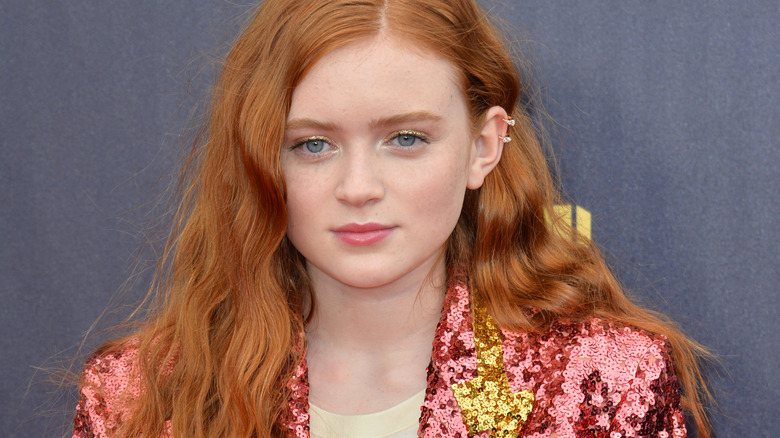 Featureflash Photo Agency/Shutterstock
While Sadie Sink is most recognized for her role in "Stranger Things," she boasts an impressive career before her Netflix breakthrough. Not only has she worked alongside the legendary Helen Mirren on a Broadway production of "The Audience" in 2015, but she has also appeared in other television and film roles. Sink has starred in "The Glass Castle" and even had a spin in "Blue Bloods," per IMDb. Most notably, she played the role of Suzanne Ballard in "American Odyssey." And even though she had a promising career prior to the world's most-watched English series, she was once disheartened with her career's progress. 
Sink revealed to Coveteur that there was a stage when the roles had stopped coming because she was at an awkward age for casting purposes. She elaborated, "It's funny, adolescence is already the worst time in your life and when you stop working it's like the worst thing that could ever happen—you're like, 'I'll never work again.'" So, she returned to school and enjoyed her life as an ordinary teenager. Of course, it wasn't long before she auditioned for a part in "Stranger Things." And the rest, as they say, is history. Sink has been recognized as a budding star and her days of no work are a thing of the past. She has picked up several roles in other flicks while starring on the show including the acclaimed "Fear Street" trilogy. Watch out, Meryl Streep!