The Gossip Girl Actor Who Crushed On Co-Star Elizabeth Hurley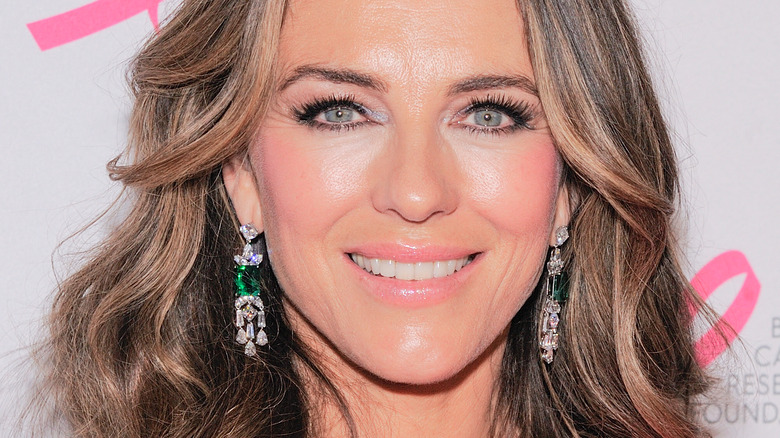 lev radin/Shutterstock
Eight years after the original "Gossip Girl" website went dark, a new generation of New York private school teenagers entertained us with their mean girl antics in the series reboot, circa 2021. But before Julien Calloway (Jordan Alexander), Zoya Lott (Whitney Peak), "Obie" Bergmann IV (Eli Brown), and Max Wolfe (Thomas Doherty), there was Serena Van Der Woodsen (Blake Lively), Blair Waldorf (Leighton Meester), Chuck Bass (Ed Westwick), and Nate Archibald (Chace Crawford). Thanks to "Gossip Girl," the "fab four" were tacked onto plenty of millennial vision boards, and the actors themselves achieved instant heartthrob status. "I'm a stereotypical heartthrob on the show, but I haven't really been affected by anything," Crawford told The Celeb Factory in 2011. Still, he was able to recall the moment when the show's popularity became such that the cast and crew were mobbed by teenage fans while filming on NYC's Upper East Side.
While the entire "Gossip Girl" cast was known for their good looks and charm, the show also featured similarly genetically-blessed guest stars post Season 1. According to The Hollywood Reporter, Elizabeth Hurley was one such guest to grace the small screen in "Gossip Girl's" fifth season. The outlet reported that Hurley played Diana Payne, a "sexy, smart, self-made media mogul and all-around force to be reckoned with." Naturally, she was also a love interest for one of our leading characters — but which of the "Gossip Girl" stars may have had a crush on Hurley IRL?
Chace Crawford called working with Elizabeth Hurley 'phenomenal'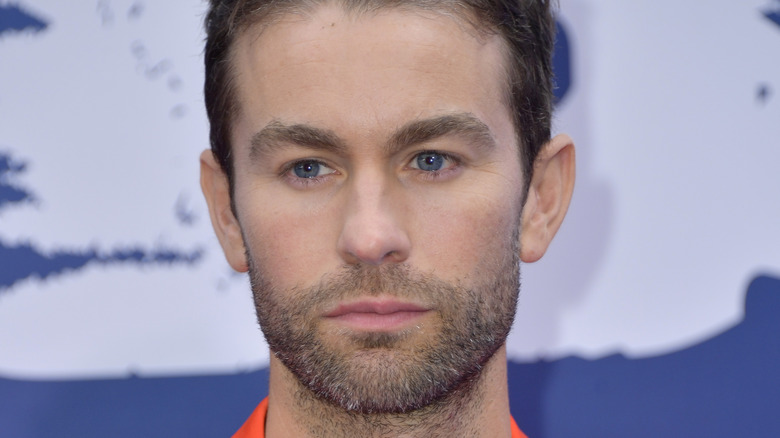 Kristy Sparow/Getty Images
On "Gossip Girl," businesswoman Diana Payne (Elizabeth Hurley) became involved with Chace Crawford's Nate Archibald, who temporarily interned at her tabloid, The New York Spectator. Real life clearly imitated art for Crawford, who told ITV1's "Lorraine" that he was smitten with his British co-star. "She's the most charming — I mean she's still as gorgeous as ever," Crawford gushed. "She keeps it light and she's funny — she's kind of the epitome ... of the ideal woman. ...On the show, she's trying to tell me all these things and I'm trying not to crack a smile because she's so charming." Likewise, Hurley seemed thrilled with her role on the show. "Reading my script for 'Gossip Girl,' episode 1, season 5," she tweeted prior to filming (via Hello! Magazine). "Can't give anything away but it's FAB! Can't wait to shoot it."
Crawford never explicitly confirmed a crush on Hurley, but it seemed that his time working opposite the businesswoman slash model was nothing short of "phenomenal" (via ITV1's "Lorraine"). Though "Gossip Girl" fans gravitated to Hurley's Diana — whom showrunners described as the perfect fit for the GG universe — she was only on the show for one season, meaning there wasn't tons of time to get cozy with Crawford. In the end, Diana and Nate weren't meant to be, although she did occupy substantial space in Nate's heart for a while.
Chace Crawford hoped to spend more time with Elizabeth Hurley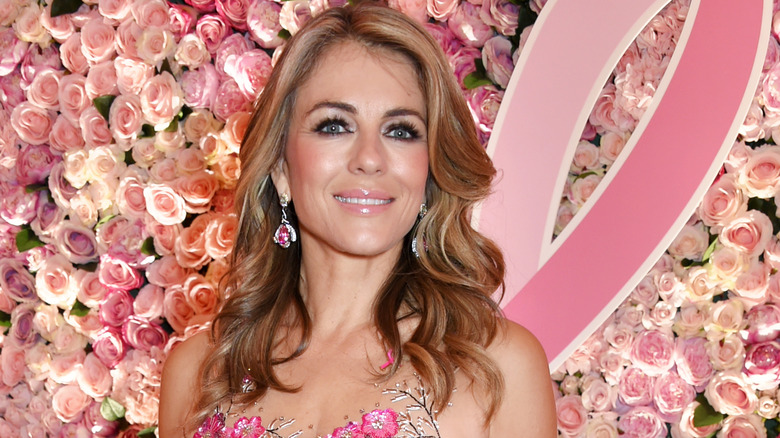 David M. Benett/Getty Images
While Chace Crawford spoke of Elizabeth Hurley in glowing terms, the "Royals" alum told Us Weekly that some of the romantic scenes they filmed together were "awkward." As a quick refresher, Hurley's Diana Payne character seduced Nate Archibald early on, and a lot of her scheming was intended to keep her boy toy close at hand. "I had to kiss Chace Crawford a lot [in 'Gossip Girls'' fifth season] and he's the most enchanting man, but he's a great deal younger than me," the actor shared. "It was strange, but good." As of this writing, Hurley is 57 years old, while Crawford is 37.
On the flip side, Crawford seemed to have no qualms about his character's romantic liaisons with older women. In fact, Nate had quite a few flings with women more than double his age, including Season 2's Catherine Beaton ("Twin Peaks" star Mädchen Amick) and Hurley! "It's terrible they've really got to twist my arm to do kissing scenes," he joked to Female First. "I mean look at [Hurley], she's so hard to look at!"
When it came time for Crawford and his co-stars to bid farewell to "Gossip Girl," "The Boys" star had just one wish: to be reunited with his sultry British rose. "I don't even think the writers know yet [who will return]," he told HollywoodLife (via Digital Spy). "But you wouldn't have to twist my arm to get Liz Hurley back on the show."