The Uncomfortable Interview That Landed Jennifer Lawrence In Hot Water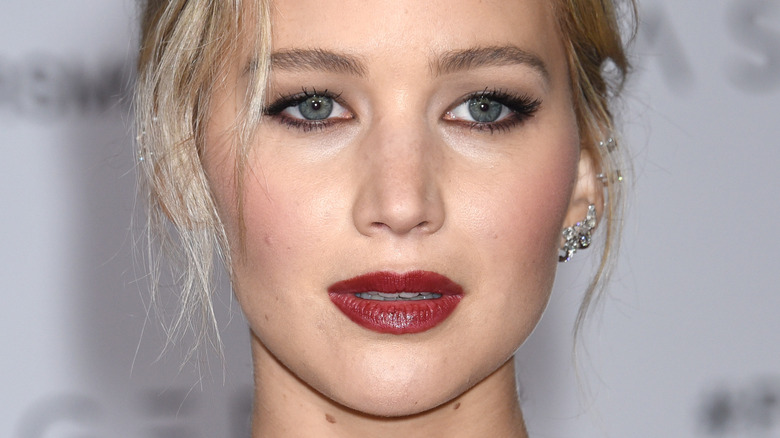 Ga Fullner/Shutterstock
Briefly, Jennifer Lawrence (known affectionately by her fans as JLaw) achieved a rare feat in Hollywood. Despite her meteoric rise in fame, she procured a clumsy, relatable schtick (like falling twice at The Oscars and keeping a "finsta") that convinced the public that she was one of us. Unfortunately, the internet loves nothing more than to bring people down a peg, and it wasn't before long that her relatability was called into question by, well ... everyone, including Anderson Cooper and Jared Leto. And while it's not unheard of for someone as hugely popular as Lawrence was during the 2010s to face backlash, the actor has, unfortunately, said and done things that absolutely warrant a side-eye or two.
For instance, the "Hunger Games" star once chastised a reporter during the 2016 Golden Globes for reading a question from his phone. "You can't live your whole life behind your phone, bro," said Lawrence. "You just can't do that. You gotta live in the now." According to The Guardian, English wasn't the reporter's first language, so he mistakenly addressed the awards as The Oscars. However, Lawrence condescendingly corrected his blip and said he'd have known which award show he was at if he wasn't on his phone. Swift backlash followed, with people accusing the star of being culturally insensitive. One user tweeted "Jennifer Lawrence practically bullying a nervous reporter with broken English in front of his peers isn't....funny..."
Anne Hathaway defends Jennifer Lawrence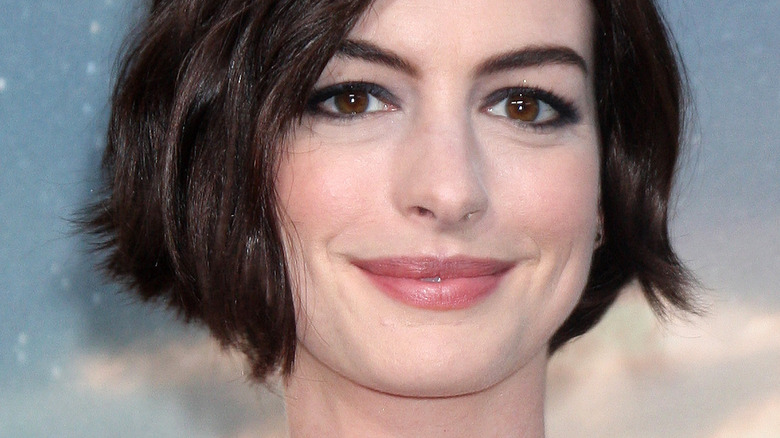 Kathy Hutchins/Shutterstock
Unfortunately, Jennifer Lawrence's backlash wasn't limited to Twitter. There were multiple writeups about the awkward incident across various news outlets, such as Refinery 29, Mic, and Buzzfeed, which criticized the actor's actions. However, despite the backlash, not everyone felt the need to pile onto Lawrence. Anne Hathaway, who's endured her fair share of internet criticism took to Facebook to show support for her acting peer. 
According to People, the "Princess Diaries" actor felt that Lawrence's scolding wasn't what it appeared to be. "Dear the Internet, It's become pretty clear that the Jennifer Lawrence "scolding" was taken out of context and that she was dryly joking with a journalist who was indeed using his phone to take photos of her," Hathaway wrote on Facebook. The Academy Award-winning actor went on state that Lawrence is a "beautiful, talented, wildly successful, popular, FOUR TIME OSCAR NOMINATED young woman." Hathaway ended her statement with a plea to not "tear her down for these things."
Hathaway's sincere plea was met with mixed reviews, as some users felt that Lawrence's actions were inexcusable. With that said, Hathaway is far too familiar with being on the internet's bad side. Following her 2013 Oscar win for her role in "Les Misérables," the internet widely criticized the then-30-year-old for what they felt was a cringe, self indulgent acceptance speech (via Koi Moi). So it's not surprising that she felt the need to show Lawrence a little grace.
Jennifer Lawrence's Hawaiian controversey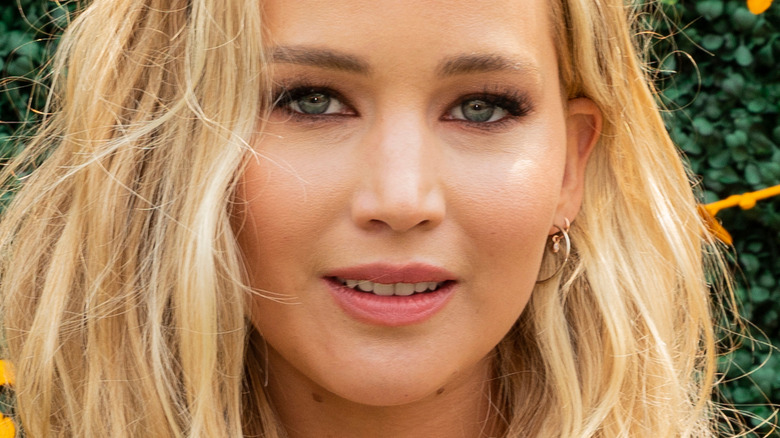 lev radin/Shutterstock
Jennifer Lawrence's public support dwindled a bit in recent years, due to a string of scandals involving the actress. One of the most notable occurred when Lawrence appeared on "The Graham Norton Show," along with her "Passengers" co-star Chris Pratt. During the segment, the actor shared a story about when she "almost killed" a guy while filming "The Hunger Games: Catching Fire." 
While filming in Hawaii, Lawrence apparently sat on some large rocks that "were sacred" and not supposed to be sat on. "I, however, was in a wetsuit for this whole shoot so – oh my God, they were so good for butt-itching." The rock came loose and "almost killed" the sound guy. Lawrence ended the story by saying that the local Hawaiians thought the incident signified a curse. However, she was "round the corner going, 'Haha, I'm your curse. I wedged it loose with my a**."
As you can imagine, Lawrence's brash response to almost ending someone's life and her dismissal of Hawaiian customs sparked more backlash. 
Eventually, Lawrence issued a now-deleted apology to Facebook, according to BBC. "I meant absolutely no disrespect to the Hawaiian people. I really thought that I was being self-deprecating about the fact that I was "the curse," but I understand the way it was perceived was not funny and I apologize if I offended anyone."