Zayn Malik's Latest Video Has One Direction Fans Melting Down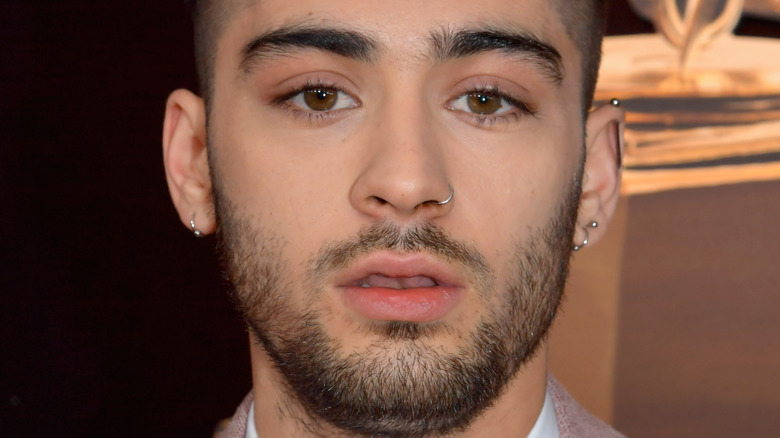 Lester Cohen/Getty Images
Zayn Malik first gained fame by appearing on "The X Factor" in 2010. There, Simon Cowell famously put Malik together with the likes of Louis Tomlinson, Niall Horan, Liam Payne, and Harry Styles, forming one of the most popular boy bands in the world: One Direction. The band churned out several hits, like "What Makes You Beautiful" and "Story of My Life," to name a few. 
Sadly, Malik left the group in 2015, thus breaking One Direction fans' hearts across the globe. "After five incredible years Zayn Malik has decided to leave One Direction. Niall, Harry, Liam and Louis will continue as a four-piece and look forward to the forthcoming concerts of their world tour and recording their fifth album, due to be released later this year," the band wrote in a Facebook statement. The lengthy post also included a few quotes from Malik, who shared that his "life with One Direction has been more than I could ever have imagined." Still, he felt like 2015 was the right time for him to leave the band. "I am leaving because I want to be a normal 22-year-old who is able to relax and have some private time out of the spotlight," he added.
One Direction didn't last very long without Malik. Only a few months after he left, the boys announced that they would take some time apart and never got back together. However, Malik is giving One Directioners a little something to cheer about all these years later.
Zayn Malik wows fans with solo version of Night Changes
Zayn Malik's latest video post has sent One Direction fans into a tizzy. The August 15 upload captured Malik sitting at a table and resting his chin on his hand. The singer wore a cut-off shirt, showing his tatted arms. However, it wasn't Malik's choice of wardrobe that sent his fans wild; it was his choice of song. Malik threw it back to 2014, singing a few lines from one of One Direction's many hits, "Night Changes." "Everything that you ever dreamed of / Disappearing when you wake up," he sang. For the second verse, Malik straightened in his as he belted out the hit.
It's safe to say that Malik's fans went wild for the post, and as of this writing, it's already amassed 16 million views. Fans also took to the comments section to totally fan-girl. "Zayn singing 1d songs in 2022 is literally the best thing could ever happen," one Instagram user gushed. "Omg my ears are blessed," another fan commented alongside a heart-eye and flame emoji.
Outside if nostalgic performances, Malik has also been using his Instagram page to promote other new projects, like his Zayn X Arnette glasses collab. According to the Arnette website, Mailk's collection includes various sunglasses and glasses ranging in price from $84 to $129. Hopefully, he'll post another 1D song sometime soon.