What Does Super Freaky Girl By Nicki Minaj Mean? Here's What We Think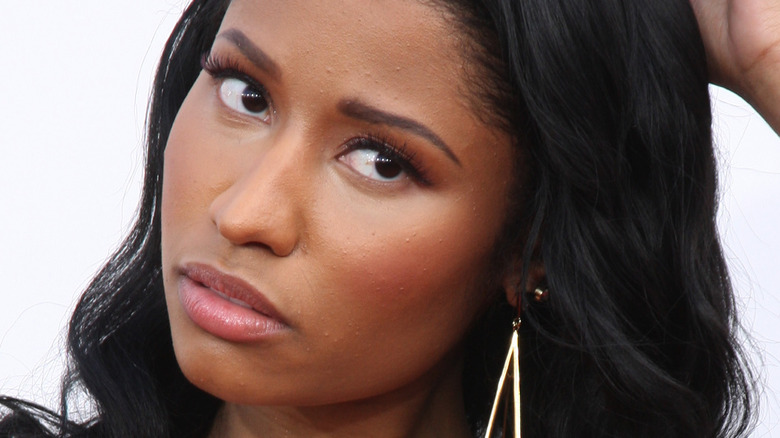 Kathy Hutchins/Shutterstock
Nicki Minaj's new music drought has finally ended, and now we totally understand why the Barbz were so eager. Her latest single, "Super Freaky Girl," began making waves before it was even released, with a sample of the song going viral on TikTok. Over 190,000 videos have been posted featuring the audio, with even the historically wholesome JoJo Siwa trying her hand at the viral dance.
The song was quickly voted by fans to be this week's best new release, according to Billboard. The success makes sense — not only was the track highly anticipated and super catchy, but it also samples an '80s tune that dominated the charts in its day, and Minaj is now introducing it to a new generation of fans.
If you've spent any time on TikTok, Instagram Reels, or even YouTube Shorts in the last few weeks, you're likely all too familiar with this track's raunchy chorus. We're not ones to shy away from a super freaky challenge, however, so let's break it down.
Super Freaky Girl brings beats and raunchy lyrics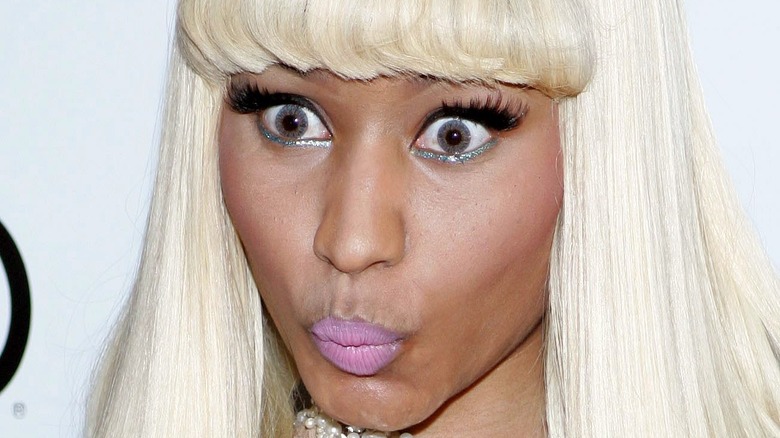 Everett Collection/Shutterstock
Nicki Minaj's track kicks off with a sample from Rick James' original song, "Super Freak (Part I)," which spent 24 weeks on the Billboard Hot 100 in 1981. Lines (via Genius) from the "Super Freak" chorus play: "She's alright / That girl's alright with me." After his crooning, Minaj is quick to deliver a signature "Ayo" before diving in to her rap.
The lyrics in James' song were fairly subtle (this was the '80s, after all). His chorus described a girl who was "pretty wild" and "the kind of girl you read about." Minaj's answer to his track, however, does not shy away from the details. While proving her chops as a talented rapper, Minaj uses her lyrics to inform listeners that she can also "lick it" and "ride it while you slippin and slidin." If there was any remaining confusion about what, exactly, makes a "super freaky girl," the rapper provides some explicit clarification throughout.
It's certainly not a tune you'd take to the family cook-out, but it's undeniably catchy. The chorus has Minaj and additional Rick James samples spelling out the word "freak," and if Gwen Stefani has taught us anything, it's that spelling makes a song a hit. Needless to say, fans are going b-a-n-a-n-a-s.
Nicki Minaj continues to dominate TikTok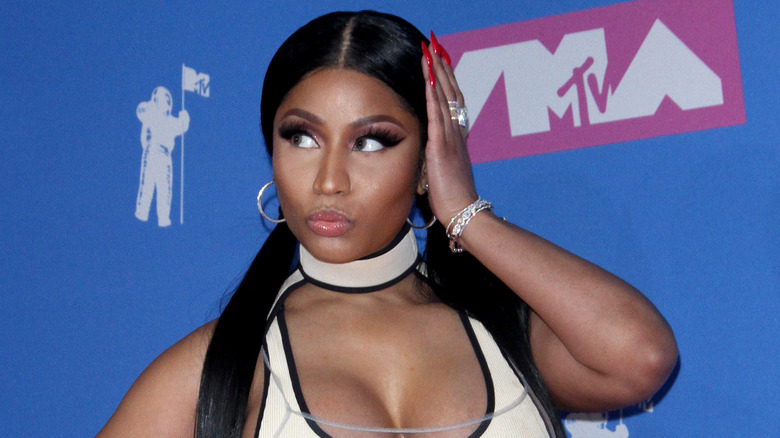 Tinseltown/Shutterstock
Since its release, "Super Freaky Girl" has been climbing the charts and getting stuck in all of our heads. Nicki Minaj's fan base army, the Barbz, has been posting regular updates on Twitter, attempting to leverage their numbers and get the song to number one.
On Instagram, meanwhile, Minaj herself had to express her appreciation for the track in a cheeky video. Wearing a cherry-printed bikini, Minaj lip-synced her lyrics, "You can smack it, you can grip it, you can go down and kiss it / And every time he leave me 'lone, he always tell me he miss it." Her post caption read simply, "He want a F R EEE A K," which garnered over half a million likes in less than 24 hours. She's also shown her appreciation for the Barbz rallying behind her, taking to her Instagram Stories to share the accolades "Super Freaky Girl" has gotten so far. Next to a screenshot of the song being featured on Spotify Charts' Top Songs Debut Global, Minaj wrote, "barbz have shown their a**!!!"
Twitter predictions for next week's Billboard Hot 100 rankings have the single debuting at number two, just behind Harry Styles' "As It Was." Time will tell if the song can keep rising. One thing's for sure about the Barbz — they know all the little tricks to keep the song up there, climbin'.