What's The Real Meaning Of We Go Up By Nicki Minaj? Here's What We Think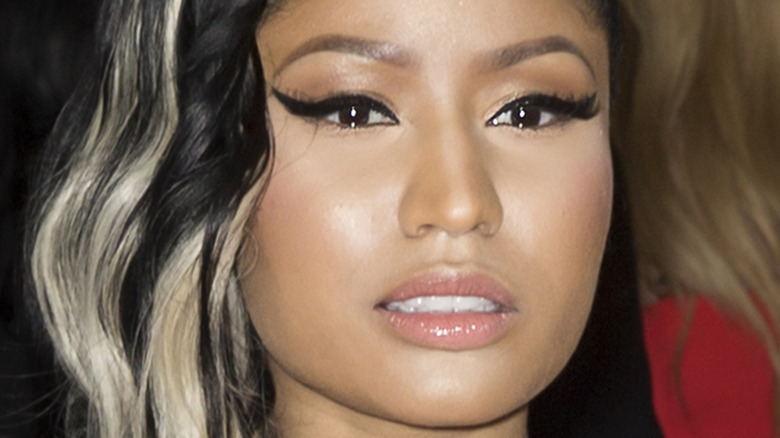 Ovidiu Hrubaru/Shutterstock
Barbie is back with another banger, as Nicki Minaj teamed up with Fivio Foreign for "We Go Up." The star teased she and her fellow rapper had something big in store for her fans on March 24 when she shared what appeared to be a text exchange on Instagram. The cryptic post was full of fire emoji and featured someone assumed to be Minaj telling someone assumed to be Foreign, "THEY GONE CRY IN DA BOOTH" with the sideways crying laughing emoji, adding, "it's too late!!!! Let's go!!!!!" Foreign then got everyone talking even more by commenting with a cryptic side eye emoji.
Then came the big reveal the following day. Minaj shared what appeared to be the single artwork on March 25, alongside a bee and snoozing emoji — and it's safe to say her followers pretty much lost their minds in the comments section. "Flame on!" one person commented, while another wrote, "TODAY??? Let me get my wig. Cuz it has been snatched every PINK FRIDAY!!!!"
It didn't take long for the world to feel "We Go Up"'s impact, either. Minaj's next Instagram post on March 25 was actually a screenshot of a tweet from Chart Data which confirmed the track had already hit the top spot on iTunes. "In 1 hour, the #1 song on US iTunes," Minaj wrote, pointing out, "Not a Republic Records single, no bag on it, just a surprise for the fans." But what exactly is it all about?
Braggy Minaj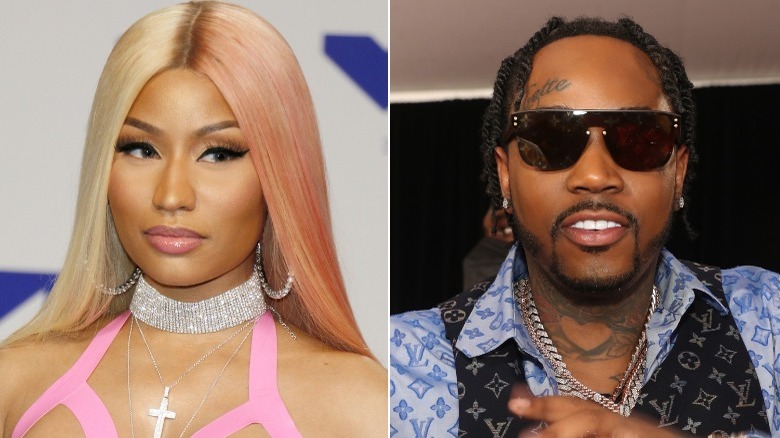 Johnny Nunez/2021 Bet Hip Hop Awards/Getty & Tinseltown/Shutterstock
"We Go Up" is all about Nicki Minaj bragging about her status in the rap game — and rightly so! The star discusses how successful she is in the hit, as well as throwing some serious shade. Minaj boats about her impressive wealth (Minaj has a net worth of $100 million, in case you were wondering!) as she raps, per Genius, "Ayo, this week, 'Rari ('Rari), next week, Lambo (Lambo)" referring to buying Ferraris and Lamborghinis. It looks like that will be demonstrated in the music video too, with images popping up fancy cars that were seemingly used while filming. The star also seemingly raps about fancy belongings, noting, "Louis bag, oh, that Louis bag more colorful than a peacock," which appeared to be about Louis Vuitton bags.
She then takes aim at what appears to be other females in the music industry who have called her out, but doesn't explicitly name any names (though we know Minaj has beef with quite a few people). "Uh, you b*****s is salty, I give them pressure/Uh, you b*****s is salty, pass me the pepper," she raps, before telling the unnamed haters, "After all of that surgery, you are still ugly/Now that is what gets me." She also takes aim in several other lines, including, "These b*****s bums, when I see them, they make me throw up/I wish a b**** would spin, I'm like, 'Please show up'/When you talk to me, please don't bring a cheap h** up."
'We Go Up''s initial debut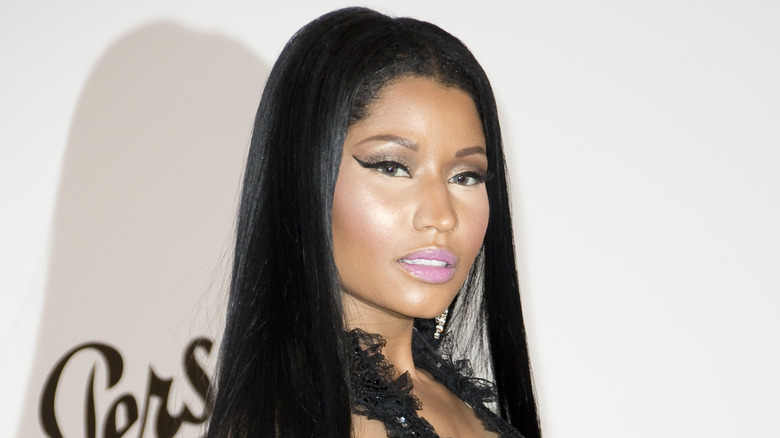 BAKOUNINE/Shutterstock
Nicki Minaj actually gave fans a little sneak peek at her and Fivio Foreign's "We Go Up" a few days before she unleashed it to the world. On March 20, she shared a 45-second clip on Instagram that showed her listening to the song and rapping along to some of the lyrics alongside the caption, "I told @bigfenditv this song is scrapped from the album & we just had an hour long argument[.] @papiyerr on the beat." The response was overwhelmingly positive in the comments section, so did that play a part in why the star surprise released the song a few days later?
Many fans are clearly thrilled the song is out there, regardless of the reason, as social media became flooded with praise for the hot track. "#WeGoUp Inject this into my VEINSSSSS!" one person tweeted alongside a fire and mind blown emoji. "Nicki Minaj, you always be that girl. You'll always be famous #WEGOUP," another wrote, seemingly referring to Minaj bigging herself up in the lyrics. Others highlighted some of their very favorite lyrics from the sassy and shady track, with one person writing, "After all that surgery you still ugly thats what gets me' The line of the year! @NICKIMINAJ lets gooo #wegoup #badboysla lets gooooo." 
Looks like another hit for Ms. Minaj!