How John Legend's Proposal To Chrissy Teigen Nearly Got Ruined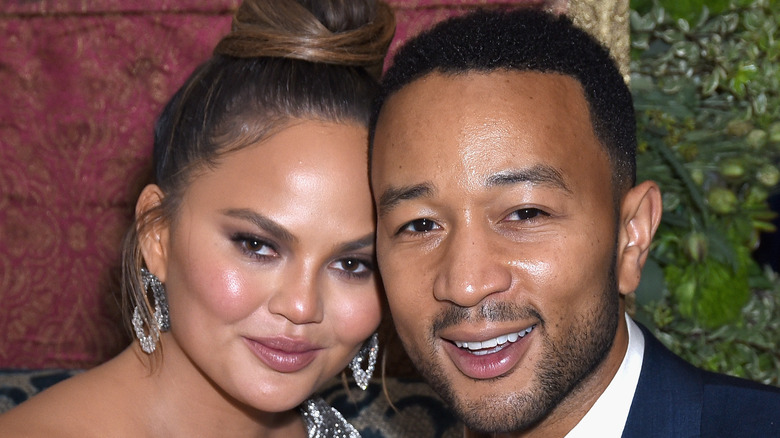 Presley Ann/Getty Images
John Legend and Chrissy Teigen are one of the only few Hollywood couples who have stood the test of time. The two met in 2006, married in 2013, and have stuck with each other since.
In an interview with Cosmopolitan, Teigen recalled the first time they met when she starred in Legend's music video for a song called "Stereo." "I was doing this fake model-y dancing with the most dead eyes you've ever seen in a human," she shared. Teigen made an impression anyway, and the pair went on to chat throughout the shoot. "I'm not going to lie. We hooked up," she confessed, of their meeting up later that night. Teigen and Legend didn't start a relationship right away after that, however; Legend was seen out with other women on the red carpet and at public events. "I let him be himself for a while," Teigen continued. "I played it cool for a long time ... Marriage was never my goal because I've never been very traditional. I was just happy to be with him."
It turns out that giving Legend some space worked to her advantage, and the couple is now happily married. The "All of Me" singer got down on one knee in 2011, but funnily enough, it didn't go as planned.
Chrissy Teigen almost found out about John Legend's proposal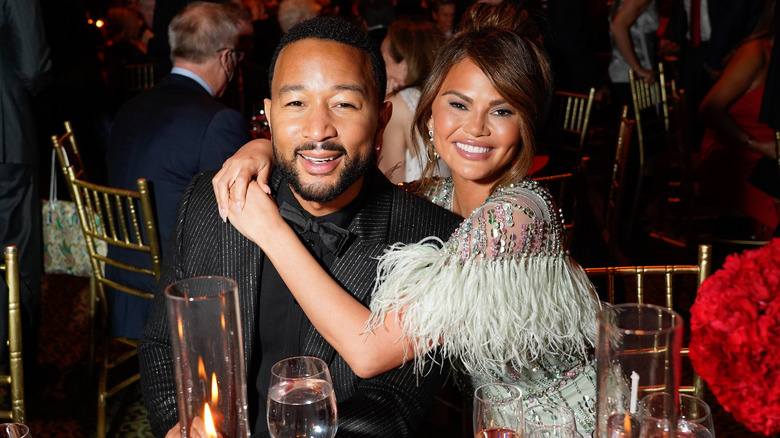 Jared Siskin/Getty Images
Chrissy Teigen and John Legend tied the knot in 2013 at the Villa d'Este in Lake Como, Italy around their closest family and friends. "Twelve years ago today, I met the man of my dreams. And five years ago today, we got married," Teigen wrote on Instagram on their fifth wedding anniversary. "We have two babies and some pups and a life I am grateful to have. My everything, I love you and am so proud of the story we've created."
They had a glamorous wedding, with performances from Stevie Wonder and Legend himself, three Vera Wang dresses, and a four-tier naked carrot cake, per Brides. The proposal, though? Not so much. In an appearance on "Oprah's Next Chapter," Legend revealed that he almost blew the whole thing at airport security. "I was trying to hide the ring in my bag, and she can see anything in my bag ... so I had to put it in a nondescript box that she wouldn't question," Legend said of their trip to Maldives at the time. Unfortunately, security took an interest in the box, which made Legend panic because Teigen was standing right next to him. Lucky for him, they made him pass without further inspection, and he was able to propose to his future wife without trouble. "For some reason, they decided not to look in the box. They just didn't look."
Chrissy Teigen and John Legend had a big fight before the proposal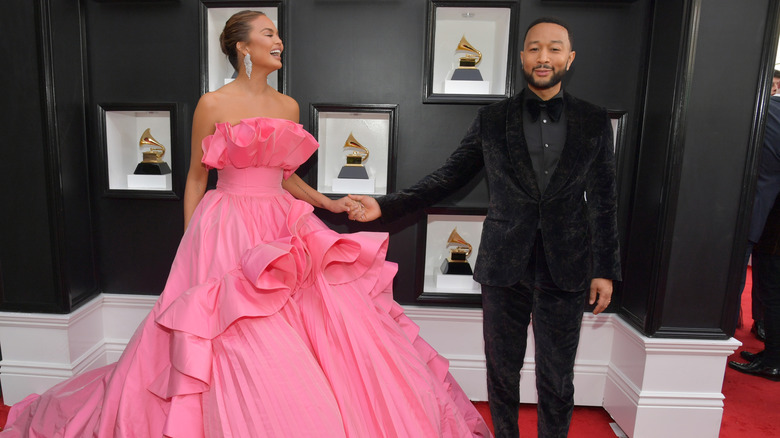 Lester Cohen/Getty Images
Before Chrissy Teigen said yes to John Legend, they had a big fight in the car on their way to the airport. They were on their way to Maldives at the time for the holidays, and Teigen was upset with him because he had only given her a cookbook and a crockpot for Christmas. The model, who is big on Christmas, expressed her frustration, leading to Legend telling her to be a little more patient. "I remember him saying, 'You just wait!'" she told the FABLife in 2015.
Legend then brought Teigen to a place at the beach he had decorated for her, complete with a Christmas tree buried in the sand. After having their meal, he surprised her with the ring, and the rest, as they say, is history. "He didn't have to get down on one knee because I was already down in some kind of sand pit and there was no big grand speech or anything," Teigen continued. "It was just very lovely and sweet to look at his eyes."
Chrissy Teigen and John Legend have been married for nearly a decade at this point, and per Teigen, all she wants in life is to grow old with her husband. "I can't wait to see salt-and-pepper John and me next to him with my silver hair. I really look forward to our children being hopefully the type of kids that come over every weekend for Sunday dinner," she dished in her cover story with People in 2021. "That would be incredibly meaningful to me. I will be so happy seeing my family all around the same table."