Inside Georgina Rodriguez's Relationship With Cristiano Ronaldo's Oldest Son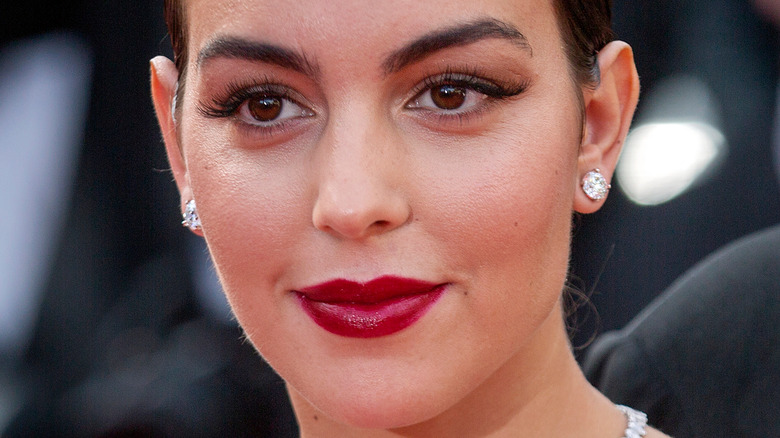 Andrea Raffin/Shutterstock
Cristiano Ronaldo's name will go down in history as a soccer legend. That is a goal the ambitious player set for himself when Ronaldo was still just a lanky boy from a small Portuguese island off the coast of Africa. As an adult raking in glory and titles across Europe, Ronaldo later learned he shared that same passion about fatherhood. "Becoming a parent and raising my family is honestly the greatest privilege I've had," he told Hello! in 2017, via Irish Independent. "I'm enjoying every second of it."
Ronaldo first added "dad" to his list of titles in 2010, when he welcomed Cristiano Ronaldo Jr. In his social media announcement, per The Guardian, Ronaldo explained he would raise his son as a single father. "As agreed with the baby's mother, who prefers to have her identity kept confidential, my son will be under my exclusive guardianship," he detailed. Ronaldo has never publicly revealed who the biological mother is — and he still has no plans to do so.
The Manchester United forward will share the information with his son when he's an adult. "Because he deserves it. But I'm not going to say it because people want me to," he said on "The Jonathan Ross Show." Ronaldo was never concerned about Junior growing up without a female figure in his life. When his son was little, Ronaldo had the help and support of his mother, he told Ross. And from 2016 on, Junior gained a stepmother in the form of Georgina Rodriguez, Ronaldo's partner.
Georgina Rodriguez calls herself Junior's 'mom'
Georgina Rodriguez may not have given birth to Cristiano Ronaldo Jr., but that in no way affects her maternal affection for Cristiano Ronaldo's eldest. When Junior signed his first professional contract with Manchester United in February, it was his stepmom who accompanied him to the event as Ronaldo was unable to attend, according to Hola!. The Spanish model celebrated the milestone on her Instagram, giving insight into her relationship with Junior. "Chasing our dreams together. Mom loves you," she captioned a photo that showed her next to Junior boasting his jersey along with her and Ronaldo's youngest children.
Just months before the big day, Rodriguez once again showed support for Junior's budding soccer career while also showcasing her love for him. "Supporting my big boy," she wrote below the Instagram photo of herself with her arm around Junior's shoulders on the soccer pitch. The three youngest children were also featured. While Rodriguez is often seen with the whole pack in tow, she does enjoy solo time with her eldest.
In February 2020, Rodriguez took Junior shopping around Milan, Italy, for the afternoon, the Daily Mail reported. And Rodriguez's mama bear attitude was on full display when she celebrated Junior's 11th birthday in June 2021. "Thank you for being the best big brother, son and life partner ... Thank you for making me feel like the best mom in the world every day," she captioned the post. Rodriguez clearly loves Junior as her own. 
Georgina Rodriguez is also stepmom to Cristiano Ronaldo's twins
Cristiano Ronaldo and Georgina Rodriguez met sometime in 2016, a year that also marked the soccer idol's decision to have more children as a single father. It is unclear exactly when the two met or became serious, but they were already an established couple by June 2017 when Ronaldo became father to fraternal twins Eva and Mateo, born via surrogate, the Daily Mail reported. Not only that, but the model was pregnant herself when the twins were born. In November, Ronaldo announced the birth of their daughter Alana on Twitter, which makes her just five months younger than Eva and Mateo.
The more the merrier. Like she did with Junior, Rodriguez embraced the role with open arms. In February 2018, she took to Instagram to joke about the "expectation vs. reality" of raising three babies at the same time. In the first snap, she is sitting on a puzzle mat with Alana in her lap and Eva and Mateo next to her, all looking composed. In the second, the four were lying down and all over the place.
In June, Rodriguez celebrated the twins' fifth birthday on her Instagram. "Wishing you a happy day and a happy life. Mom and dad will always fight for your dreams alongside you. We love you," she captioned the photo of the family in front of two cakes. In April, Ronaldo and Rodriguez lost a twin in childbirth but luckily brought Bella Esmeralda home.