The Truth About Britney Spears' Very First Boyfriend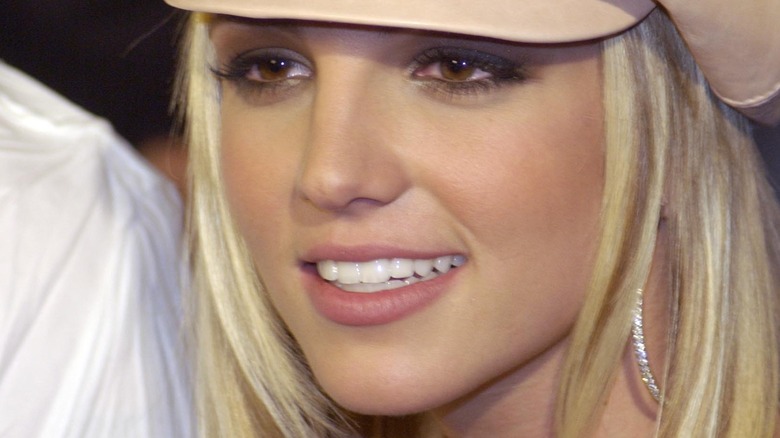 Jaguar PS/Shutterstock
There's no doubting that Britney Spears' dating life has been pretty "Up 'n' Down" over the years. Before finding love with model Sam Asghari after meeting him on the set of a music video, the pop superstar had a bit of a rough time when it came to romance, famously marrying her childhood sweetheart Jason Alexander in Las Vegas (that lasted just 55 hours, if you were counting) before tying the knot again with Kevin Federline, the father of her two sons, in 2004 before that fizzled and divorce came a knocking in 2007. Of course, she also notoriously dated Justin Timberlake for several years when the two were the poster children for teen pop (though we all know how that ended), before getting engaged to Jason Trawick in 2011 — but they never made it down the aisle. In amongst those, there were also rumored flings with the likes of Adnan Ghalib, Colin Farrell, and Fred Durst, per Who's Dated Who. See, we told you Spears hasn't had it easy!
But what was the very first person our Pop Princess dated? And what really happened between them? Well, despite many believing Timberlake was the star's first love, it was actually Britney's brother Bryan Spears' friend Reg Jones who stole the Louisiana country girl's heart first — and he's had plenty to say about the star since then.
Britney Spears dated Reg Jones right up until fame
Britney Spears seems besotted with Reg Jones right up until she started courting fame. Jones opened up about their relationship to The Mirror way back in 2001, sharing that they started dating when he was 17 and she was 14 after they connected through Bryan Spears and attended the same school. It sounds like things started super sweet and wholesome too. "She was my best friend as well as my girlfriend," Jones gushed of Britney, adding, "We used to do all the things normal couples do — go to the movies, eat out, fly kites, go fishing. We loved trying everything." He revealed that she would send him sweet love letters as she prepared to head to Sweden to record her first album, the multi-platinum "...Baby One More Time," and he even enjoyed some of the early days of her fame by her side. But it wasn't meant to be. "When we broke up it was very tough. It ripped me apart," he recalled, sharing they sat down and had an honest conversation full of hugs and kisses, but stayed friends after. "I'd get back with Britney tomorrow if I could, but it is very unlikely we ever will," he added.
It seems like that feeling hasn't changed, either. In 2021, Jones told New York Post, "She was the love of my life" as he recalled the final time he saw her she was chatting to Justin Timberlake on the phone.
Reg Jones got candid about his Britney Spears romance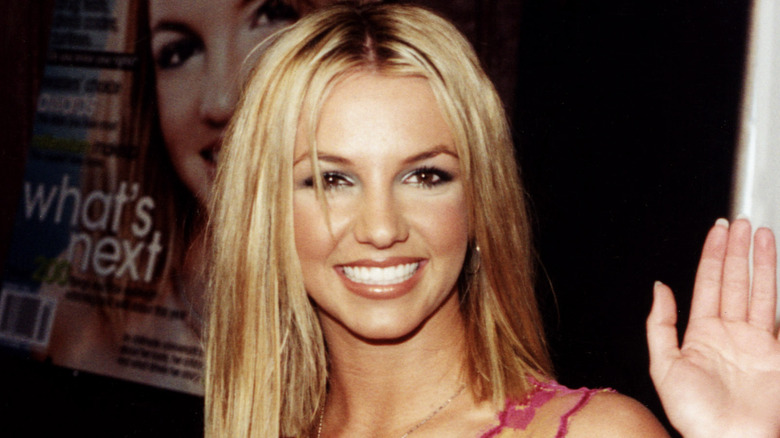 Everett Collection/Shutterstock
Reg Jones hasn't exactly stayed quiet about what went down with Britney Spears, sharing some pretty intimate details about their time together over the years. "We were madly in love and Britney was very passionate. I'd often stay over at her house and we'd fool around like any young couple," he claimed to Daily Star in 2008. "Although there was a couple of years difference in our age, it didn't seem to matter," he added.
Jones has also seemingly used his connection to the popstar to make a little cash, auctioning off old letters he received from her. Radar Online published two of the letters in June 2021, including one in which Britney actually broke up with Jones and shared some intimate details about their relationship. In one, she penned, "I don't trust you, especially after what you said last night. My mom was almost right, you're like a caring friend, but f**ks me whenever you like." Yikes.
Thankfully, it seems Britney is much happier in love today. The star regularly gushed over her husband, Sam Asghari, on Instagram, including on August 6 when she shared three sweet snaps of them together. "My husband ... I love building a life with you ... you're the love of my life ... and I just pray we don't kill each other before the end of the year !!!!" she joked in the caption. Looks like Britney's finally found true love!