Mama June Explains Her Motive For Suing Former Friend On Live TV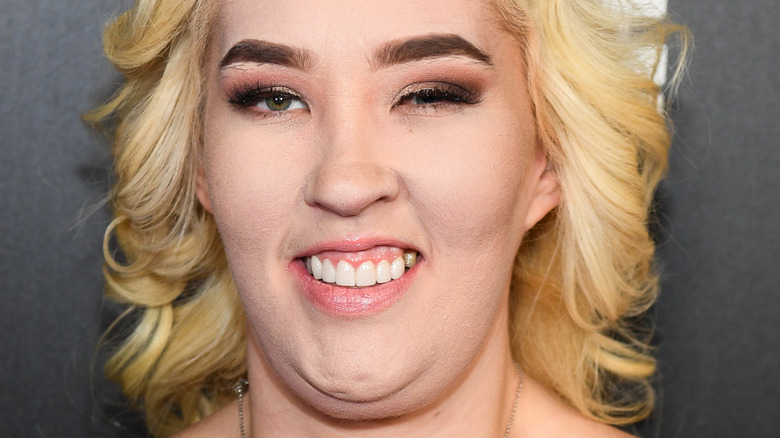 Paras Griffin/Getty Images
"Mama" June Shannon has been through a myriad of changes during the past two years. Not only has she tied the knot with Justin Stroud and became a grandmother again, but she's also switching up her look. 
The "Mama June: From Not to Hot" reality star is now sporting a new hairstyle that is very different from any of her previous styles. Per, The U.S. Sun, Shannon took to her Instagram Story to share her coiffure. In the media share, her tresses were long, wavy, and a soft shade of pink. She also showed off the color in another post where she wrote that fans "will see more of our makeover." 
Shannon isn't only switching up her appearance, but she's also revisiting some relationships from the past. In fact, the star confronted her old friend in the pursuit of justice. But, has she walked away a richer woman? Shannon has is speaking out about why she took such drastic measures against someone she once helped.
Mama June Shannon wins case against Adam Barta
June Shannon took her ex-friend Adam Barta to court on reality TV. The "Road to Redemption" star aired her grievances on "Court Night Live" where she asked the court to award her $5,000 for payment of services rendered, according to People. She claimed that Barta used her "likeness and name for his financial gain." Shannon sometimes appeared on Barta's YouTube channel and was also a  consultant for his new TV program, "The Dish." She alleged that Barta also reneged on his initial offer and did not credit her as an executive producer. 
Barta alleged that he sent Shannon a contract via text message, however, he says Shannon "never acknowledged it at all." For her part, the mother of Honey BooBoo revealed the reason that she sued Barta, explaining, "I felt like I was being used." She added, "I have a life myself, I have a TV show myself, so I can't produce his show for free."  The court awarded Shannon the cash in addition to ordering Barta to name her as an executive producer on his show. 
In her personal life, Shannon is also embracing the changes. Recently, she shared some snaps from the past decade on Instagram. In the caption, she wrote, "While have I changed in so many ways ... I Think about where I was at that time and where I am today and it's so much different in a lot of ways ... I'm in such a better place today."