The Health Scare That Left Buffy Star Nicholas Brendon Hospitalized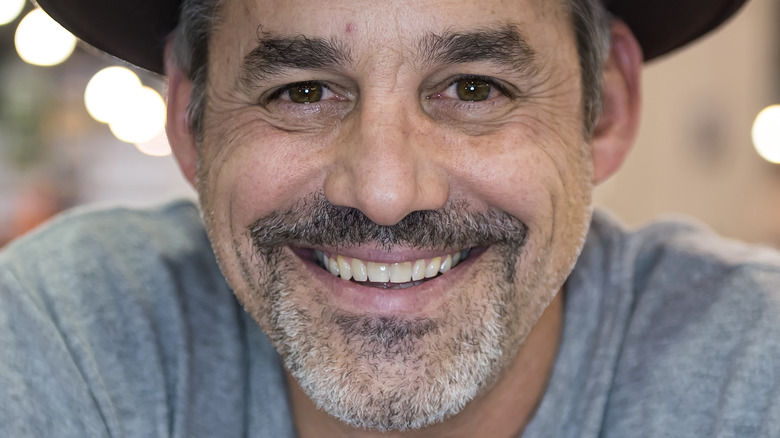 Gilbert Carrasquillo/Getty Images
When it comes to health issues, "Buffy the Vampire Slayer" star Nicholas Brendon can't seem to catch a break. In February 2021, the actor underwent spinal surgery after an accident on ice, per Us Weekly. In an Instagram post, he wrote, "With a rare condition and a slip a week ago, I'm having spinal surgery in 1 hour."
Later that year, Brendon had difficulties walking due to "paralysis in his genitals and legs," per Page Six. According to another Page Six report, Brendon's August 2021 arrest regarding felony prescription fraud worsened his spinal issues. His manager, Theresa Fortier, told the Daily Mail, "So sleeping on a cement floor with other inmates was not exactly conducive to healing and it aggravated his injury and since then he has been in immense pain with numbness and paralysis." She also stated his need for a second procedure, writing, "The hospital needs to bring him in for another spinal surgery to correct whatever it is that has happened." Sadly, the actor has just had another flare-up with his health.
Nicholas Brendon was rushed to the emergency room
Albert L. Ortega/Getty Images
Nicholas Brendon's sister has revealed details about the alarming health issues that recently sent her brother to the hospital. On August 16, she posted a series of Instagram photos of Brendon, including him on a stretcher in an ambulance. She captioned the pictures, "Nicky is doing fine now but he had to be rushed to emergency about two weeks ago because of a cardiac incident (tachycardia/arrhythmia). Some of you might remember he had a similar incident after his second spinal surgery last year (for Cauda Equina) but this time." According to WebMD, cauda equina syndrome, which requires emergency surgery, affects the spinal nerve roots and can lead to paralysis.
The unfortunate news was also shared on Brendon's Twitter account. In both social media posts, his sister mentioned Brendon's focus on self-care and medical treatment. Fans jumped in with support and positive thoughts for the actor. One "Buffy the Vampire Slayer" fan account commented, "We love you Nicky, you are our loved Xander forever, God bless you." Another person wrote, "You are the strength of Buffy...we love you so much" with an accompanying Xander GIF. We wish Brendon a speedy and healthy recovery.