Why Sharon Osbourne Stayed With Ozzy After His Cheating Scandal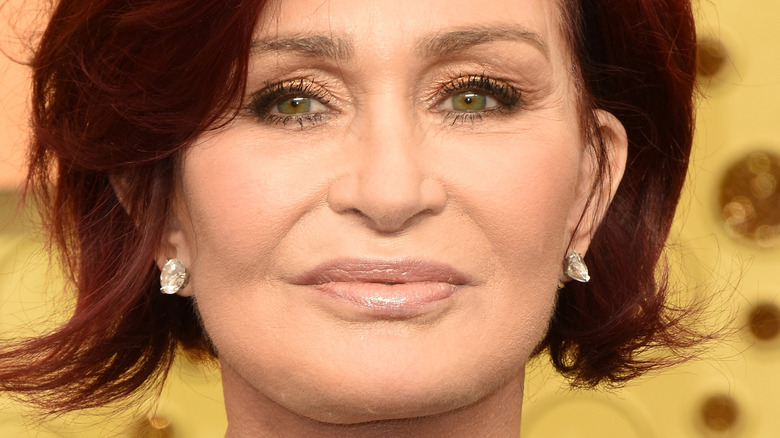 Kathy Hutchins/Shutterstock
Sharon Osbourne and her rocker hubby, Ozzy Osbourne, have managed to stick things out through thick and thin. It seems like the couple has been together forever (maybe because they basically have). Shortly after Ozzy split from his first wife, Thelma Riley, Sharon and Ozzy tied the knot in Hawaii in 1982, per Closer Weekly. Sharon and Ozzy share three children together — Jack, Kelly, and Aimee Osbourne. The family (minus Aimee) famously starred in one of MTV's first-ever reality shows, "The Osbournes," making them a household name.
Like many, Ozzy and Sharon have hit a few roadblocks in their marriage — but none more serious than Ozzy's cheating scandal. In 2017, Sharon opened up to The Telegraph about one of the most challenging times in her life. The Osbourne matriarch revealed that Ozzy had cheated on her with six different women, including his hairstylist, Michelle Pugh. "Some f****** Russian teenager, then a masseuse in England, our masseuse out here [in Los Angeles], and then our cook," Sharon told the outlet. Sharon only learned about Ozzy's affair with Pugh when the musician accidentally sent Sharon an email intended for Pugh, according to Us Weekly.
Ozzy confessed to having a sex addiction, telling Us Weekly, "I am mortified at what my behavior has done to my family. I thank God that my incredible wife is at my side to support me." Instead of walking away during the hard times, Sharon decided to stick by her husband.
Why did Sharon Osbourne decide to forgive Ozzy Osbourne?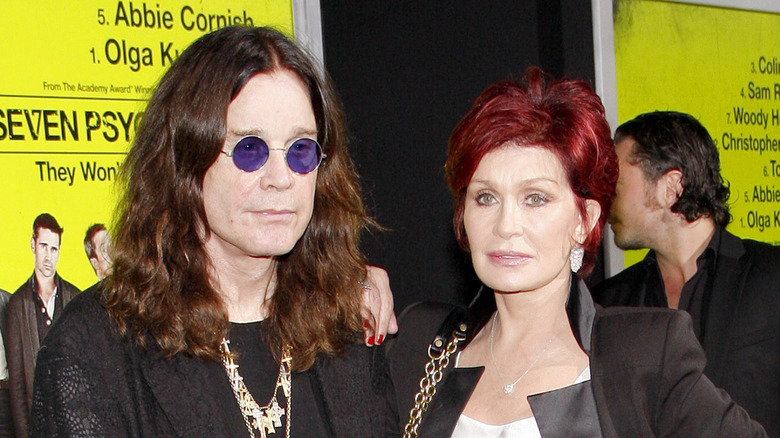 Tinseltown/Shutterstock
There's no doubt that Ozzy Osbourne's cheating scandal sent shockwaves through his marriage. However, Sharon Osbourne stayed faithful to her vows and stood by her husband through it all. The Daily Star reported that Sharon spoke about the scandal during an episode of "The Talk," and she felt somewhat at fault. "Then you look back, and you have to take some of the blame too: working a lot, not there when he needed me," she explained. "When you are used to having someone holding your hand, your whole career at your side, it is very hard when they are not there."
Sharon said the "easiest" thing to do would have been to divorce Ozzy for putting her through such an ordeal. Although the journey wasn't a cake-walk, Sharon said on "The Talk" that she felt it was best to stand by her man. She explained, "It is not easy to stay. But you know if you love them still — even through the hurt, pain, humiliation, the embarrassment, everything that goes along with it and all of that — you choose to stay, hold your head up, and go, 'Okay. I am staying.'" Additionally, Sharon pointed out that she didn't just choose to stay for her kids; she truly wanted to be with Ozzy.
As of 2022, the couple seems stronger than ever; Ozzy hopes to renew his vows with Sharon in Hawaii to celebration their 40th anniversary, a friend of the couple told The Mirror.
Inside another tough time with Ozzy Osbourne's health woes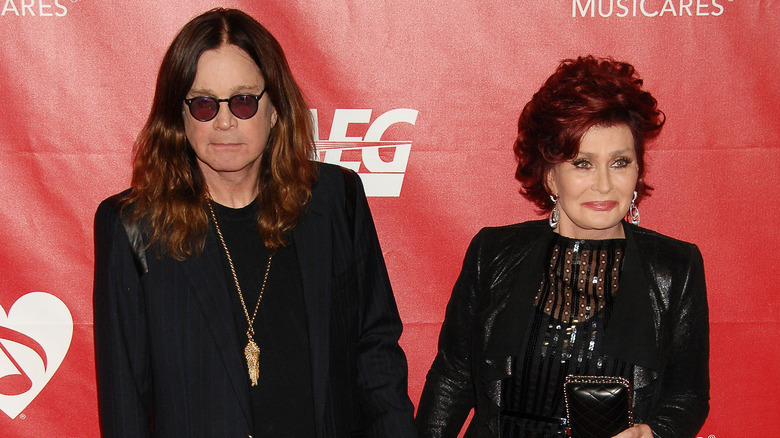 Ga Fullner/Shutterstock
While the cheating scandal proved to be one of the most challenging times in Sharon Osbourne and Ozzy Osbourne's life, they have faced other tough moments. In June 2022, the couple dealt with one of the biggest medical challenges of their lives when Ozzy needed serious surgery. At first, the couple kept the details of the surgery under wraps. Sharon explained Ozzy would be undergoing a "major operation," which would "determine the rest of his life" on an episode of "The Talk U.K." (via People).
Fans held their breath through it all, but luckily, Ozzy didn't keep fans in the dark for too long. Shortly after the surgery, the rocker took to Instagram to share an update with his followers. "I am now home from the hospital recuperating comfortably," he wrote. "I am definitely feeling the love and support from all my fans and send everyone a big thank you for their thoughts, prayers, and well wishes during my recovery."
Express reported that Sharon also discussed the surgery in an interview with Piers Morgan, stating that Ozzy was back to his old self. "Now he's back walking, he's a diva. He thinks he's bloody Beyoncé," she joked. Sharon added that even though it was a rough three years, there was also "light" since the surgery went well.