The Real Reason Brian Stelter Is Leaving CNN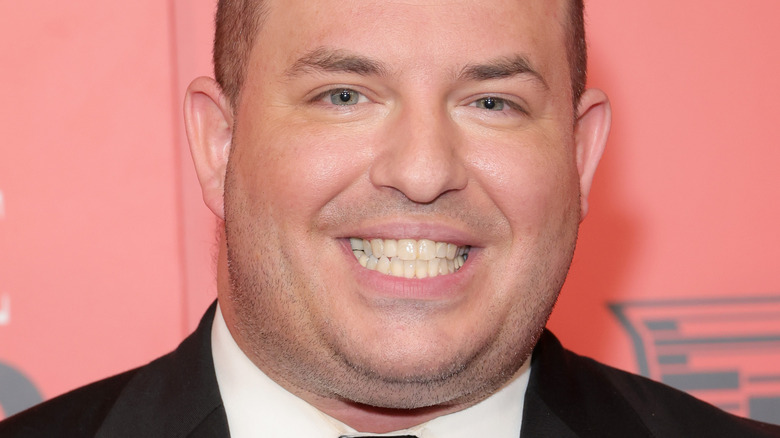 Michael Loccisano/Getty Images
CNN seems to be experiencing growing pains. It's strange to say that about a channel that's been around since 1980 and kicked off the world of 24-hour news reporting as we know it, per History, but channels and companies, like people, continue growing and changing. And CNN is definitely going through changes.
In April, AT&T announced (via Adweek) its anticipated merger between WarnerMedia, which owns CNN, HBO, TNT, TBS, and Warner Bros., among others, and Discovery Inc., which includes channels like HGTV, TLC, OWN, Food Network, and of course Discovery — to the tune of $43 billion. There have already been lots of complaints from fans, at least, about the WarnerMedia-Discovery merger and its new company, Warner Bros. Discovery, Inc. — particularly regarding the DCEU and its cancellation of the "Batgirl" movie — and more is suspected as the dust settles.
One of the recent casualties of the Warner Bros/Discovery merger, announced on August 18, is the cancellation of CNN's news criticism show, "Reliable Sources," which has aired for 30 years and is CNN's longest-running show, per The New York Times. With it, its current host, Brian Stelter, is also leaving CNN after nine years with the company. The show airs its final episode on August 21, per CNN, though it will continue publishing its newsletter. While CNN's official statement calls Brian Stelter "an impeccable broadcaster," and says they "are proud of what Brian and his team accomplished over the years," it seems there is more happening behind the scenes.
Brian Stelter previously hinted at drama
As host of "Reliable Sources," Brian Stelter, who is also very active on Twitter, had often been critical of former President Donald Trump, per NPR, and has thus faced criticism from Fox News commentators like Greg Gutfeld and Tucker Carlson. But it seems Stelter may have critics within his own company.
"I would like to see CNN evolve back to the kind of journalism that it started with, and actually have journalists, which would be unique and refreshing," Discovery board member John Malone told CNBC in February. These are harsh words that Stelter did not take kindly, calling Malone out on the "Reliable Sources" newsletter. "That phrasing — especially the words 'actually have journalists,' which implied CNN currently doesn't — was highly offensive to many staffers," Stelter wrote. He added, "Malone's comments stoked fears that Discovery might stifle CNN journalists and steer away from calling out indecency and injustice."
Stelter also said Malone praised Fox News, and The New York Times reports that CNN's new chairman, Chris Licht — who took over after Jeff Zucker's sudden resignation — has been bringing in more conservative voices to make the cable network more centrist. However, Malone told NYT he had "nothing to do with" the cancellation of "Reliable Sources." Either way, Stelter is looking back on his show fondly, tweeting, "It was a rare privilege to lead a weekly show focused on the press at a time when it has never been more consequential."