Lisa Rinna Once Threw Shade At Lori Loughlin And Olivia Jade On RHOBH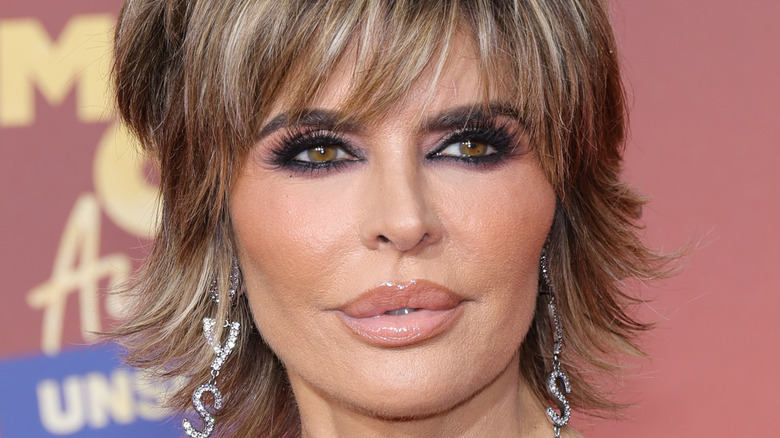 Amy Sussman/Getty Images
The "Real Housewives" franchise features plenty of backstabbing and back-talking. Would it be reality TV if it didn't? For example, fans might remember Camille Grammer throwing shade at Lisa Rinna on Instagram back in 2020. "Took a break from my bike ride to do a little Lisa R ribbing," the "Real Housewives of Beverly Hills" alum wrote, getting in a dig at Rinna's dance moves.
Of course, Rinna isn't above throwing a little shade herself. When "RHOBH" co-star Sutton Stracke dissed Erika Jayne's dating difficulties — noting that Jayne was primarily looking for material goods while she, Sutton, had "her own money, so I look for character [and] humor" — Rinna couldn't resist getting involved. "Oh yeah that's right Sutton worked her a** off to have the money she has I guess it takes a Golddigger to know one," Rinna commented in a post (via ET Canada). "She's rich honey she's RICHHHHH!!!!!! 'Cuz of her ex-husband."
Rinna has also thrown shade at Lori Loughlin, who was once thought to be joining the "RHOBH" franchise as of 2020, according to Today. Loughlin, her husband Mossimo Giannulli, and their two daughters all made headlines in 2019 for the wrong reasons, thanks to the now-infamous college admissions scandal. Per People, Loughlin and Mossimo paid scammer Rick Singer $500,000 to falsely designate their daughters as crew recruits to the University of Southern California. When the whole thing backfired, it provided the perfect opportunity for Rinna to take a jab at Loughlin.
Lisa Rinna couldn't resist poking fun at Lori Loughlin's plight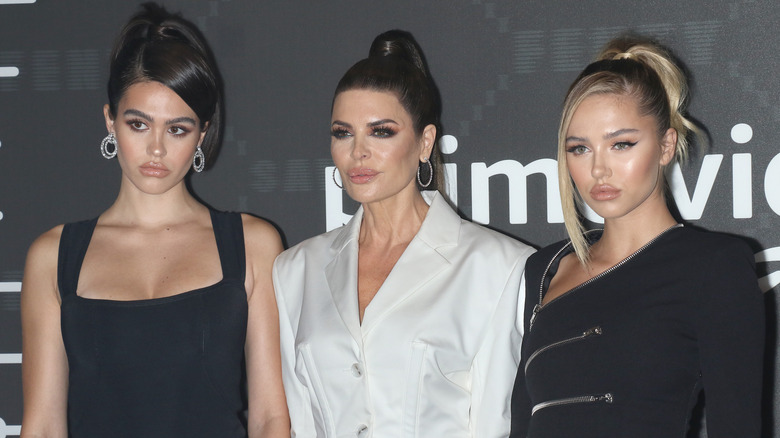 Jim Spellman/Getty Images
Per Us Weekly, a May 6, 2020 episode of "RHOBH" featured Lisa Rinna having a chat with her daughter, Amelia Gray Hamlin, about her college plans. "Take me through exactly what you've done up to his point," Rinna asked her daughter. Hamlin then replied that she had "all my math requirements to transfer into USC, but this is so that when I get in, I won't have to take another math class. I'll have my math credits for college."
Perhaps it was the mention of USC — which was the site of the college admissions scandal — but Rinna couldn't resist a quip at Lori Loughlin's expense. "Good, 'cause I'm not gonna put you on a rowing machine and take a picture of you," the "RHOBH" star shot back. As The U.S. Sun noted, pictures of Loughlin's daughters Olivia Jade and Bella Giannulli on rowing machines went viral after the college admissions scandal was exposed.
Hamlin, however, was unamused. The budding reality star, who made headlines later that same year for coupling up with Scott Disick, told her mom, "That was the wrong thing to say. I'm trying to get into USC here." At the time, People reported that Hamlin had dropped out of NYU due to her anxiety and struggles with eating disorders. Though she originally had plans to transfer to USC, her modeling career has since taken off, leading her to pursue fashion over education.
Brandi Glanville wasted no time in making a joke about Lori Loughlin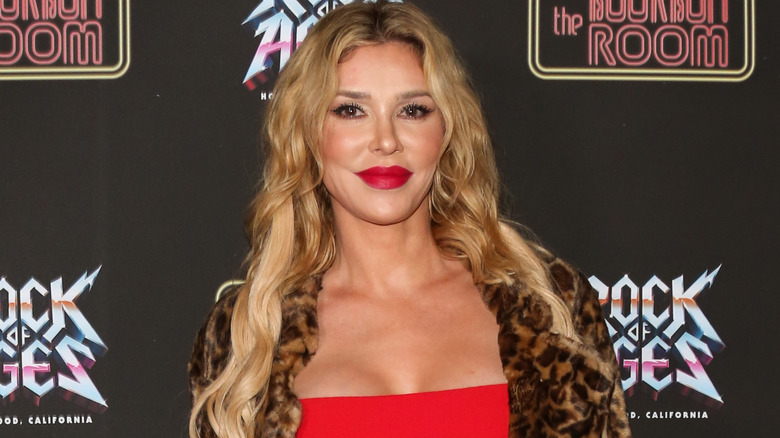 Paul Archuleta/Getty Images
Lisa Rinna wasn't the only "RHOBH" alum to make light of the Lori Loughlin and Olivia Jade college admissions scandal. Maybe because Loughlin was once poised to potentially join the show, she was on a lot of the Housewives' minds? Either way, Brandi Glanville was next in line to take a jab at Loughlin's plight the following year, in 2021. When Glanville's son was accepted into university, the reality star took to Twitter, writing (via Screen Rant), "Amazing news my baby got accepted to the University of Southern California and I didn't even have to fake any rowing pictures or bribe anyone." She later clarified that the acceptance wasn't for USC, but a different California-based school.
Both Loughlin and Felicity Huffman were the butt of "Real Housewives" jokes when a user created fake intros on Instagram for the two women — as if they were appearing on the show. The photos replicated the typical "RHOBH" intros, right down to the all-black outfits and diamond-encrusted backgrounds. According to Daily Mail, Huffman's intro read, "The only thing I'm desperate for is a top-notch education," while Loughlin's said, "My house is full, and so is my jail cell." The latter tagline also refers to Loughlin's stint on ABC's "Full House." 
The faux intros even caught the eye of longtime Bravo host Andy Cohen. Per Us Weekly, he commented "omg" on the post, which was captured by the Instagram account, Comments by Celebs.