The Bizarre Way Lisa Rinna Showed Love For Harry Styles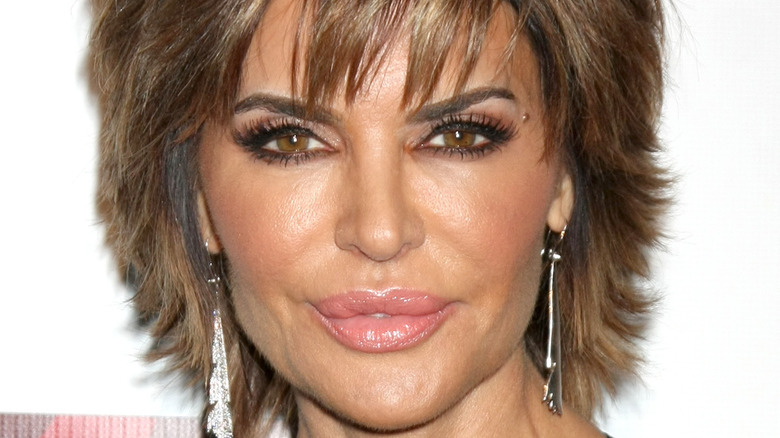 Kathy Hutchins/Shutterstock
The "Real Housewives of Beverly Hills" star Lisa Rinna has taken her love for Harry Styles to another level. But before we get to all of that, let's quickly recap Lisa's interesting connection to the iconic musician. 
Lisa first mentioned Styles on an episode of "RHOBH" in August when she discussed daughter Amelia Hamlin's then-relationship with Scott Disick. Lisa remarked that she'd approve of her eldest daughter, Delilah, marrying her boyfriend Eyal, but couldn't say the same about Amelia and Scott."Why can't it be Harry Styles? Why the f*** is it Scott Disick," Lisa quipped during an "RHOBH" confessional, according to Us Weekly. "My husband, Harry, made it quite clear that he would not object if Delilah and Eyal got married, which is pretty shocking, but that says a lot. I can't say the same for Amelia at this point now."
Luckily for Lisa, Amelia and Scott broke up in September, but she's still pining for Styles as a potential son-in-law candidate. And let's just say she's not shy about expressing that.
Lisa Rinna showed love to Harry Styles through dance
Lisa Rinna hoped that she could dance her way into Harry Styles' heart, confessing her love to him via Instagram on October 21. In the video, Lisa dances to Styles' "Watermelon Sugar" in her bedroom while lip-syncing the lyrics. "Let me just say I was so excited to make this," she said of the video. "It's cringy [sic] for sure but it was for Harry Styles so who cares!" Many fans commented underneath Lisa's post, praising her very expressive dance moves, and acknowledging her supposed intentions. "We all know your strategy. Harry's mother in law," a user wrote in the comments.
Of course, some might argue the video is a little odd, especially since Styles has said that "Water Melon Sugar" is about the female orgasm. And at times throughout the clip, Lisa even blew kisses to the camera. "We're sending so much love!" she gushed. When you consider the reality star is angling to be Styles' future mother-in-law, that's all very interesting! But this admiration isn't one-sided — during "Part 2" of the "Real Housewives of Beverly Hills" reunion, it got revealed Styles devoured the Bravo series during quarantine. Lisa also shared that Styles also DM'd her once. "He loves the show," Lisa added, according to Decider.
With their mutual affection towards each other, it's no wonder Lisa hopes Styles could become family one day — but considering how loved up the singer is with girlfriend Olivia Wilde, she might have to put that dream on hold.