What Does 29 By Demi Lovato Really Mean? Here's What We Think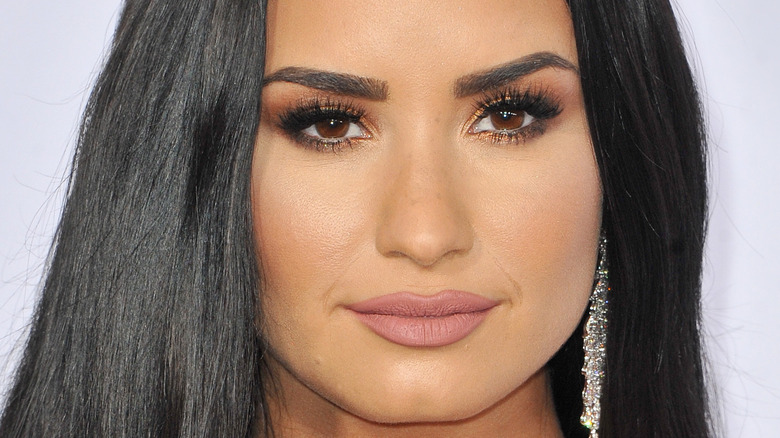 Tinseltown/Shutterstock
Demi Lovato has always used their music as an outlet for expressing their emotions and opinions. Their newest album, however, seems to take things to a whole new level. The YouTube trailer for "Holy Fvck" featured pop-punk music, before cutting away to Lovato sitting in silence in a bathtub. The darker tone certainly implied that some of the songs would be more hard-hitting, and their release of the song "29" didn't disappoint.
The song tells a story of a relationship between a girl and a much older man, and TikTok was immediately on board with the ballad. Many began using the sound to expose their own teenage relationships, creating an emotional new trend. Some even thought the song could serve as a lesson for many of Lovato's younger listeners, with one Twitter user writing, "I need every teen to listen to 29 ... especially those who have even been told they're 'so mature' ... by an older person. You're not mature for your age, they're just a creep."
The vulnerable song had many speculating about who Lovato was exposing, and what exactly the lyrics meant. Here's our take on the latest emotionally charged lines from Lovato. 
Demi Lovato's new song may reference Wilmer Valderrama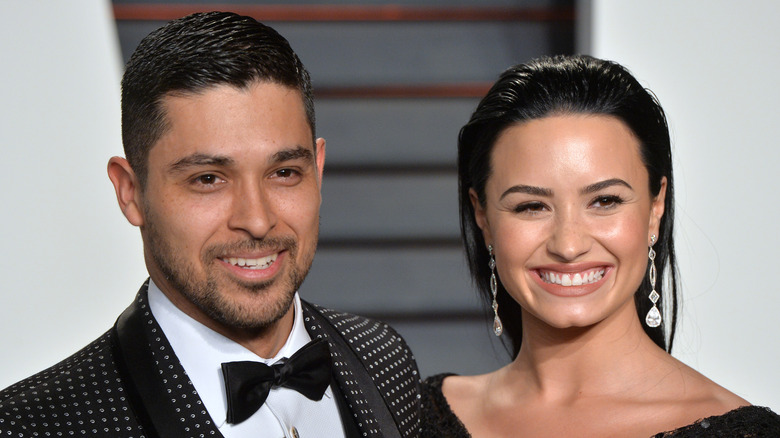 Anthony Harvey/Getty Images
The title of Demi Lovato's latest single is an obvious reference to their age (the choice made even more deliberate by the fact that the album released just one day before their 30th birthday). In the first verse of the song, they seem to speak directly to the man in the relationship, with lyrics (via Genius) reading, "Numbers told you not to, but that didn't stop you." In the chorus, they lay out exactly what they mean by "numbers." They reflect on their own age, singing, "Finally twenty-nine / Funny, just like you were at the time." They then reveals how old they were during the relationship: "Seventeen / Twenty-nine." 
The song seems to be about Wilmer Valderrama, the "That '70s Show" actor who Lovato dated for six years. In previous interviews, Lovato has always maintained that the romance didn't begin until they were 18. In their YouTube documentary "Simply Complicated," Lovato shared their story of the couple's first meeting: "I was like, 'I love this man. And I have to have him. But I was only 17. And so he was like, 'Get away from me.'" Valderrama was 29.
Other lyrics also point to the actor. "I see you're quite the collector," reads one. A Twitter user recounted Valderrama's history of dating younger girls: "Wilmer Valderrama dated Mandy Moore when he was 20 and she was 15, Lindsay Lohan when she was 17 and he was 24."
29 shows a departure from the previously amicable relationship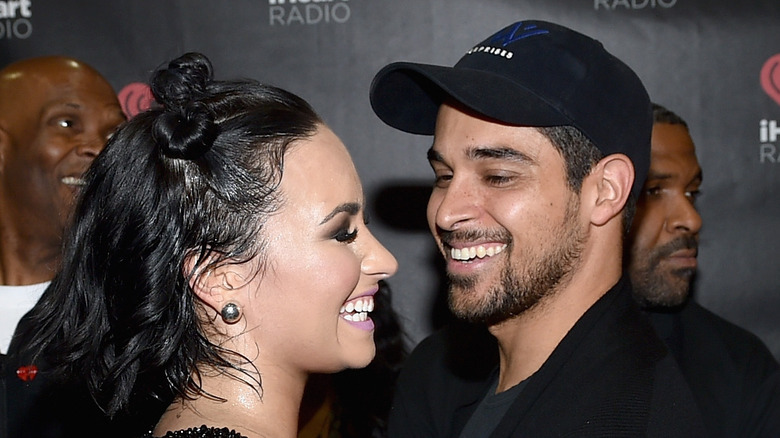 John Shearer/Getty Images
It's hard to dispute who the subject of Demi Lovato's "29" could be, but the public takedown of Wilmer Valderrama may seem unexpected for those who have been following their relationship. In "Simply Complicated," Lovato talked fondly of the actor, despite being a year removed from their break-up. "I've never loved anybody like I loved Wilmer," they reflected. "And, like, I still love Wilmer." According to Us Weekly, Valderrama even visited Lovato in the hospital following their 2018 overdose, which occurred two years after their split. 
The change of heart seems to have everything to do with Lovato growing older. In the song's lyrics (via Genius), they say, "Maybe now it doesn't matter / But I know f***ing better / Now I know f***ing better / 'Cause I'm / Finally twenty-nine." While Lovato has not publicly stated who the track is about, they did open up to Apple Music's Zane Lowe about their lightbulb moment. "When I turned 29 ... it put things into perspective," Lovato said (via Billboard). One lyric perfectly described Lovato's shock when looking back at the age-gap relationship: "Finally twenty-nine / Seventeen would never cross my mind." 
TikTok isn't the only platform living for Lovato's latest ballad. Fans took to Twitter to express their appreciation, with one writing, "Demi Lovato calling out Wilmer Valderrama for grooming teenagers? As they should tbh."