Robert Downey Jr. Once Dated One Of His Marvel Co-Stars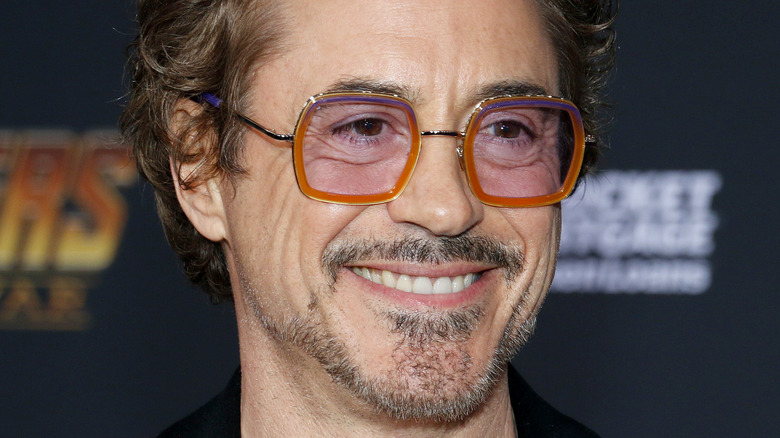 Tinseltown/Shutterstock
"Sherlock Holmes" star Robert Downey Jr. has had a long and storied career in acting, spanning from the '80s to today. But his life has been rife with drama, from drug and alcohol addiction, to stints behind bars and great loves. Among them was Downey's relationship with Sarah Jessica Parker. They dated for seven years — even owning a home together — but his demons tore the couple apart. "I liked to drink, and I had a drug problem, and that didn't jibe with Sarah Jessica because it is the furthest thing from what she is," Downey told Parade in 2008 (via People). "She provided me a home and understanding. She tried to help me."
Parker wasn't the last fellow thespian Downey fell for. Another was Oscar-winning actor and "My Cousin Vinny" legend Marisa Tomei. After starring together in 1992's "Chaplin," Tomei and Downey co-starred together once again. This time, it was for a rom-com set in Italy titled "Only You." The romp through Rome, Positano, and Venice follows Tomei's character Faith as she searches for the man she is destined to be with, going only by a name she saw on a Ouija board, per RogerEbert.com. Downey plays that man. And according to reports, for a time, he was saying "only you" about Tomei off-screen. 
Aunt May and Tony Stark had a brief romance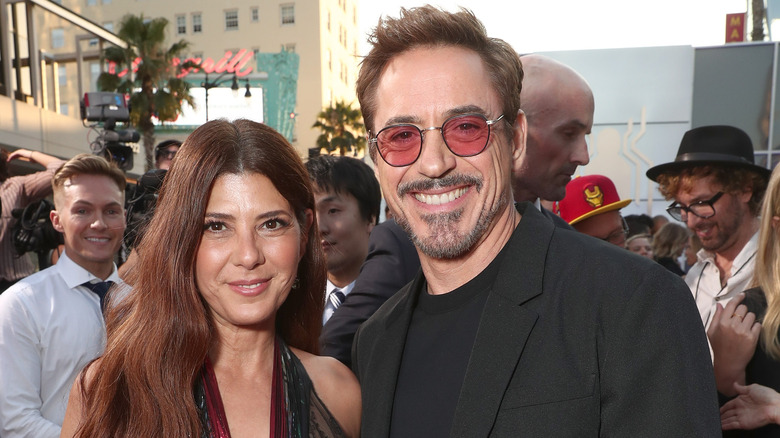 Todd Williamson/Getty Images
In "Only You," Marisa Tomei and Robert Downey Jr. have romantic scenes together — including midnight carriage rides, recreating scenes from Audrey Hepburn's "Roman Holiday," and lots and lots of necking. Their on-screen chemistry reportedly translated off-screen, and they ended up clandestinely dating, according to Us Weekly.
They reportedly dated for a year between 1993 and 1994, but not much is known about how their relationship ran its course or ended, as both have refrained from publicly commenting. However in 2015, during an appearance on "The Howard Stern Show," Downey said, "Any time I was in a relationship, I thought, 'You're going to bury me next to this woman. But it's not that simple, and God has other plans." RDJ was married to Deborah Falconer at the time of the alleged romance. They married in 1992 and divorced in 2004, per The Washington Independent.
Many years later, it seemed that Downey and Tomei were still on great terms as they co-starred in the Marvel Cinematic Universe's "Spider-Man: Homecoming" and "Captain America: Civil War."  RDJ was, of course, Iron Man Tony Stark, and Tomei played Peter Parker's Aunt May. According to her, Downey was responsible for her version of Aunt May. "I think Robert Downey had a lot to do with it," she told The Wrap in 2021.
Robert Downey Jr. and Marisa Tomei have happily moved on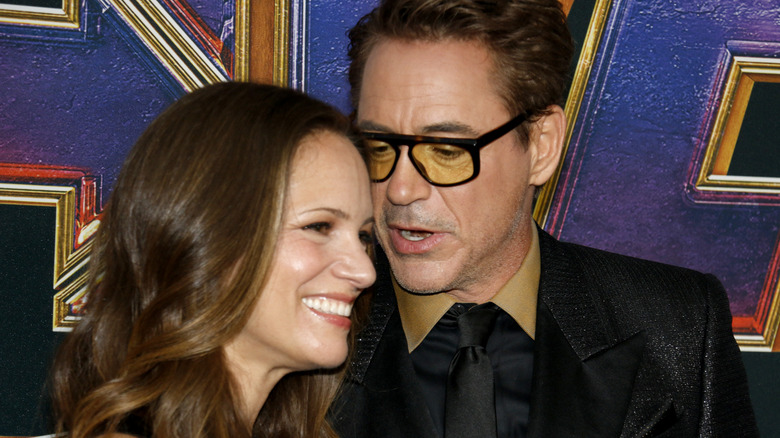 Tinseltown/Shutterstock
Over the years, both Robert Downey Jr. and Marisa Tomei have happily moved on with other people. Although, Tomei never chose to get married or have kids, instead focusing on her Oscar-winning career. "[It] wasn't something she ever truly pursued — even in her 20s," an insider close to the actor revealed to Closer Weekly in 2017. "Work has really been her life force." The "What Women Want" star told Manhattan Magazine in 2009 that she was "not that big a fan of marriage as an institution," via Glamour U.K. "I don't know why women need to have children to be seen as complete human beings."
Following his divorce from Deborah Falconer, Downey married his current wife Susan in 2005. Susan Downey also worked in film, and according to "Sherlock Holmes" director Guy Ritchie (who is a friend of the Downeys), their bond goes beyond anything he's ever witnessed before. "Maybe it's because they started their relationship working on a movie together, so it's natural to them, but the reason I call them perfectly symbiotic, it's that they each represent the other side of each other's coin," Ritchie told The Hollywood Reporter. "There's no clashing over the same space, although they're always looking in the same direction. It's a very rare thing they have."