Here's What Manti Te'o Is Doing Today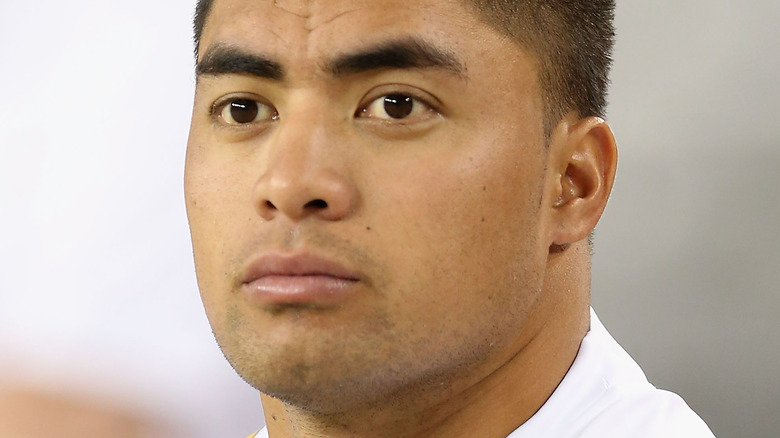 Christian Petersen/Getty Images
Fans of Manti Te'o are familiar with the shocking hoax that dominated headlines during the start of his football career, while others might have just been introduced to the shocking scandal thanks to the Netflix documentary "Untold: The Girlfriend Who Didn't Exist." The two-part series details the athlete's online relationship with a Stanford University student named Lennay Kekua, who was found to be a fake persona created by Ronaiah Tuiasosopo.
Tuiasosopo used the disguise to develop a relationship with the former Notre Dame linebacker, which lasted several years. In September 2012, Te'o received a call from Kekua's "brother" claiming she had died from leukemia. The elaborate hoax was later revealed to be a scheme after Deadspin revealed that Tuiasosopo was behind the catfishing profile.
Te'o immediately denied having any knowledge of the hoax, and has maintained that stance throughout the years. However, as renewed interest in the messy debacle grows, some may be wondering what Te'o is doing now.
Manti Te'o is married now
Despite the elaborate hoax facilitated by his former teammate Ronaiah Tuiasosopo, Manti Te'o was able to continue his football career. In 2013, he was drafted by the San Diego Chargers in the second round. "It's a perfect scenario. My parents can come and watch, I can go home, it's San Diego," Te'o said at the time. "We're all excited. I can't be any happier." Te'o later moved to New Orleans for a two-year deal with the Saints, but was riddled with injuries during his stint with the team. Te'o is now a free agent after his time as a member of the Chicago Bears' practice squad ended in January.
Personally, Te'o has moved on from his messy romantic past. In 2020, the athlete married his girlfriend, Jovi Nicole, after four years of dating. "Yesterday I got to marry my best friend and the love of my life in an intimate beach ceremony," she wrote on Instagram. "Although this was not how we envisioned our ceremony, it was perfect." The couple later welcomed their first child — a daughter named Hiro — nearly a year after their nuptials, and they now have a son on the way.
Manti Te'o went to therapy after the incident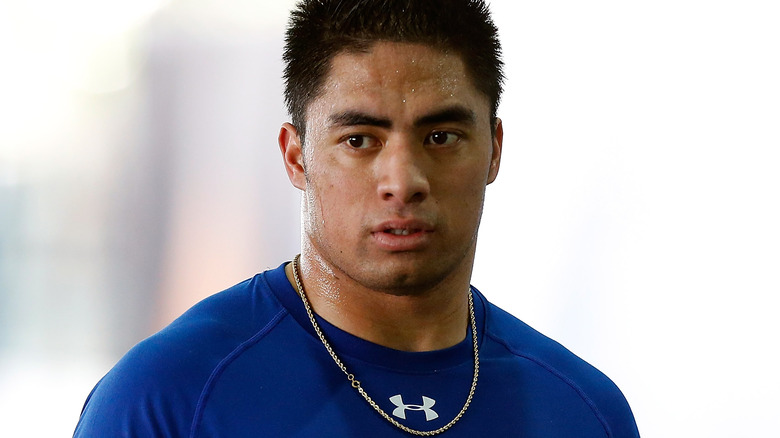 J. Meric/Getty Images
Manti Te'o revealed in "Untold: The Girlfriend Who Didn't Exist" that he needed to seek therapy after Ronaiah Tuiasosopo's elaborate catfishing scheme rocked his career. And it appears the athlete is still on a healing journey, as he recently told For The Win he's still in treatment. "I still see a therapist," Te'o told the publication. "I truly believe that mental health is one of the most important things and the reason is this: I'm always preaching about loving everyone, but in order to love anyone else you have to love yourself first."
Similarly, Tuiasosopo also sought help after the incident. Tuiasosopo — who now goes by Naya — revealed on "Dr. Phil" that he is "at peace" after the ordeal. "I had to face a lot of demons on my own and face a lot of truths," Tuiasosopo said in 2014. "Today, I'm so much more at peace. I know who I am. I'm so grateful and thankful."