How Austen Kroll's New Girlfriend Really Feels About Madison LeCroy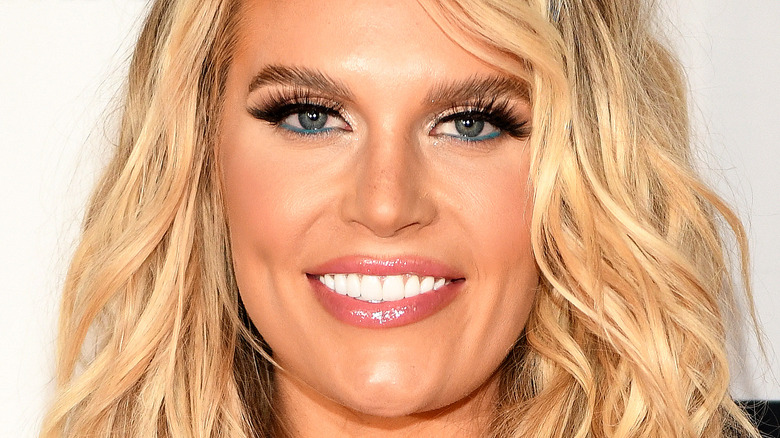 Derek White/Getty Images
Reality TV enthusiasts have found plenty to love in "Southern Charm," which follows a group of friends living in South Carolina as they navigate their personal and professional lives. As is the case with any Bravo show, "Southern Charm" has no shortage of drama – especially when it comes to cast members' love lives. But few relationships on the series are as contentious as the one between Austen Kroll and Madison. The exes, who first began dating in 2018, broke up and got back together a few times before finally pulling the plug for good in 2020, according to Us Weekly. From there, LeCroy and Kroll made headlines thanks to their alleged involvement with fellow reality stars Kristin Cavallari and Jay Cutler. LeCroy also sparked major controversy over rumors of an affair with Alex Rodriguez.
But things seem to have calmed down since then, with both parties moving on. As of October 2021, LeCroy got engaged to Brett Randle, telling People that she knew he was "The One" right away. "I was like, 'I'm marrying that man.' There's something about him that I've never felt before in my entire life," she said, reflecting on their first meeting. As for Kroll, he found love with reality star (and coincidentally, LeCroy look-a-like) Olivia Flowers. The duo's relationship has moved slower than LeCroy and Randle's, with Kroll teasing big reveals on "Southern Charm," per Us Weekly. So far on the show though, the big reveal is that Flowers has no love lost for LeCroy.
Madison LeCroy isn't Olivia Flowers' 'homegirl'
When Olivia Flowers referred to Madison LeCroy as "homegirl" in the Season 8 premiere of "Southern Charm," LeCroy didn't take it well. She clapped back with an Instagram photo captioned, "I'd rather be a homegirl than a homely girl." Undaunted, Flowers posted a photo to her Instagram stories the next day with the words, "Homely? More like homebody." In other words, Flowers doesn't take shade from anyone, especially LeCroy. But what Flowers really takes offense with is the fact that LeCroy still continues to text Kroll, engagement aside. During a "Watch What Happens Live" interview, Flowers revealed that "[Madison is] always trying to make her presence known in [Austen's] life," adding that this includes "late-night text messages." "The other night she sent him one. It was like, 'I don't want to fight anymore,'" Flowers said.
In the same interview, Kroll's girlfriend appeared upset with LeCroy's backstabbing ways (via ET). "I really had the intention of just at least being cordial [with her]," Flowers explained. "So, when I kept hearing some things that she was saying about me or people that I care about ... to have those friendly interactions and then to hear that she was just saying things behind my back ... I got pushed to the point of frustration." Fans got a glimpse of things coming to a head between the two women when Flowers flipped off LeCroy in a sneak peek for the Season 8 finale.
Olivia Flowers and Madison LeCroy have a messy relationship
During her "Watch What Happens Live" debut, Olivia Flowers maintained that she was not trying to be friends with Madison LeCroy, and it looks like the salon owner feels similarly! Clarifying her dig about Flowers being "homely," LeCroy told Us Weekly, "When I called her homely [it] could have been worse. I was thinking, like, homeless, because I don't even think she lives with her mom and dad." She added that Flowers will have to be the one to stop throwing shade and offer the olive branch. As for whether Flowers and Austen Kroll's relationship will stand the test of time, LeCroy isn't so sure. "They're both tall," she told the outlet. It's pretty far from a rousing endorsement!
Flowers is a newbie on "Southern Charm," so she was taken aback by all the barbs LeCroy threw her way early on, per Decider. But it looks like she's decided to take the high road and focus on the positives, such as her relationship with Kroll. "We're in a very good place," the "Charmer" told ET. "I wouldn't be involved with [Austen], how I have been, if I couldn't [see a future with him]." Flowers went on to say that she believes her boyfriend is misrepresented on the show, describing him as "sensitive" behind closed doors. She also believes Kroll is completely over LeCroy (via "Watch What Happens Live"), but fans will have to wait and see what drama plays out on that front.