The Truth About Madison LeCroy And Alex Rodriguez
Southern Charm's Madison LeCroy has been making headlines for a rumored affair with Jay Cutler, but there is now speculation that she had a fling with the one and only Alex Rodriguez. Buckle in and keep reading to learn the truth about Madison and A-Rod.
Madison and her Southern Charm castmate Craig Conover had it out during the Southern Charm Season 7 reunion episode in January 2021. On the reunion, Craig slammed Madison, calling her a "homewrecker" and claiming she cheated on her ex and fellow co-star Austen Kroll. Craig was angry at Madison for her alleged betrayal of Austen, saying she had affairs with married men and ex-MLB players (via Us Weekly). Craig's accusations didn't stop there; he called out a former baseball player's name, but a beep covered the name. 
Reality Tea reported on the Southern Charm drama, saying, "Andy Cohen remarked that the former MLB player they were talking about was 'very famous' and 'married.'"
What does that have to do with A-Rod? Stay with us, and try to wrap your head around this: Fans think Craig from Southern Charm is suggesting that the fiance of Jennifer Lopez had a fling with Madison, his co-star on the Bravo reality show. Keep scrolling to find out more about Craig's curious claim.
The internet digs into Madison LeCroy and A-Rod rumor
Did Madison LeCroy and Alex Rodriguez really have a fling? After the wild Southern Charm Season 7 reunion, the internet started digging for clues into Craig Conover's accusations about his co-star and a famous former MLB player. After Craig insisted she was having an affair with (BLEEP) in Miami during the reunion episode, Madison claimed she never flew to Miami to hook-up with a married former baseball star.
According to Reality Tea, one of their web sleuths, BravoandCocktails on Instagram, may have found a clue. Reality Tea reported, "In December 2020, Madison shared a photo in bed from the Refinery Hotel in NEW YORK. At that time, A-Rod shared a selfie in front of (what appeared to be) the Refinery Hotel. Yesterday, that Instagram post disappeared from his feed." A bit shady?
Instagram account Comments by Celebs may have found another clue in Madison's sister Kaci Davis' attempt to defend her sibling. Southern Charm's Craig Conover teased the dramatic reunion episode in an Instagram post. In the comments, ET reporter Brice Sander asked, "WHO IS the MLB player Craig?" Someone commented that the player was A-Rod, then Madison's sister Kaci replied, "ARod's not married!"
We believe the online clues aren't strong enough to cast doubts on J.Lo and A-Rod's love story. Why would Rodriguez even dream of stepping out on the goddess this is Jennifer Lopez? Stay tuned for more details in part two of Southern Charm's Reunion.
Why the Alex Rodriquez and Madison LeCroy rumor is probably false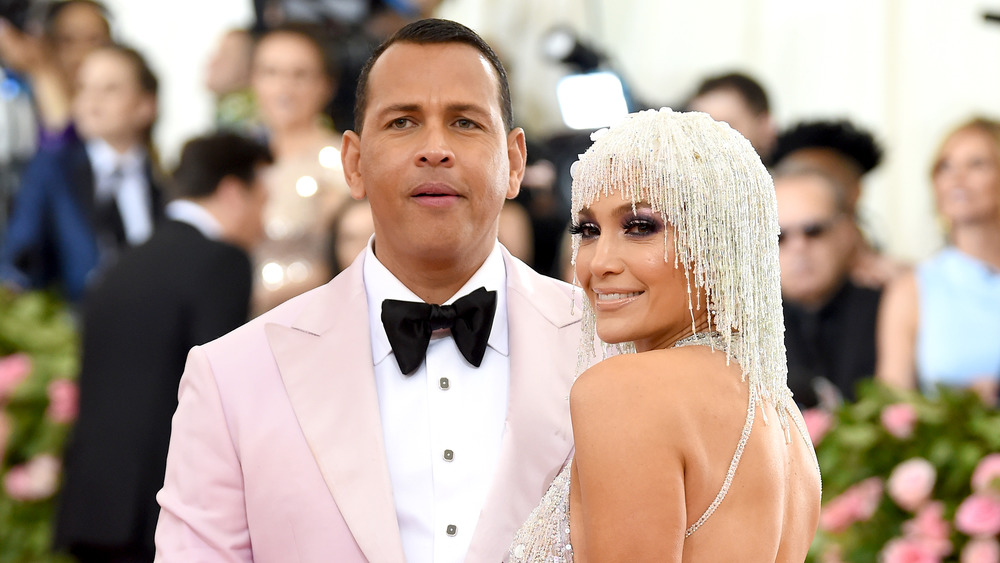 Dimitrios Kambouris/Getty Images for The Met Museum/Vogue
The rumor about Alex Rodriquez and Madison LeCroy rumor is probably false, at least based on a recent The Daily Mail report. The outlet reported in late January 2021 that A-Rod and his fiance Jennifer Lopez were having fun in Miami with his daughter Natasha and J.Lo's daughter Emme. The British outlet noted Lopez's "massive diamond ring" was flashing during the family outing. The family doesn't appear to be in crisis due to infidelity, does it? 
Just read some of the quotes from the celebrity couple and it's easy to see their strong bond. For instance, Rodriquez told Entertainment Tonight in 2017 (via Us Weekly), "Jennifer is one of the most brilliant business minds that I've ever met. She's the hardest working lady and, you know, I grew up with a single mother. I have two daughters. I am a big, big promoter of women equality."
From her public statements, Lopez makes it clear the couple and their kids are a true family unit. She gushed in December 2020 when she was honored at a 2020 Billboard Women in Music virtual event (via ET), "I want to thank my beautiful family for going on the road with me, for touring with me, for supporting me, for allowing me to be the artist that I am. Alex and our four beautiful kids, thank you so much. I love you. Everything I do is for you guys."