Inside J. Lo's Relationship With Alex Rodriguez Today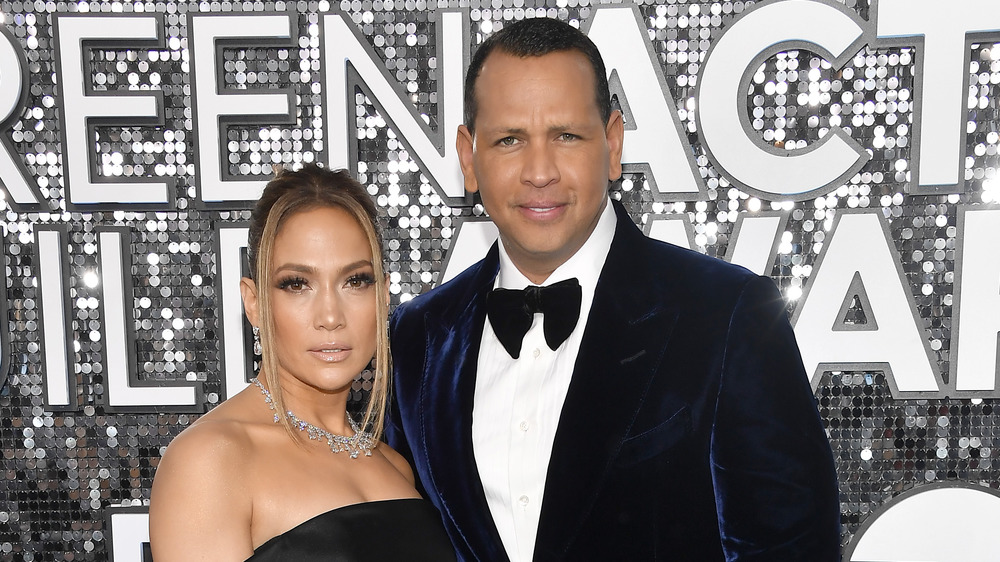 Frazer Harrison/Getty Images
Alex Rodriguez and Jennifer Lopez are one of the top celebrity couples right now, and their relationship inspires many people. The former MLB legend and the superstar entertainer have a love story for the ages. Rodriguez and Lopez met at a New York Yankees-Mets game in May 2005, but they didn't actually start dating until 2017. When the two celebrities began their relationship, both of them had reached the heights of their respective careers. They also both had tumultuous pasts.
J.Lo and A-Rod's achieved fame early in their lives, but the fame came at a cost to their romantic relationships. Rodriguez's marriage to Cynthia Scurtis lasted six years and they share two daughters, Natasha and Ella. The marriage of J.Lo and Marc Anthony ended in 2014 after a decade; the two singers share twins, Emme and Max (via PopSugar).
Everything J.Lo does makes headlines. From her big break portraying Selena Quintanilla to her music career to starring in American Idol, fans want to know about her. Millions are interested in Lopez's love life — from her marriage to high school sweetheart David Cruz to her "Bennifer" romance with Ben Affleck — inquiring minds want to know. Meanwhile, Rodriguez was a major league baseball legend, who landed his share of headlines. Rodriguez dated a wide number of famous ladies from Madonna to Cameron Diaz to Anne Wojcicki, founder of 23andMe, per NJ.com.
But once Rodriguez and Lopez started dating, they apparently knew their relationship was for keeps. Keep reading to find out more. 
J.Lo and A-Rod are in 'no rush' to walk down the aisle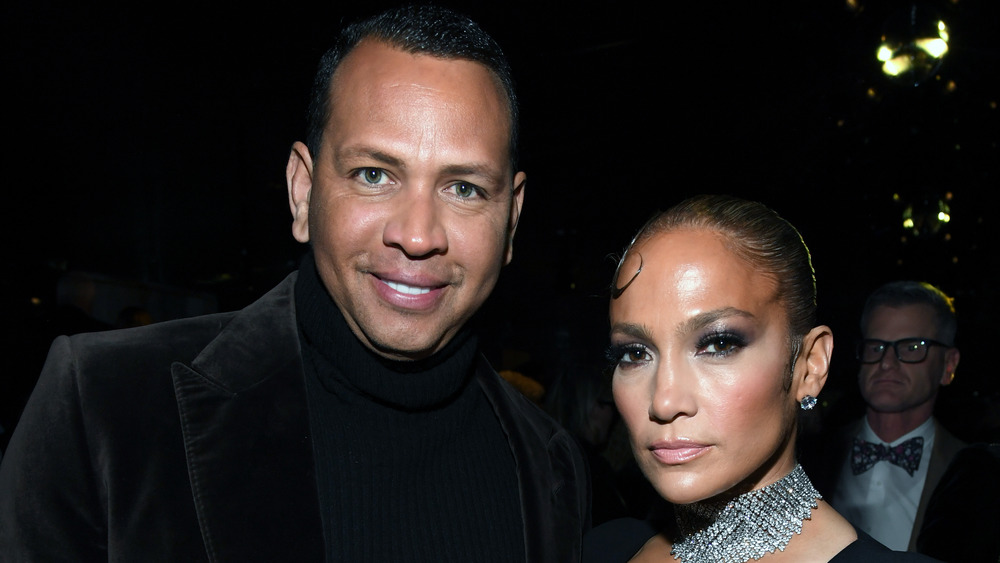 Kevin Mazur/Getty Images
It's true love. Alex Rodriguez kept an autograph Jennifer Lopez gave him for 20 years! In October 2018, A-Rod posted on Instagram, #TBT to almost 20 years ago when a big time global pop superstar signed a pic for a young ball player #lifecanbeafunnythingsometimes #pictureperfect #keepsake #jlo."
Vanity Fair wrote an eye-opening cover story about Rodriguez and Lopez in 2017, where the famous couple showed why they are so good together. J.Lo and A-Rod were world-famous in their 20s, faced ups and downs in their 30s, and were ready for love when they met again in 2017. A-Rod told VF, "We are very much twins. We're both Leos; we're both from New York; we're both Latino and about 20 other things." Lopez agreed with Rodriguez, "I understand him in a way that I don't think anyone else could, and he understands me in a way that no one else could ever." 
In a December 2020 interview with Andy Cohen on SiriusXM's Radio Andy, J.Lo confessed that she and Rodriguez considered not marrying at all after they had to cancel their wedding due to the COVID-19 pandemic (via Harper's Bazaar). but Lopez made it clear she and A-Rod are together for keeps, with or without a wedding. The Shades of Blue actress told Cohen, "And I think it's something that maybe is still important to us, but there's no rush, you know, there's no rush. It'll happen when it happens."
Family is everything to J.Lo and A-Rod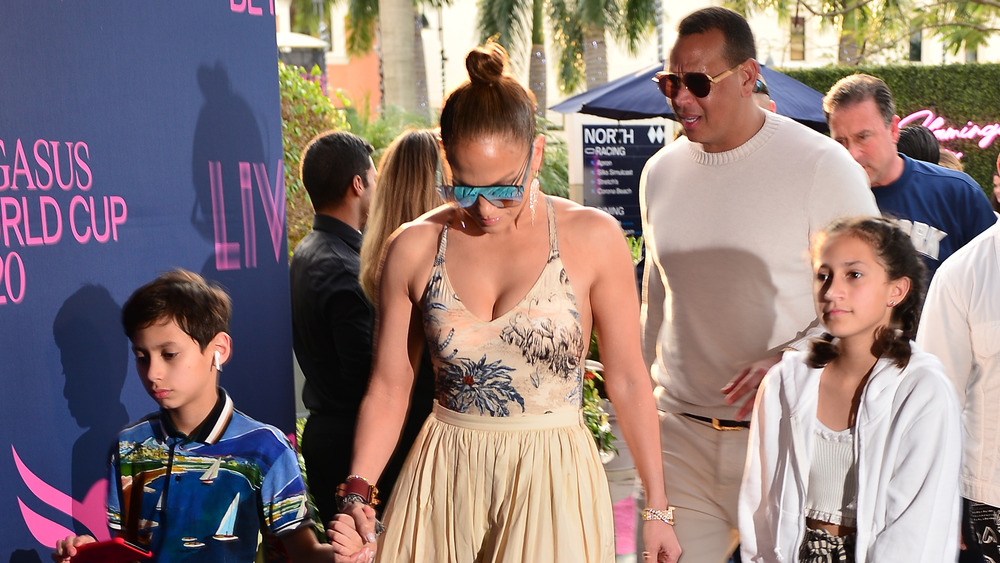 Johnny Louis/Getty Images
There might not be a wedding date set, but there's no doubt A-Rod and J. Lo are parents to a loving family of six. Alex Rodriguez proposed to Jennifer Lopez in March 2019. When A-Rod popped the question, the celebrity couple and their four children were already an adorable blended family (via PopSugar).
The pair has described their tight-knit situation in numerous interviews. Lopez talked about their blended family during an interview with Today, saying, "I was so loving to his kids and he was so loving and accepting of mine, and they embraced each other right away." According to Amy Morin, LCSW of VeryWellFamily, building a stepfamily isn't easy. Morin says, "Becoming a stepfamily doesn't always go as seamlessly as it appeared to on the Brady Bunch. Bringing two families together under one roof can be quite challenging."
Rodriguez sounds like a typical dad when he talks about their family. In November 2019, A-Rod joked about his role in the family on Today With Hoda & Jenna. People reported on his chat, and the conversation about their family life was adorable. "Before she gets home, I'm the boss," Rodriguez joked. "When I get home, I'm security, I'm Uber, I'm the teacher." But when J. Lo gets home, Rodriguez said, "It's over!" Since J.Lo is a queen, we aren't surprised she's the boss!
Good job to A-Rod and J.Lo for creating a great environment for their blended family to grow.