Inside The Relationship Between Manti Te'o And Naya Tuiasosopo Today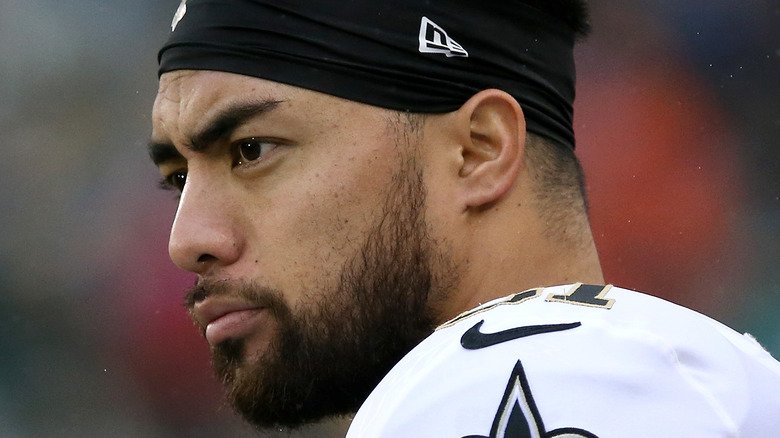 Dylan Buell/Getty Images
2012 was one hell of a year! Whitney Houston tragically died, the "Twilight" franchise ended, and Manti Te'o was madly in love — or so he thought. The following year, Te'o's world came crashing after realizing that he had fallen victim to a dating hoax.
Per ABC News, it all started in 2009 when Te'o received a friend request from a Facebook user with the name Lennay Kekua. The two soon hit things off, forming a friendship solely based on texting and phone calls. Though there was never any physical meeting, Te'o confirmed to Sports Illustrated that he officially started dating Kekua in 2011. The two would go on with their romance until September 2012 when Kekua died following a car accident and a leukemia diagnosis. With Kekua's death coming only hours after the death of his grandmother, the football player was met with an outpour of love and support from all over the country. Sadly, this love and support soon turned to bewilderment as fans (and Te'o himself) soon discovered the hard truth — Kekua did not exist.
A January 2013 exposé by Deadspin revealed that a person named Ronaiah Tuiasosopo was behind the Facebook page. Kukua was not a real person and very clearly, a young Te'o had been catfished. Tuiasosopo, who now goes by the name Naya, and Te'o are the subject of "Untold: The Girlfriend Who Didn't Exist" — a new Netflix documentary that takes a deeper dive into the infamous scandal and where the two parties stand today. 
Naya Tuiasosopo and Manti Te'o have no hard feelings toward each other
With the scandal having a lasting impact on both of them, a little resentment between Naya Tuiasosopo and Manti Te'o is expected. Yet, Maclain Way, one of the executive producers of "Untold: The Girlfriend Who Didn't Exist," insists the two parties have no hard feelings towards each other. "There's no bad blood between these people," he told the New York Post.
Te'o shared similar sentiments in an interview, recounting how difficult it was for him to come to terms with the reality of the hoax. "For the first three years, my life was extremely difficult, and I was desperate to find peace," he told USA Today. "The only thing that I could think of during that time was forgiveness, was to let it go."
But not only did embracing forgiveness bring Te'o much-needed peace, it opened him up to conversations about the experience. "I challenged myself at that time that if anybody asked about it ... I'll have those conversations, and I started to feel the strength that I would get from talking about it," he explained to CBS. Now, both Tuiasosopo and the NFL star have seemingly put the past behind them, only looking to the future.
Manti Te'o hopes to inspire people with his story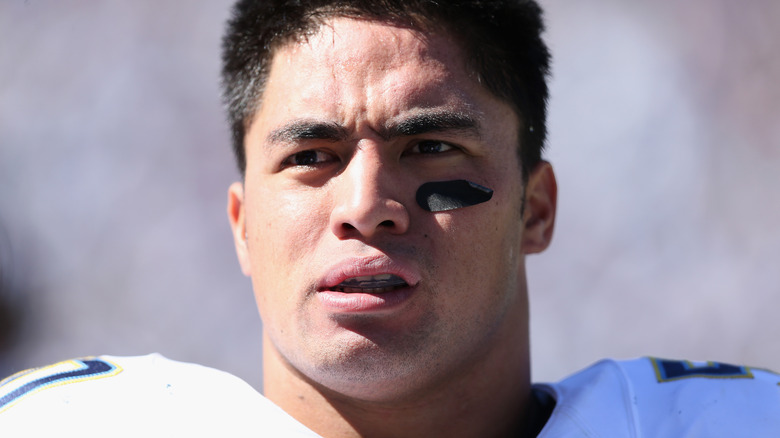 Jeff Gross/Getty Images
A silver lining in the midst of chaos; Manti Te'o is accepting all the hardship he has experienced with the hope of inspiring someone someday. "I'll take all this c**p, I'll take all the jokes, I'll take all the memes so I can be an inspiration to [the] one [fan] who needs me to be," he said (via Yahoo! Sport). Of course, Te'o is not only saying this, he is living it. In 2020, the NFL star married his longtime girlfriend Jovi Nicole Engbino in an intimate beach ceremony, per People. A year later, the couple welcomed a daughter, Hiro, according to Parade.
Naya Tuiasosopo, on the other hand, has made the most of the scandal and is now on a journey to living her truth as a transgender woman. In 2014, Tuiasosopo appeared on "Dr. Phil Show" where she admitted to learning to face her truth. "I had to face a lot of demons on my own and face a lot of truths," she said. "Today, I'm so much more at peace. I know who I am. I'm so grateful and thankful." In "Untold: The Girlfriend Who Didn't Exist," Tuiasosopo reiterated the very sentiment (via The Guardian), noting that she is who she is today "because of the lessons I learned through the life of Lennay."