What You Should Know About Rainey Qualley's Music Career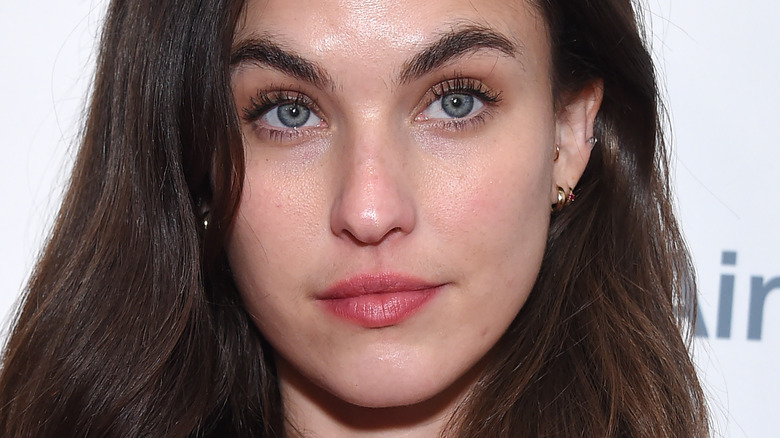 DFree/Shutterstock
Actor Andie MacDowell was a popular figure in the 80s, who starred in the coming-of-age film "St. Elmo's Fire" alongside members of Hollywood's "Brat Pack" like Demi Moore and Emilio Estevez. MacDowell also started a family with her first husband Paul Qualley. The couple had a son Justin and two daughters, Margaret Qualley and the younger Rainey Qualley, The Washington Post recapped. Margaret and Rainey navigated fame as best friends as they both followed in their mother's footsteps to become actors. For example, Margaret appeared in "Once Upon a Time in Hollywood." As for Rainey, she made her acting debut in the 2012 film "Mighty Fine" followed by roles in "Mad Men" and "Ocean's Eight," via IMDb. 
Later, Rainey became involved in a unique mini-series called "Love in the Time of Corona." The show was completely conceived and shot during the pandemic and starred Qualley alongside actor Tommy Dorfman. Producers selected Qualley to not only show off her acting skills but also showcase her singing voice in the final episode. Qualley wrote and performed the original song "6ft from Love" partly because beyond acting, Qualley is also a musician who goes by the artist name Rainsford, per Entertainment Weekly. This dual threat enjoys using both acting and creating music as creative outlets. "When I'm not doing one thing, I like to do the other, and that way I'm always occupied," Rainey explained to Music Musings & Such. This is everything you need to know about Qualley's music career.
How Rainey Qualley began writing songs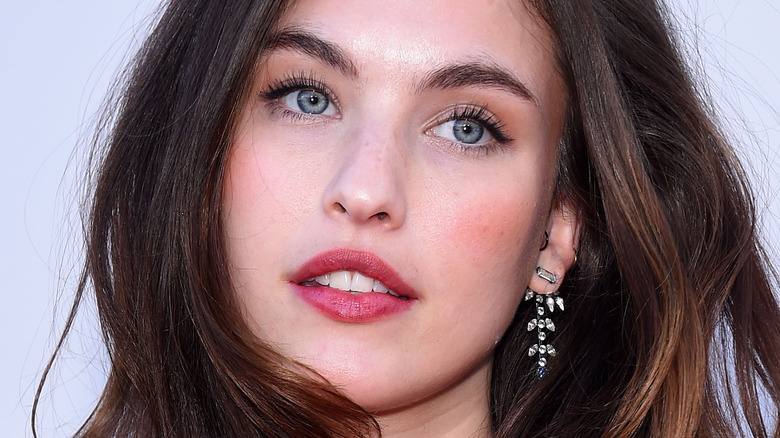 DFree/Shutterstock
Even though Rainey Qualley's parents were Hollywood regulars –- her mother, Andie MacDowell, is an actor and her father Paul Qualley is a former model -– her childhood was about as far away from entertainment as possible. "We didn't have TV or anything ... we were just used to being wilderness children," Rainey told Vanity Fair about growing up in Missoula, Montana. MacDowell and her children then relocated to North Carolina. 
By 2014, Rainey Qualley had already started making a name for herself in Hollywood beyond when she was named Miss Golden Globe in 2012. Yet, Rainey still had other aspirations in entertainment and began traveling to Nashville to work on music. Staying true to her bucolic youth, Rainey began her music career making "bluesy country" tunes. "I started writing songs in my head when I was a kid to put myself to sleep," she told Coup De Main. "The first song I ever demoed was a song I wrote in my late teens about being worried about my older brother," Rainey explained.
Rainey first started playing the piano as a kid. "And then there was my father who played the guitar and, singing with him, I soon realized that I have a beautiful voice. And then, since I liked it, I enrolled in the conservatory and started doing things seriously," she told French Fries. Rainey tapped into her favorite artists, including alternative pop acts like Kate Bush, to develop her sound.
Details of Rainey Qualley's musical evolution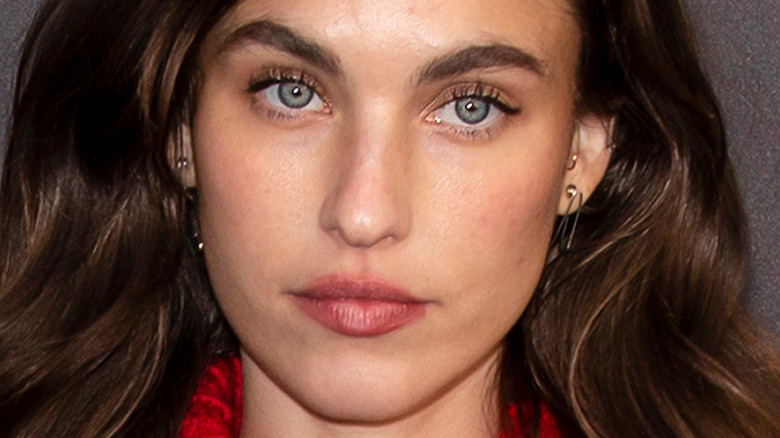 Ovidiu Hrubaru/Shutterstock
Rainey Qualley first became known as an actor but initially, she pursued a career in music. Early on, she believed when other people told her it was too difficult to succeed in both professions. "I was young and didn't know any better so I kind of put acting on the back burner, but then I was like, f*** that, I love both and I wanna do both, so I started pursuing acting more intensely again," Qualley explained to As If. "I've been able to pursue both simultaneously and it's nice to have a bit of separation from who I am as a musical artist and who I am as an actor," she added. 
It may appear to be a nickname, but Rainsford is actually her birth name, named after her great-great-grandmother. According to the actor and musician, "Having a separate name as an artist makes it feel more like a special project." Rainsford's first song was the 2016 track "Too Close" followed by her debut EP in 2018 called "Emotional Support Animal."
According to Qualley, her earliest work was filled with personal experiences. This often involved heartbreak from former relationships and Rainey referred to this as her "sad girl" era, per Spin. Instead, she wanted to pivot to more upbeat songs, which also reflected her happier personal life. An early song from this newer version of Qualley was called "Oh My God," which she told Euphoria was "fun, funny, and silly."