How Christine Quinn's Husband Really Got So Rich
Christine Quinn announced her engagement during Season 2 of "Selling Sunset." Quinn gushed about her tech millionaire boo, Christian Richard, explaining that her friend had set them up and they'd been inseparable ever since. Mary Fitzgerald had a different take on things, though. She claimed Richard was involved with another woman when he began seeing Quinn. (Cue the catfights and drama.)
Despite being retired, money was not an issue for Richard. He splashed out a fortune on a swanky, huge new mansion for the couple to share. It was a win-win for Quinn, as her fiancé was also her client, so ka-ching! According to Metro, she made bank, netting $150,000 in commission from the $5 million sale of the 5,917 square-foot home. Oprah Daily reported that Richard became Quinn's new husband during a "Gothic winter wonderland-themed ceremony" that went all out and then some. "She wanted theatrics," event planner Lisa Lafferty explained.
The wedding aired at the end of Season 3, and Quinn got her theatrics after recently divorced Chrishell Stause was overwhelmed by emotion and hot hoofed it from the nuptials. She later duked it out with Davina Potratz, but it wouldn't be a wedding without a good old fight. Unlike his wife, Richard likes to live a quiet, private life, although he did pop up on "Selling Sunset" because happy wife, happy life. However, there is an air of mystery surrounding his conspicuous wealth. So, how did Christine Quinn's husband get so rich?
Christine Quinn's husband is a tech whiz
Former "Selling Sunset" star Christine Quinn isn't renowned for keeping things to herself. Quinn even wrote a tell-all book sharing her innermost secrets and laying bare her time on the reality show. However, she was conspicuously vague about discussing her husband's past career and how he obtained his considerable wealth. "He went to MIT, and he's a software engineer and has worked for multiple companies, multiple development projects. And he's retired." Quinn said during a camera confessional (via Elle).
Christian Richard likes to keep his personal life personal. He wasn't a fan of being on-camera, and when he did film, he didn't even use his real last name, Dumontet. So, it's hardly surprising viewers know little about his past work ventures. According to The Boston Globe (via Newsweek), Richard began his career working for Cisco as a software engineer. He became a tech CEO after launching a food delivery service in 2005, which he sold two years later to GrubHub, who purchased the start-up in cash.
Per Forbes, Richard quickly embraced the cryptocurrency market when it first emerged and was big into Bitcoin. According to his HuffPost author bio, Richard's also a part-time writer. Money Inc estimates that Richard's net worth is in the region of $20 million. He might be ahead of his wife, but she's not doing too badly. Celebrity Net Worth reports that Quinn has amassed her own fortune of $3 million.
Christine Quinn and Christian Richard plan to conquer the real estate world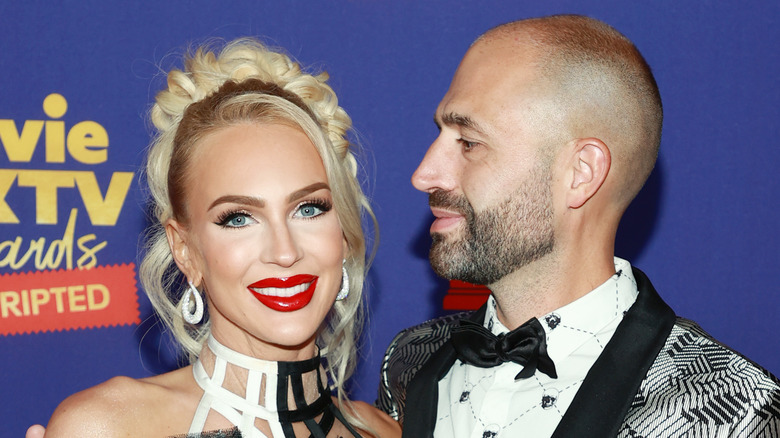 Matt Winkelmeyer/2021 Mtv Movie And Tv Awards/Getty Images
Everyone had suspected that Christine Quinn's "Selling Sunset" future was nearing its end for some time. After five seasons of backstabbing and feuding, Quinn was over it, so the realtor hung up her keys and walked out the door for good. E! News confirmed Quinn would not be returning for Season 6 and that her departure had been a "mutual decision." So, what's next for Quinn? We certainly can't imagine her lazing around the pool, reading Harold Robbins novels, and sipping cocktails all day.
Well, watch out, Oppenheim Group, because Quinn's vowed to take over the real estate market, and she's taking her tech whiz hubby along for the ride. Forbes reports that Quinn and Christian Dumontet (aka Christian Richard) plan to "disrupt the real estate market as we know it" with their new cryptocurrency property buying app, RealOpen. Not surprisingly, the couple is aiming high. "Our initial target demographic for RealOpen is crypto whales, commonly defined as somebody with $5 million or more in digital assets, who holds it without selling in hopes of future profits," Dumontet told Forbes.
Most married couples would have some reservations about working together, but most married couples aren't Quinn and Dumontet. "He's the opposite of me in every way because I love to put myself out there. I love to be fabulous," she told Bustle in May 2020. "He only cares about his work and traveling," Quinn shared.