Danielle Savre's Station 19 Role Has A Connection To Her Real-Life Sister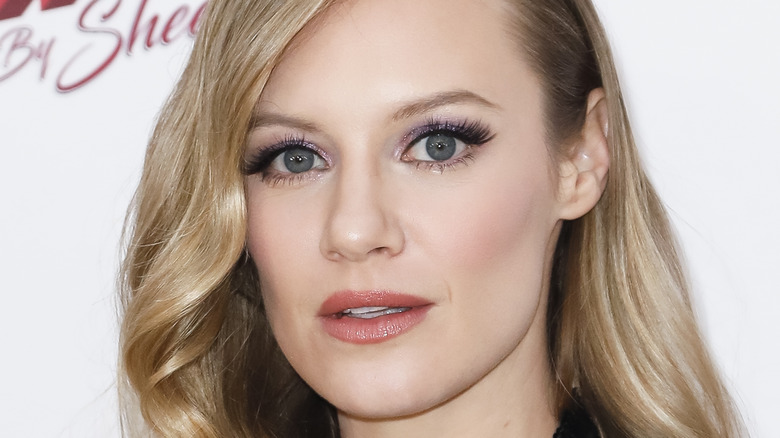 Tibrina Hobson/Getty Images
Danielle Savre may be known for fighting fires as Maya Bishop on the ABC hit series "Station 19," but she's actually been in the industry since she was a little girl. After signing a deal with Mattel to appear in commercials for the company, she quickly ventured into the television and film industry. Savre has starred in major projects like "Kaya," "Boogeyman 2," and "Hereos," to name a few, per IMDb. "I've been acting since I was seven years old and I love it," Savre told Naluda Magazine. "I've been blessed to work with amazing people on wonderful projects and made great friends along the way."
In 2018, not only did the actor land a role on the primetime series "Station 19," but Savre's character was also introduced as bisexual — allowing her to represent for the LGBTQ+ community in a pivotal way. "I am very passionate about breaking certain stereotypes surrounding LGBTQ characters and advocating ways to diversify the stories that are being told," Savre said during an interview with Retreat Magazine (via the Daily Mail). "I have a lot of friends that are part of the LGBTQ community and I have always taken pride in representing them in roles I have taken throughout the years." In addition, Savre's portrayal of Maya also represents her real-life sister in a major way. 
Danielle Savre's sister is a firefighter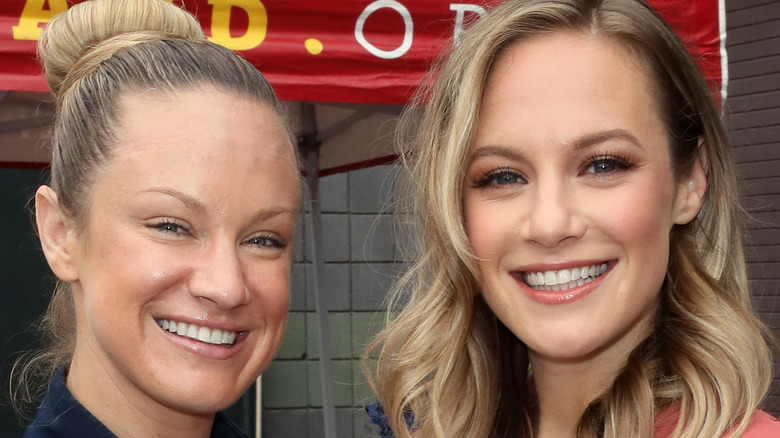 David Livingston/Getty Images
When Danielle Savre signed on to play the role of Seattle firefighter Maya Bishop on "Station 19," she knew exactly who to call to learn more about the heroic job — her sister Stephanie Savre. "I was calling her during filming to give me tips about how she did things," Danielle said, per the Daily News. "She is my idol and I hope this role makes her as proud of me as I am of her." According to Stephanie's LinkedIn, she has served as a firefighter for the Los Angeles City Fire Department since February 2016 and is also "the first female in LAFD history to apply for the position" at Fire Station 9, per her job description. 
Although Danielle was very excited to play such a prominent character — especially one that represents her sister Stephanie — she was well aware she had big shoes to fill. "When we met the firefighters and we were doing the training the first three days and our technical advisors, they're like, 'Are you Firefighter Savre's sister?'" Danielle told Parade. "I'm like, 'Yes.' So, unfortunately, I was held to a higher standard since they were like, 'You better represent, your sister's an actual one.'"
Not only did Danielle get to step into her sister's world as a firefighter, but Stephanie also got a taste of what it's like being on set. 
Stephanie Savre is Danielle's stunt double
During an exclusive interview with the Daily Mail, Stephanie Savre revealed she sometimes fills in as her sister Danielle Savre's stunt double on "Station 19." Stephanie, who is also a fan of the series, enjoys seeing her work come to life. "It's intriguing, it's great fun," she told the outlet. "They did a really good job in capturing the audience and having that drama aspect of the show as well as really respecting our profession and really portraying what we do." 
Even though Danielle and Stephanie have always shared a tight bond, the ladies admitted "Station 19" has taken their relationship to the next level. "It was actually a lot of fun and it definitely brought us, I feel like, a lot closer together," Stephanie said. "I think the show does a very good at portraying firefighting in general."
Aside from the show highlighting such a heroic job, Danielle opened up about the impact the series is having on females wanting to get into the profession. "It puts such a big smile on my face every time I get a message, or there's a comment that I read about someone saying that because of this show, they have applied to be a firefighter, or little girls that are like, 'When I grow up, I want to be a firefighter," she said during an interview with Parade. Danielle and Stephanie are truly living their dreams and have each other every step of the way.