What We Know About Danielle Savre's Love Life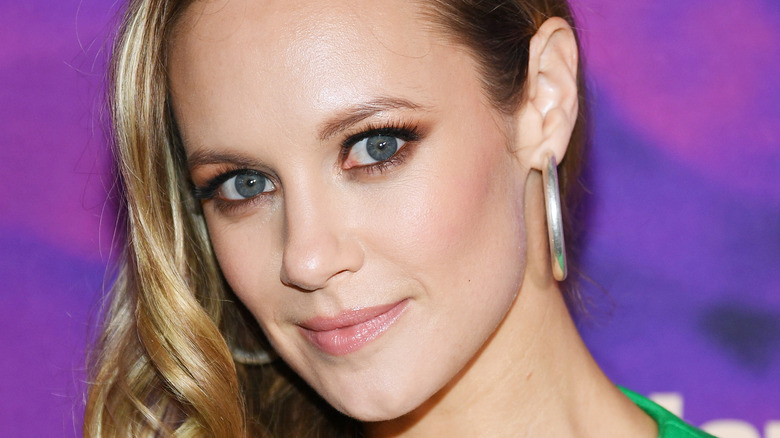 Dimitrios Kambouris/Getty Images
On "Station 19," Danielle Savre plays a former Olympian with a gold medal and a heart of gold. Her character, the dedicated and driven Maya Bishop, trades her running career for running into burning buildings when she joins the Seattle Fire Department, and it isn't long before her love life heats up.
Bishop's romantic journey has been full of twists and turns. Right after viewers learned that she was bisexual in a 2018 episode, she declared, "Monogamy is for the weak, or the very, very dedicated," per PopCulture. Bishop later found herself addled with guilt over a fling with her BFF's ex, but her love life dramatically improved when she met OB/GYN Carina DeLuca (Stefania Spampinato), the woman who would make her rethink her views on monogamy. LGBTQ+ fans immediately began rooting for the couple affectionately known as "Marina," following their love story as they got married and plotted their future as parents. "It means so much to play the character and to be somebody that's representing an LGBTQ character on network television for so many people around the world to see," Savre said on "Let's Stay Together." 
There's an unmistakable chemistry between Savre and Spampinato that has made some fans wonder whether the two women might be romantically involved in real life, but on "Valen y Sofi," Savre said that they are just great friends. She also revealed that she prefers to keep her personal life private, but she's spilled a few details about it.
Danielle Savre has fallen for a woman before
When StyleCaster quizzed Danielle Savre about her love life in 2018, she refused to define her sexuality. "I will say this: I believe we fall in love with who we fall in love with, and gender is not a factor. I think you fall in love with the person, not with the sex," she stated. Four years later, the Shondaland star appeared on "Valen y Sofi" and was asked if she's ever had romantic feelings for another woman, and she answered in the affirmative. 
Savre got emotional when she touched on the topic again in Milan during an "A Day With" convention. She revealed that she has been romantically involved with men and women and spoke out against those who have tried to make her and other members of the LGBTQ+ community feel ashamed of their sexuality. "I hope that by playing these characters you are seen and you feel represented on television," she told the audience.
While Savre is usually tight-lipped about who she's dating, in 2018, the Chicago Tribune reported that the actor was in a long-term relationship with Andrew Contis, who works for the Chicago Blackhawks hockey team as a video analyst. At the time, the couple had just purchased a house together in Chicago, even though Savre was shooting "Station 19" in Los Angeles. "I've only actually spent about three months in it, which is crazy, but it's home," she said.
Danielle Savre once had a marriage pact with a childhood friend
In 2021, Danielle Savre decided to become an egg donor so that her BFF Chris Ogden-Harkins and his husband, Jake Ogden-Harkins, could become fathers, per ABC 7. It was a case of art closely approximating life — the following year, Savre's "Station 19" character started searching for a sperm donor so that she and her wife could start a family.
On "Let's Stay Together," Savre revealed that she and Chris grew up on the same street and became almost inseparable when they first met at 4 years old. Even though she compared their bond to that of siblings, she stated, "We've just been with each other through so much, and our pact was, if neither of us is married by 40, we'll just marry each other." Their backup plan became obsolete when Chris met his husband, and he immediately asked Savre to help them expand their family. 
In a November 2021 Instagram post, Chris and Jacob introduced their followers to their daughter, Aspen Grey. Savre has been a regular fixture in Aspen's life, serenading her by singing along with a contestant on "The Voice" and making the tot smile by giving her smooches. "My whole world in one picture," Savre captioned a photo of Aspen, Chris, and her other close friend Macey. "Family isn't what society has made it out to be — you can do whatever you want," Savre told SheKnows. "I feel like family is not just blood anymore."