Inside Margaret Qualley's Relationship With Sister Rainey Qualley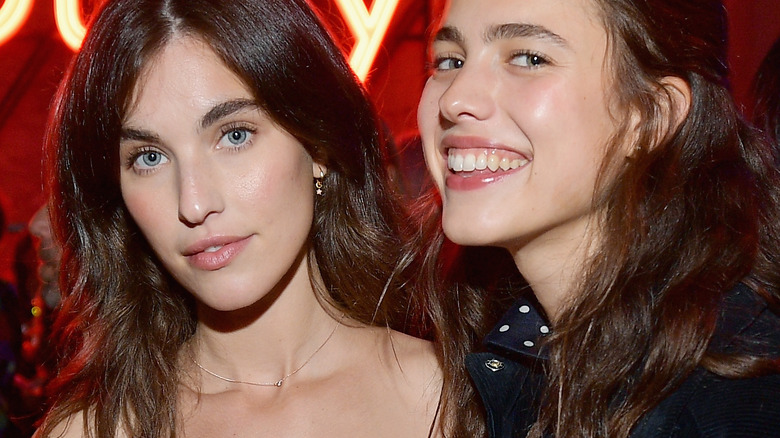 Matt Winkelmeyer/Getty Images
Actor Margaret Qualley and her sister, musician and actor Rainey Qualley, have a lot to be proud of– not only are they rising Hollywood stars, but they come from seriously legendary parents. Rainey and Margaret are the daughters of ex-model Paul Qualley and actor Andie MacDowell. MacDowell got her start in the entertainment industry during the '80s for her performances in films like "St. Elmo's Fire," "The Object of Beauty," and "Green Card." In an interview with The Zoe Report in September 2021, MacDowell admitted that she wasn't "part of the money machine" until the indie hit film "Sex, Lies, and Videotape," was released.
MacDowell has plenty to celebrate. She's a beloved actress that has taken on a range of roles in her career spanning over three decades and admits to living with "no regrets." "I'm thankful for all the jobs I've had, and I've gotten to do some great parts," she shared with People in July 2021.
Although she has won many awards throughout her career, she is "most proud" of being a longtime L'Oréal Paris ambassador. "It is what I'm most proud of, outside of my children," the famed actor shared. "It's the biggest part of my life, for sure. And I do feel a responsibility to be a positive reflection of women as they age. I hope that I'm doing that." Making a positive impact comes naturally to the star and her two daughters are living proof of that. Margaret and Rainey Qualley are close and have a bond like no other.
They're both in the entertainment business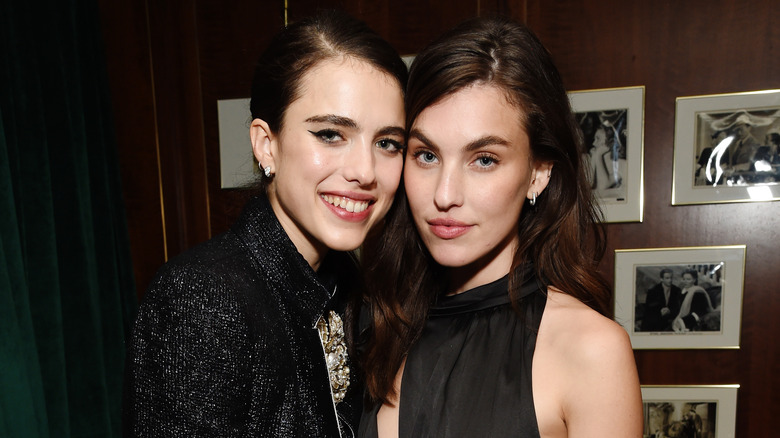 Michael Kovac/Getty Images
Breaking into the entertainment industry can be tricky, just ask Margaret and Rainey Qualley. Despite their mother being a beloved actor with an impressive career, the pair didn't have success handed to them. According to Daily Mail MacDowell tried to sway them out of having a career in entertainment. All things aside, the two were destined for stardom as over the years, the pair has had their fair share of opportunities. From red carpet appearances alongside their beloved mother to cameos here and there, the pair have a budding talent and have become stars in their own right.
Per IMDb, Margaret had a recurring role in "The Leftovers," "Fosse," and "Adam," to name a few. The brunette beauty even had the chance to be in a role opposite her mother, in the Netflix phenomenon, "Maid." In an interview with Collider in October 2021, Margaret revealed getting to work with her mother was a "dream," and was a "surreal" moment for her, although she "felt like the biggest cheat."
The "Nice Guys" actor isn't the only sibling that has a flourishing career. Rainey dabbled in acting with roles in "Mighty Fine," "Mad Men," and "Ocean's Eight," per IMDb, she leaned into creating music with the stage name of Rainsford. The pair merged their talents in support of each other as Margaret had a role in Rainey's single "Crying in the Mirror." Talk about a support system!
The sisters enjoy spending time together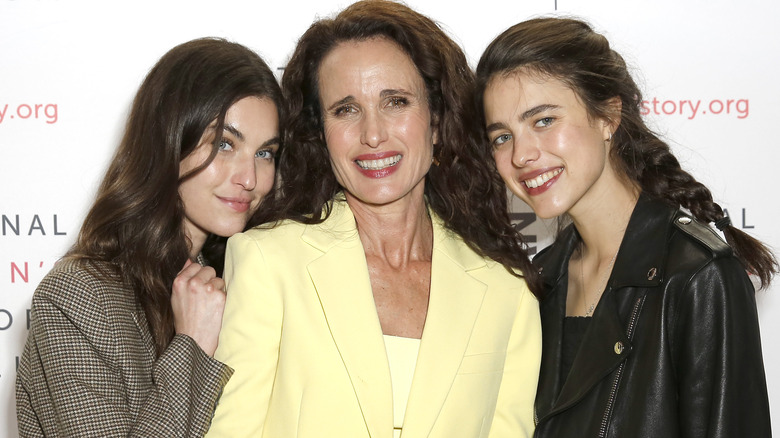 Rachel Murray/Getty Images
Margaret and Rainey Qualley are not only sisters, they are the best of friends. The adoring pair have nothing but love for each other.
According to PopSugar, Rainey views Margaret as "the most inspiring, beautiful, talented, [and] fiercely smart person." The admiration goes both ways as the pair feel like they are in good company when they are together. Margaret revealed to the Belfast Telegraph in June 2017, that she wanted to "be close" to her sister and they currently live together in Los Angeles.
 The actor continued, "She's my idol, my best friend in the whole world." In a separate interview with, Hunger TV in January, the songstress shared that she's a typical "girls girl." My sister is my best friend in the whole world, and I've always been a typical "girl's girl." I love my girlfriends, my sister, and my mum. Female energy and the female experience has just always been there for me."
A career in Hollywood can be overwhelming, but thankfully the two have found their balance. "We have a puppy together. His name is Books — he is adorable," Margaret said. "I think I would find being in Hollywood intense if I had more of a social life but all I do is stay indoors with my sister and play with our puppy, watch movies." While they currently don't have "bunnies and chickens," per Rainey's wish according to Autre, they have their beloved pup and most importantly, each other.