The Real Reason Jon Hamm Never Got Married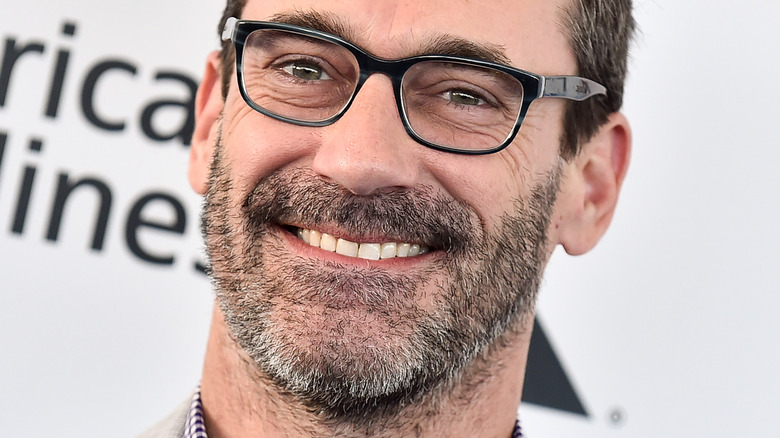 DFree/Shutterstock
Jon Hamm was always the right man to portray Don Draper in "Mad Men" — even if it took producers awhile to realize that. They wanted someone more famous and Hamm wasn't exactly that. Hamm isn't even sure how many times he had to audition to convince Matthew Weiner and Co. that he had a fair amount of Don Draper running through his veins, he told The Times in 2009.
Hamm had essentially grown up with one. "My dad was a businessman in the 1960s," Hamm said, explaining they hail from small(ish), conservative St. Louis, Missouri. "And my dad was originally a big fish in that small pond." His old man worked in trucking, so he dealt with some interesting characters. "He worked with the mafia and the teamsters [union]. It was not a shy business," he added. Though his childhood provided a wealth of material to build the perfect character for "Mad Men," Hamm isn't his dad. Nor is he the philandering Don.
Hamm is as monogamous as they come. For most of his life, Hamm was devoted to one partner. He met Jennifer Westfeldt at a party in 1997, around the time she was writing "Kissing Jessica Stein," in which he starred, according to the New York Post. Hamm and Westfeldt built a strong relationship that lasted nearly two decades until they went their separate ways in 2015, Entertainment Tonight reported. But in the 18 years they were together, Hamm and Westfeldt never tied the knot. Hamm had his reasons. 
Jon Hamm believes marriage serves specific purposes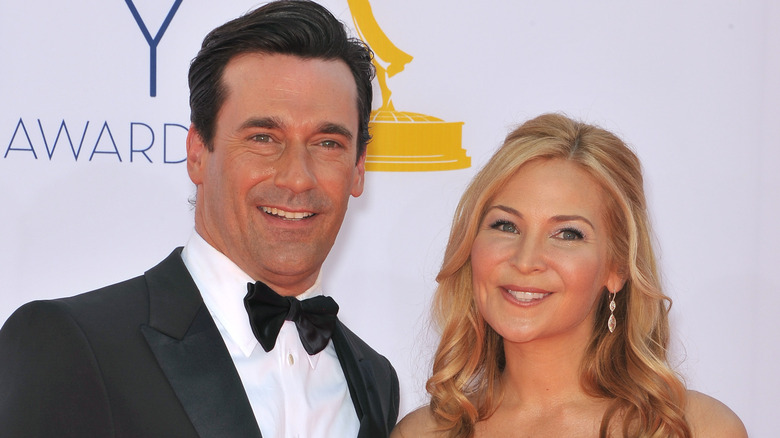 Featureflash Photo Agency/Shutterstock
Jon Hamm didn't need a document to validate his relationship with Jennifer Westfeldt. "We may not have a piece of paper that says we're husband and wife, but after 10 years, Jennifer is more than just a girlfriend," Hamm told the New York Post in 2008. "What we have is much deeper and we both know that." The way Hamm sees it, marriage serves valid social purposes that have nothing to do with love or partnership, but instead, with practical matters of life. "To me, people [should] get married when they're ready to have kids, which I'm not ruling out," he added. But that never happened and Hamm has remained childless — and unwed.
Besides his views on the bureaucracy of marriage, Hamm also didn't want to risk what he had with Westfeldt. "Jen is a wonderful observer of the human condition and we watched a lot of our friends go through what the people in the movie go through," he told The Sydney Morning Herald in 2012. If it ain't broke, right? Hollywood wasn't the only place he saw marriages fall apart nearly as fast as the whirlwind romances that normally preceded them.
His small-town upbringing had plenty of that, too. For starters, his own mother and father divorced when he was only 2 years old, The Guardian noted. Hamm knew signing some papers was no guarantee of an enduring relationship. "We've already been together four times longer than my parents were married," he told Parade. 
Jon Hamm is in another steady relationship now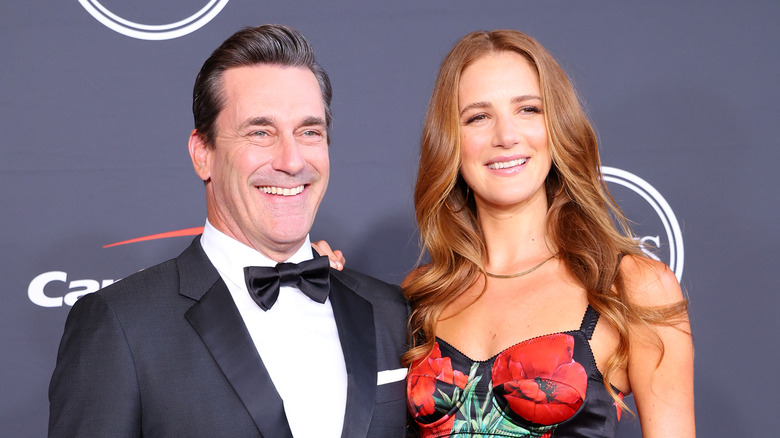 Leon Bennett/Getty Images
The bachelor life didn't suit Jon Hamm. "It's hard to be single after being together for a long time. It's really hard. It sucks," Hamm told InStyle in 2017. But that wasn't going to last much longer. That year, Hamm was spotted with Anna Osceola leaving a coffeeshop, though it wasn't until 2020 that similar sightings became more frequent, according to Extra. By then, the two actors were already an item, Us Weekly reported. Hamm and Osceola met in 2015, the same year he split from Jennifer Westfeldt, according to People. Osceola had a small role in the "Mad Men" finale, playing a receptionist at the spiritual retreat at which Don Draper found himself.
It is unclear whether they forged a friendship then or if they reconnected later, but their relationship really gained momentum throughout the COVID-19 pandemic, when they were consistently seen together. In May 2020, Hamm and Osceola played tennis in Los Angeles, the Daily Mail noted, just a few months after People reported the couple had enjoyed breakfast in the city. By September 2021, their relationship looked pretty solid as they went to Italy on vacation, according to Page Six.
While they opted to keep their romance private, Hamm and Osceola made their public debut in March by attending an Oscars afterparty together, according to People. They've attended other events after that (the one pictured above is from July), showing Hamm's days as a single man are indeed behind him once again.