The Head-Turning Rumors About January Jones' Baby's Father Explained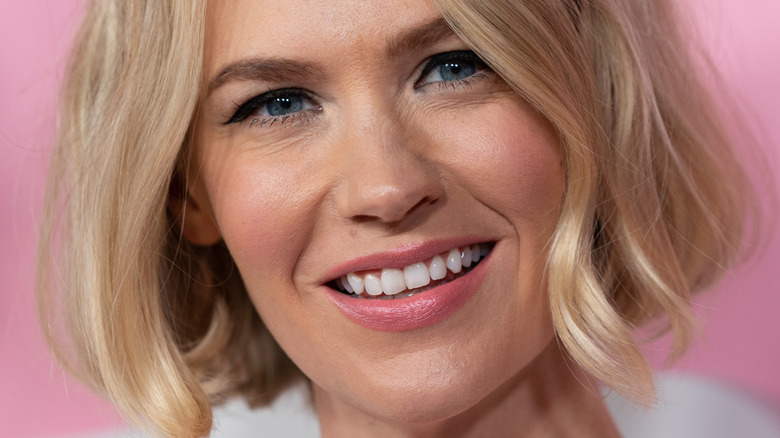 Ron Adar/Shutterstock
January Jones is one of the biggest stars in the film and television world, although some would say she never became the star Hollywood wanted her to be. But she also likes to keep things private, especially when it comes to her personal life. In an interview with Edit back in 2013, Jones explained she has decided to keep some matters close to the heart off-limits for public consumption. She said (via E! Online), "When I was starting out, other actors advised me to keep certain things close to the vest. When you become a public figure people want to know everything about you, and then [they] pick it apart — it becomes negative."
That said, there has been a lot of speculation surrounding the identity of her son Xavier's father. While Jones has managed to raise her child as a single mother, even though she told Redbook that single parenthood has been "scary," a lot of people still can't help but wonder who the father is. But, just like so many stars out there, she's kept her baby daddy one of Hollywood's best kept secrets. Thankfully, all of the head-turning rumors about her son's paternity have been explained.
The men in January Jones' life won't comment on the rumors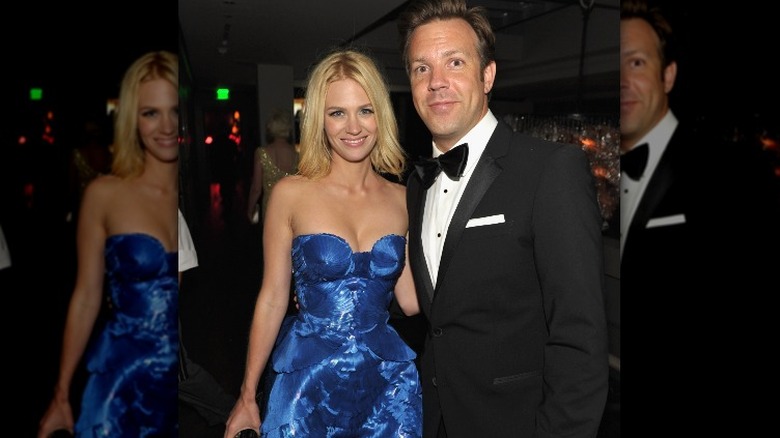 John Shearer/Getty
Right before January Jones gave birth to her son Xander in 2011, she and Jason Sudeikis pulled the plug on their relationship. There were some reports at the time that pointed to Sudeikis being the father of her child, seeing how the timing of their breakup and Jones' pregnancy seemed rather close for some people. In fact, a Washington Post reporter even flat-out asked Sudeikis about the rumors, to which he simply just replied, "I didn't have anything [else to say]."
And, while Sudeikis has never really technically denied or confirmed the baby daddy rumors, there was someone else that Jones dated who was rumored to be Xavier's father, too: Ashton Kutcher.  As many fans may recall, Kutcher was married to Demi Moore at the time, and there was even a blind item (via Fox News) that suggested he might have been an ex that Jones supposedly had a one night stand with. The blind item said, "She wound up pregnant. The actor's wife found out about the baby, and, to no one's surprise, went completely ballistic." That rumor too has never been confirmed but there were two more potential baby daddy names thrown in the mix, as well, and they are ones that totally came out of left field.
January Jones refuses to reveal her baby daddy's identity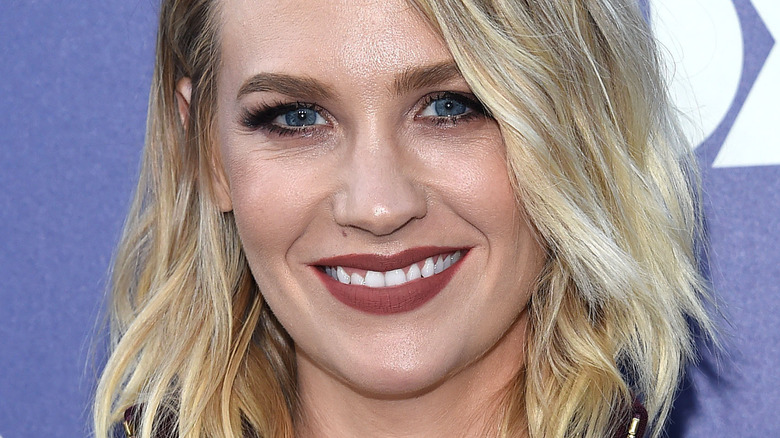 DFree/Shutterstock
According to E! Online, January Jones was supposedly getting up close and personal with "X Men: First Class" director Matthew Vaughan, who happened to be married to German supermodel Claudia Schiffer at the time. However, Vaughan was swift to deny the claims. The Daily Mail says that he told a friend at the time, "These rumors are categorically not true. Everything is fine with my marriage but these allegations are deeply hurtful."
If that weren't enough, The New York Times seemed to suggest in 2013 that actor Michael Fassbender might have been her son's father, too, which Jones flat-out denied by saying that it was her son's business and not "the public's business." Instead, she told the publication, "Jack Nicholson once told me: 'You should never give your personal life away, otherwise people will pick you apart. They'll never believe in your character.'" It sounds as though Jones has definitely taken that advice to heart, and for the better, too.