The One Person Both Ashton Kutcher And Jason Sudeikis Dated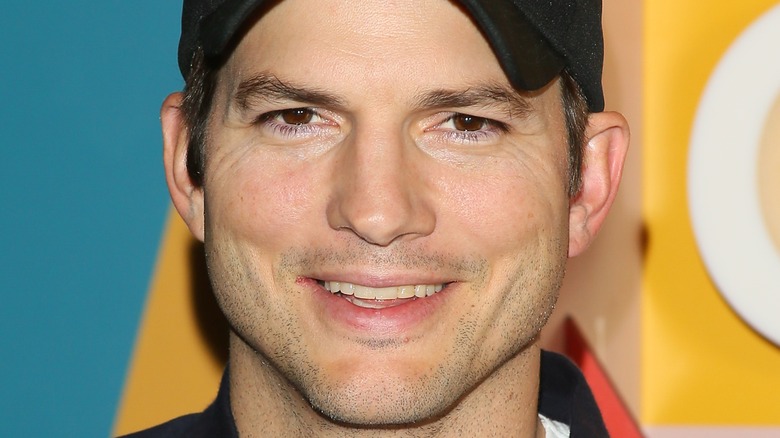 Jean Baptiste Lacroix/Getty Images
Ashton Kutcher is someone who has enjoyed a lot of success in the entertainment industry. While he might be best known for his role in "That '70s Show," Kutcher also starred in a string of hit films such as "Dude, Where's My Car?," "What Happens in Vegas," and "No Strings Attached" before he took over Charlie Sheen's star on the CBS sitcom "Two and a Half Men." Kutcher went on to portray a more serious role as Steve Jobs in the 2013 biopic, "Jobs."
Speaking to France24 that same year, Kutcher shared that because his more iconic roles helped pay the bills (along with some of his personal investments), he was free to make the movies he wanted to make. He said, "I don't have to act for work anymore; I can act for passion. That's freeing, but it's also a prison of its own. When you can do anything you want, you're really responsible to do something great. And that's scary."
Similarly, Hollywood actor Jason Sudeikis has also enjoyed a lot of attention over the years, and that's not just because he was married to Olivia Wilde. The "Saturday Night Live" alum got plenty of acclaim for his role as the titular character in "Ted Lasso." Sudeikis told GQ in 2021, "It's the closest thing I have to a tattoo. It's the most personal thing I've ever made." That said, their Hollywood careers are not the only thing that Kutcher and Sudeikis have in common.
Jason Sudeikis and Ashton Kutcher both dated January Jones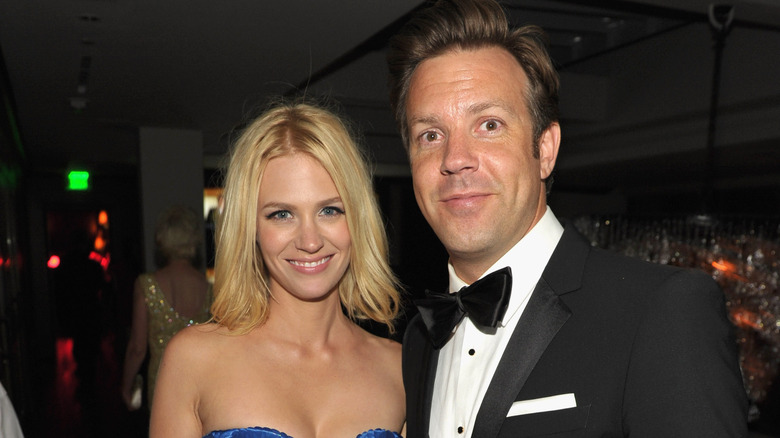 John Shearer/Getty Images
When they say that Hollywood is a small world, we definitely believe it. With the millions of people that live in the Los Angeles, it seems like the celebrities in the entertainment industry like to date within the same circle of people. Case in point: Ashton Kutcher and Jason Sudeikis both once dated "Mad Men" alum January Jones. Apparently, Jones and Sudeikis only dated for a few brief months before Sudeikis moved on with Olivia Wilde back in 2010. One source close to the situation told People at the time that their breakup wasn't of the dramatic kind. Instead, their careers simply got in the way. The tipster said that while there was a possibility of them getting back together at the time, it was also "hard to stay together with the distance." 
Kutcher dated Jones back in 2001, according to Page Six. But their relationship wasn't perhaps as low-key as Jones and Sudeikis' was, as Kutcher reportedly accused Jones of cheating on him with none other than Bruce Willis at the time. As fate would have it, Kutcher would end up marrying Willis' ex-wife Demi Moore in 2005, but separated six years later when Moore reportedly accused Kutcher of cheating on her. But Kutcher and Sudeikis' relationships with Jones weren't the last time they were both connected to the star.
Ashton Kutcher, Jason Sudeikis, and the mystery baby daddy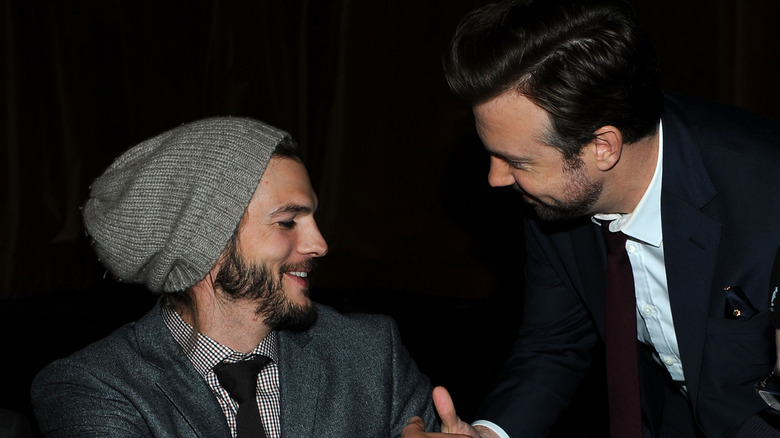 Larry Busacca/Getty Images
Ashton Kutcher and Jason Sudeikis have also crossed paths in their professional lives as they both starred in the 2008 film, "What Happens in Vegas." If that weren't enough, the two stars were involved in the speculation regarding the identity of the father of January Jones' son. In 2016, there was a blind item that suggested (per Fox News) a "married actor had a one-night stand with one of his exes, who is an actress in an acclaimed television show. She wound up pregnant. The actor's wife found out about the baby, and, to no one's surprise, went completely ballistic." 
While Jones' ex Kutcher has never made any comments about it, there was also some speculation that Sudeikis might have been the father, per TODAY, but that was never confirmed, either. A Washington Post reporter even asked Sudeikis about Jones' pregnancy in 2011 (because there weren't more pressing matters at the time), and the funnyman didn't open up much, offering, "I didn't have anything [else to say]."
To date, Jones has never confirmed who the father of her child is. Meanwhile, Kutcher and Sudeikis have gone on to become parents with Mila Kunis and Olivia Wilde, respectively.