Here's How Long Olivia Wilde And Jason Sudeikis' Relationship Lasted
Rich Fury/Getty Images
Once upon a time, Jason Sudeikis and Olivia Wilde maintained a low-key, yet enviable relationship — until they didn't.
The former couple split in 2020, much to the disappointment of fans who were rooting for them. That November, a source told People the breakup happened months prior to the news break, but they didn't make it public right away for the sake of their children. "The split happened at the beginning of the year. It's been amicable and they've transitioned into a great co-parenting routine," the source said. "The children are the priority and the heart of the family's relationship."
Even though Sudeikis and Wilde are no longer together, it's safe to say that they weren't a typical Hollywood couple. Unlike others who had been involved in whirlwind romances and broke up within months, the two actors had fallen madly in love, got engaged, and had kids before parting ways. In fact, their relationship almost reached this milestone.
Olivia Wilde and Jason Sudeikis were together for nearly a decade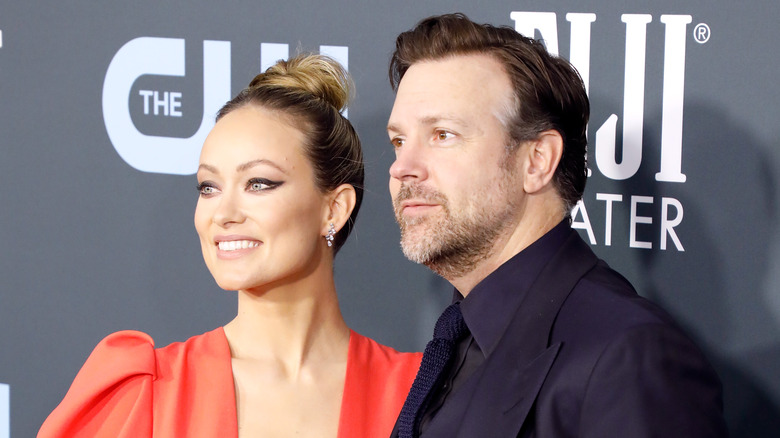 Taylor Hill/Getty Images
Olivia Wilde and Jason Sudeikis started dating in 2011 after meeting at a "Saturday Night Live" wrap party. "We hit it off that night," the "We're the Millers" actor told Stephen Colbert on "The Late Show" in 2017, per People. But Wilde had been dating someone else at the time, and Sudeikis said he was "very busy with other things."
In a 2013 interview with Allure, Wilde said she thought Sudeikis "was so charming" when they first met, but he "didn't even get my number." Luckily, the universe had other plans for them. "Over the next six months we kept running into each other," she recalled. "[One night], my best guy friend walked up to him and said, 'This is Olivia's number. Use it.' That was the beginning." The two started officially dating in November 2011, and come December 2012, Sudeikis got down on one knee and began what was to be a long engagement.
The two remained relatively low-key throughout their relationship and focused on the two children they share, Otis and Daisy. When asked why they were taking so long to tie the knot, Sudeikis simply quipped, "I believe we won't get married until weed is legal in every state," he told Andy Cohen on "Watch What Happens Live" in 2016. But as we all know, they eventually broke the engagement and officially called it quits at the end of 2020.
Olivia Wilde and Jason Sudeikis are involved in child custody drama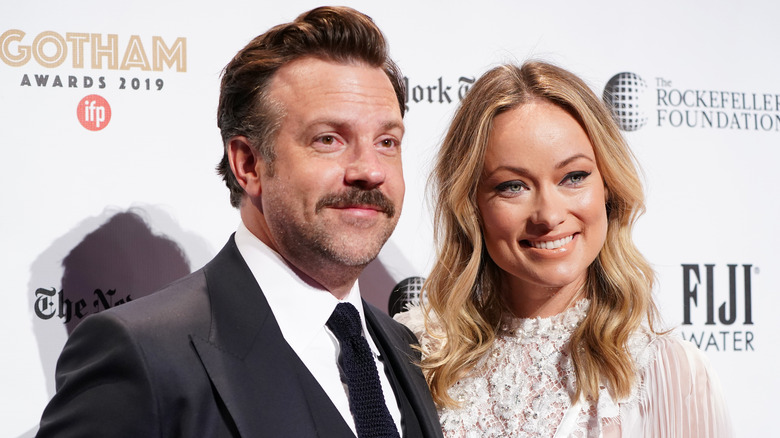 Jemal Countess/Getty Images
While it looks like Olivia Wilde and Jason Sudeikis parted ways amicably, they still found themselves in a bit of drama involving their kids. While on-stage in Las Vegas for a CinemaCon presentation on her film "Don't Worry Darling," Wilde was handed a "personal and confidential" envelope, which turned out to be custody papers from her ex.
Per Variety, Sudeikis' team insisted that the actor "had no prior knowledge of the time or place that the envelope would have been delivered," so the whole incident was allegedly out of his hands. Still, it didn't stop fans from ridiculing Sudeikis for supposedly embarrassing Wilde, and at a public event, no less.
The two have been notably mum about what happened in their relationship, but in a GQ profile in July 2021, Sudeikis said he'd learned a lot from the breakup. "That's an experience that you either learn from or make excuses about," he confessed. "You take some responsibility for it, hold yourself accountable for what you do, but then also endeavor to learn something beyond the obvious from it."