Here's What Keke Palmer Really Looks Like Without Makeup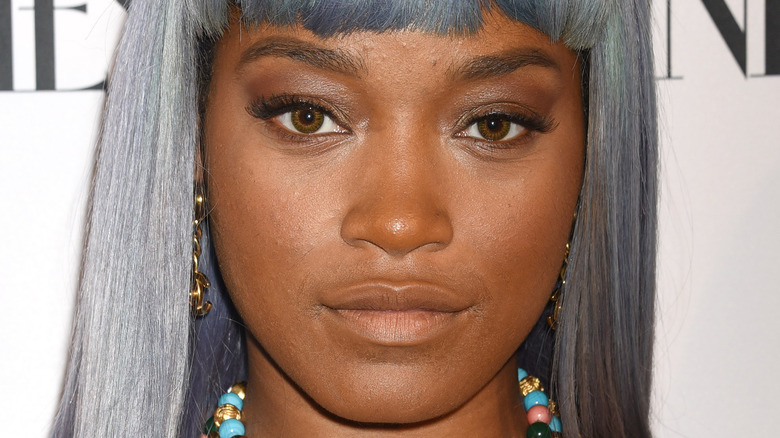 Ga Fullner/Shutterstock
If there's one thing we love about Keke Palmer, it's her ability to get real. Very real. The star has gotten very candid over the years about pretty much everything, including her experiences with depression and anxiety, plus everything that went into her becoming the super outwardly confident person she is today. "I've been who I am all my life, and one thing you realize as a person is [that] being yourself is going to be a style. Even when the trend itself flops and flows, you don't have to chase it," she profoundly told the audience who gathered to hear her speak during a "Brown Lecture Board Monday" event at Brown University in November 2021, per The Brown Daily Herald. "At the end of the day, I know who I am... that's enough for me. You have to know [that] being you and accepting you is the most important thing," she continued.
It's probably no surprise then to know that Palmer is no stranger to getting just as real when it comes to her appearance. The star has gotten very honest with fans over the years as she's made it very clear that things aren't always as perfect as they may appear on TV, in movies, or on social media (she has a whopping more than 11 million followers on Instagram alone, by the way!) which makes way for some very honest no makeup moments.
Keke Palmer got very honest about her acne
Keke Palmer got extremely candid about how her health issues have affected her skin on social media. Sharing a makeup-free Instagram selfie in December 2020, she opened up about her Polycystic ovary syndrome (PCOS) diagnosis and its effects — including difficult acne flareups. The star posed without a stitch of makeup as she seemingly lay in bed, alongside two more snaps that showed the blemishes on both sides of her face. In the caption, she made it clear that anyone diagnosed with the condition was by no means less than, adding in all caps, "MY ACNE AINT NEVER STOPPED ME. But we don't have accept this. Now I can really help KEKE! And I love her so it's ON." She then finished up her refreshingly honest upload with, "Pray for me on this journey and I will pray for you too. I'm not afraid to show myself to the world and you shouldn't be either."
But that's far from the only time Palmer has treated the world to a gorgeous cosmetics-free selfie on social media. Almost two years after her stirring PCOS post, Palmer shared another stunning snap to Instagram of herself au naturel as she sat in her car. The former "Scream Queens" star rocked bold, thick framed bright orange glasses and a bright green scrunchie (it was oh so 80s!) as she revealed in the caption she'd been doing some traveling and was seeing the sights of Budapest.
Keke Palmer's take on makeup
Keke Palmer — who's had quite a few different looks over the years — may be a fan of a sans makeup selfie, but don't think that doesn't mean she likes to get glam every now and then too. The star has proven she's quite the talented makeup artist and even revealed her secrets to a hot makeup look on her YouTube account, including when she revealed her makeup routine in a 2016 tutorial. Palmer kicked off the video without anything on her face — aside from that signature cheeky smile, of course — as she shared how she gets ready for things like the red carpet.
The star is quite the fan of the no makeup makeup look too, and has proudly stood by her signature style of looking like she didn't spend hours getting ready (even if she did!). She revealed in an Instagram video shared in 2017 that a friend had told her they weren't a fan of her more laid back cosmetics style, to which she hit back, "I'm not supposed to be looking polished that's the problem. Everybody's walking around trying to be polished 24/7, that s**t's fake as f**k." She added in the caption, "Acne, acne scarring, hyper-pigmentation, happens. Nothing to feel ashamed about and nothing to rush to fix to make OTHER PEOPLE comfortable. If they can't stand your skin that's their problem lol." You go girl!