Salma Hayek Reveals Her True Feelings About Angelina Jolie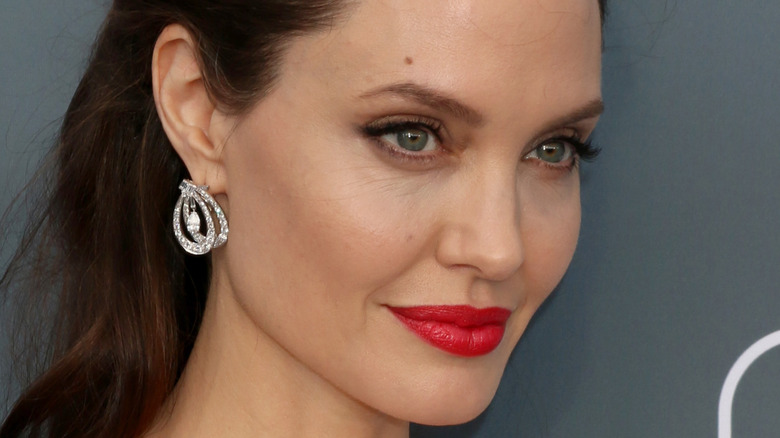 Kathy Hutchins/Shutterstock
There are a number of celebrities who don't like actor Angelina Jolie. One of those celebrities is comedian Chelsea Handler. "Yeah, I'm not a fan," Handler said in a 2010 interview with Glamour. "She just doesn't come off to me as a sincere woman. She seems like a woman that you'd really want to avoid." The comedian is friends with both Brad Pitt and Jennifer Aniston, and had some harsh words to say to the actor when she was going through a divorce from Pitt.
The comedian addressed the divorce on her Netflix show (via Refinery29), explaining that a part of the Brangelina split was allegedly due to Pitt's smoking and drinking habits. Handler didn't hold back from saying, "Oh, yeah, because he married a f***ing lunatic, that's why." Years later, the comedian apologized for her jabs at the actor.
"I'm upset that I was so upset with Angelina Jolie," Handler said on "Watch What Happens Live" in 2019. "I realized she's just trying to do her best. Obviously, I'm not going to hang out with her, but I get it now." She mentioned that she understands those who are saying that she's just trying to be a good mother and wife, and she wished her luck at the end of her statement. Despite the celebrities who aren't fans of Jolie, she has gotten praise from some — including Salma Hayek.
Salma Hayek praises Angelina Jolie's kindness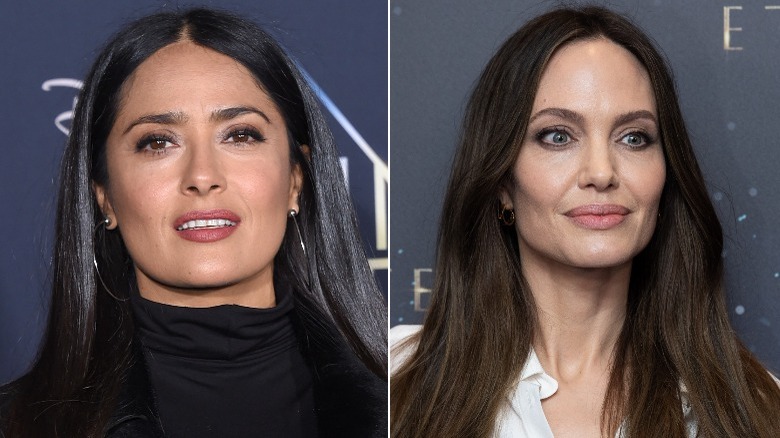 Jeff Spicer/Getty & DFree/Shutterstock
Jennifer Aniston is another celebrity who doesn't particularly like Angelina Jolie. Besides sharing the same ex-husband, the "Friends" actor told Vogue in 2008 that she didn't like the openness of the "Maleficent" actor's comments on how she and Brad Pitt met and fell for each other while Aniston was still married to him. She called the comments "inappropriate" and "uncool." But actor Salma Hayek said otherwise, and stated that she enjoyed working with Jolie.
"Angelina is the best director I've ever worked with," Hayek told Deadline on August 18 about working on "Without Blood" with Jolie. "She is a genius and I think this might be her best movie yet. She did an amazing job, really." Hayek praised her "Eternals" co-star's directing style, adding that she was amazed by the way Jolie treated people, as she was open and kind to everyone on set.
These comments from Hayek came amid a custody battle between Jolie and her ex-husband Brad Pitt and a recently resurfaced plane incident from 2016. According to Page Six, the FBI isn't looking to reopen the case, and sources reported that bringing the case up again was just to make jabs at Pitt to try to get the upper-hand in the custody battle. Perhaps Hayek's comments will give Jolie an even bigger boost.