Brad Pitt Has Theory About Angelina Jolie's Intentions As Court Docs Surface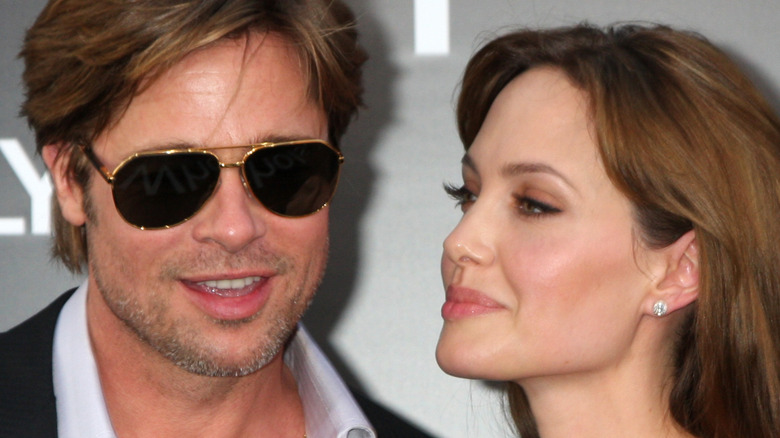 Kathy Hutchins/Shutterstock
Things have taken a pretty sour turn for Brad Pitt and Angelina Jolie. Of course, the twosome were pretty much Hollywood's golden couple when they first got together after meeting on the set of "Mr. & Mrs. Smith" — but things didn't exactly end well here. TMZ reported it was Jolie who filed for divorce in 2016, with a source claiming at the time that she suspected her husband may have had allegedly had issues with substance abuse and anger as her attorney, Robert Offer, confirmed she came to the conclusion to split with Pitt for what he described as "the health of the family."
More details about what supposedly happened have come to light since then, with things boiling over between Pitt and Jolie in August when their tension all came back rushing into the spotlight. As you may remember, Pitt was investigated by the Los Angeles Department of Child and Family Services in 2016 over an incident with his family after being accused of alleged child abuse, per TMZ. The investigation was later sealed, but had become public information earlier that month after someone, who Puck alleged to be Jolie, filed a Freedom of Information Act request for it.
But why would Jolie make something so personal so public? Well, Pitt has a theory on that one...
Brad Pitt thinks Angelina Jolie wants to 'inflict the most amount of pain' on him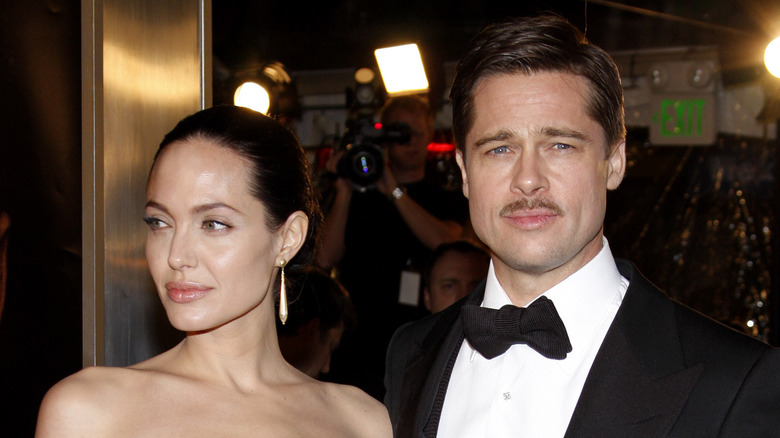 Tinseltown/Shutterstock
Brad Pitt reportedly has an idea about why Angelina Jolie would file a Freedom of Information Act request — to hurt him as much as possible. A source alleged to People that Jolie supposedly had access to the documents in question for years prior to the filing, asking, "What are the motivations of a person to take up court time and public resources in filing an anonymous FOIA request for material they have had for years? There's only one: to inflict the most amount of pain on her ex. There is no benefit to this. It is harmful to the children and the entire family for this to be made public." They also noted that the incident was investigated at the time and no charges were made.
Another source told a similar story to Radar Online, claiming, "At this point, it would be lovely to say Brad had made peace with the fact that the harassment from his ex will never end, but the truth is he lives in fear of what she is going to do next." They also said that Pitt is supposedly convinced any negative story about him in the press stems from his ex.
In the unsealed documents, which told Jolie's side of the story, she claimed Pitt allegedly shouted at her and their children while on a private jet in 2016, as well as purportedly grabbing and pushing her.