Brad Pitt Child Abuse Investigation Extended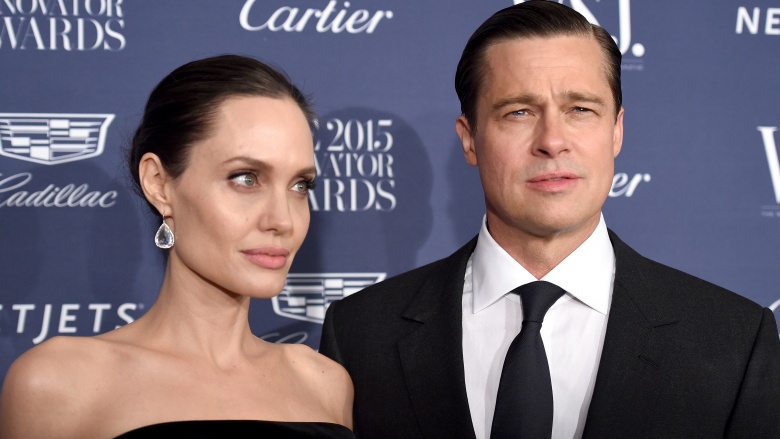 Getty Images
The Brangelina divorce drama continues, despite both parties reportedly wanting to keep everything civil and quiet for the sake of their kids.
TMZ reports that the Los Angeles County Department of Children's Services has expanded its child abuse investigation on Brad Pitt to extend to the entire family. Sources told the site that the initial investigation focused solely on Pitt's alleged in-flight altercation with wife Angelina Jolie and 15-year-old son Maddox.
As Nicki Swift previously reported, Pitt and Jolie began fighting on a private flight from France to Los Angeles on Sept. 14, 2016. A source said the couple's 15-year-old adopted son, Maddox, interfered to "verbally defend" Jolie, prompting Pitt to lunge at him. Jolie reportedly "jumped in between them to block [Pitt]" but "[Pitt] connected in some fashion with [Maddox]."
The alleged incident was later investigated by the FBI and the Los Angeles County Department of Children and Family Services. Jolie filed for divorce the following Monday, on Sept. 19, 2016.
DCFS is now reportedly investigating other incidents between Pitt, 52, and Jolie, 41, that may have been witnessed by one or more of their six children.
Sources close to Jolie claim that the kids may have been "fearful" around Pitt, and that Maddox has particular issues with the Fight Club star, which may be why he's been so reluctant to visit with his adopted dad since his parents split.
Us Weekly reports that because DCFS has an ongoing investigation, they've extended the temporary parenting plan that was set to expire on Oct. 20, 2016.
DCFS aren't the only agency investigating the family. Us Weekly reports that the FBI is delving deeply into the case. According to a source, the agents "wanted a breakdown of everything that happened from when the plane took off to when it landed. They're looking into charges of assault." Though Jolie is cooperating fully, sources say she doesn't want Pitt to be prosecuted—and neither party wants to take their divorce to trial, the insider noted. "Neither side wants this to go to court because everything the FBI and DCFS investigated will potentially be made available to the public, which would be bad for the entire family."
E! News reports that there have been reports about "unintentional contact" between Pitt and one of his children.
The FBI released a statement of its own to E! News: "In response to your inquiry regarding allegations within the special aircraft jurisdiction of the United States; specifically, an aircraft carrying Mr. Brad Pitt and his children, the FBI is continuing to gather facts and will evaluate whether an investigation at the federal level will be pursued."