Maddox Jolie-Pitt Never Wants To See Brad Pitt Again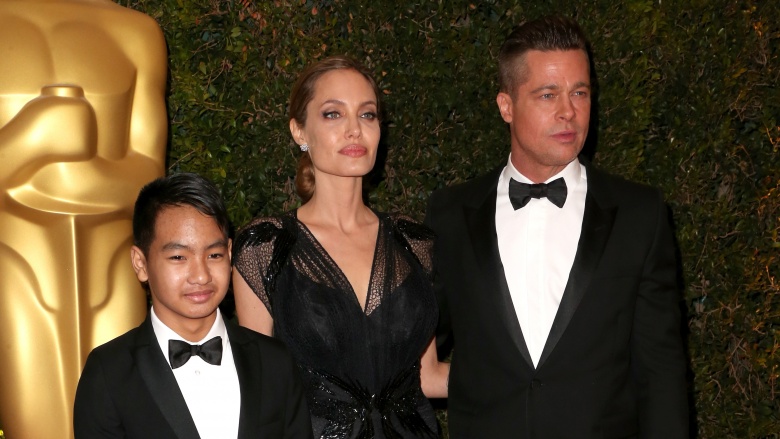 Getty Images
Brad Pitt's first visit with his six kids since Angelina Jolie filed for divorce didn't exactly go smoothly, sources for Us Weekly revealed on Oct. 19, 2016.
"It wasn't full of joy and happiness," a source told the magazine.
One of the biggest headaches allegedly involved son Maddox. Maddox, you'll remember, was reportedly at the center of the mid-flight scuffle between Pitt and Jolie that catalyzed Jolie to file for divorce.
"He chose not to go and stayed with Angie," a source revealed. As for why, one source claimed that Maddox "doesn't really see himself as Brad's son." Added another: "Maddox never wants to see Brad again."
As Nicki Swift previously reported, Pitt and Jolie began fighting on a private flight from France to Los Angeles on Sept. 14, 2016. A source said the couple's 15-year-old adopted son, Maddox, interfered to "verbally defend" Jolie, prompting Pitt to lunge at him. Jolie reportedly "jumped in between them to block [Pitt]" but "[Pitt] connected in some fashion with [Maddox]."
The alleged incident was later investigated by the FBI and the Los Angeles County Department of Children and Family Services.
Jolie filed for divorce on Sept. 19, listing the couple's date of separation as Sept. 15, or one day after the alleged incident on the plane. Initial reports alleged that the custody battle over their six children, three of whom are biological, could become a "flash point" in the divorce; however, in recent weeks, it was reported that Jolie and Pitt had reached a temporary custody agreement.
And from the sounds of it, things are off to an awkward start. According to Us Weekly, the reunion between Pitt and his six kids was monitored closely by a therapist. The children also went to therapy to prep for the visit, according to the report. "It was emotional for him," one source said of Pitt. Said another: "He wanted to make sure the meeting would be the most productive for the kids."