Brad Pitt, Angelina Jolie's Mid-Flight Argument Involved Son Maddox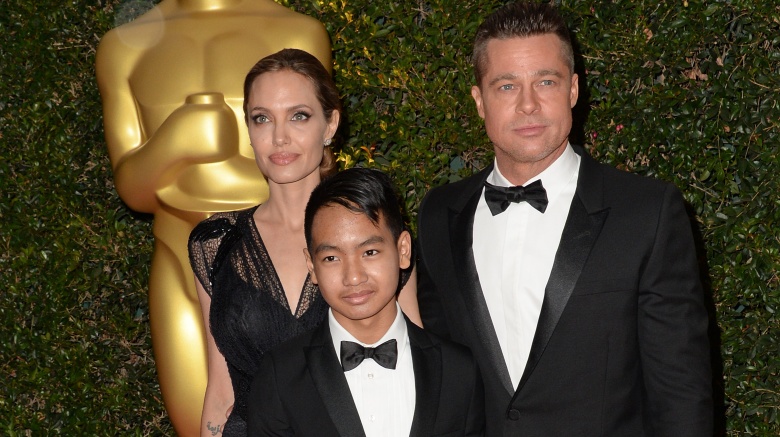 Getty Images
New details are emerging about the alleged mid-flight confrontation between Brad Pitt and his children that may have prompted Angelina Jolie to file for divorce.
According to TMZ, Pitt and Jolie began fighting on a private flight from France to Los Angeles on Sept. 14, 2016. A source said the couple's 15-year-old adopted son, Maddox, interfered to "verbally defend" Jolie, prompting Pitt to lunge at him. Jolie reportedly "jumped in between them to block [Pitt]" but "[Pitt] connected in some fashion with [Maddox]."
The rest of the rumored details remain murky. Among the things that are being sussed out: whether Pitt and Jolie were fighting or whether Maddox was acting up on the flight; whether Pitt's contact with Maddox was intentional or inadvertent; and whether Pitt had been drinking at the time of the incident.
A source for People said Pitt "was drunk" but that the in-flight argument has been blown out of proportion. "There was an argument between him and Angelina," the insider said. "There was a parent-child argument which was not handled in the right way and escalated more than it should have." The source said, "no one was physically harmed. [Pitt] did not hit his child in the face in any way. He did not do that; he is emphatic about that. He put his hands on him, yes, because the confrontation was spiraling out of control."
Any further allegations are "a combination of exaggerations and lies," a source told People. "They have taken the overall smallest kernel of truth—that a fight got out of hand and reached a regrettable peak, and that as a result [the Los Angeles County Department of Children and Family Services] is looking into it—and they are manipulating it to best suit their attempts to gain custody."
People said the department is investigating Pitt, 52, in connection with the infamous flight. There were reports that the L.A. Police Department was involved, but the LAPD has denied those claims. According to People, the FBI is handling the case because it happened mid-fight. "The FBI is continuing to gather facts and will evaluate whether an investigation at the federal level will be pursued," the bureau said in a statement. TMZ suggested someone present on the plane or on the tarmac anonymously reported the incident to authorities.
Jolie, 41, filed for divorce from Pitt on Sept. 19, 2016, and listed the couple's date of separation as Sept. 15, 2016, which is one day after the alleged fight on the plane. She is seeking full physical custody of the couple's six kids. Subsequent reports claim Pitt plans to fight for joint physical custody, setting up what could become a "fierce legal battle." Reports also allege Jolie has grown sick and tired of Pitt's alleged drinking, weed smoking, and anger problem, which she feels pose a danger to her kids.
Jolie and Pitt wed Aug. 23, 2014, at the family's estate in France, approximately 10 years after their relationship began.