Angelina Jolie And Brad Pitt Working To Settle Divorce Out Of Court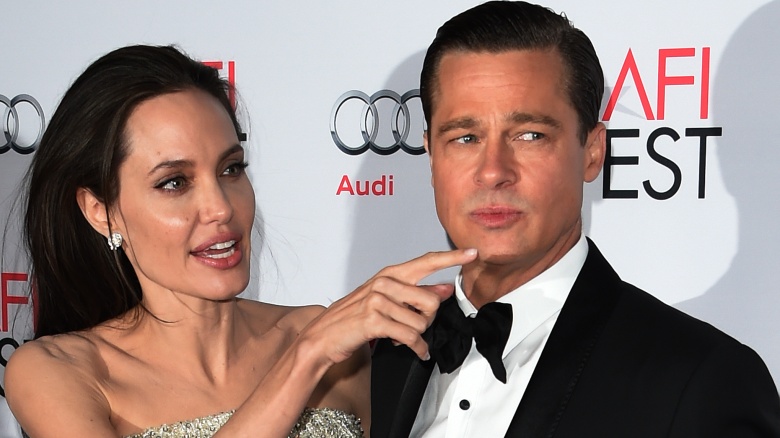 Getty Images
Brad Pitt and Angelina Jolie are burying the hatchet enough to come to a temporary custody agreement for their six children (Maddox, 15, Pax, 13, Zahara, 11, Shiloh, 10, and twins Vivienne and Knox, 8).
TMZ reports that Pitt and Jolie's agreement grants temporary physical custody to Jolie, 41, until Oct. 20, 2016, while Pitt, 52, will have visitation. The agreement, drafted by the L.A. County Dept. of Children and Family Services, stipulates that Pitt's first visit will be accompanied by a therapist, who will then determine whether future visits should be monitored.
Pitt and Jolie will each be required to go to individual counseling, and the entire family will undergo counseling together. Pitt will also undergo drug and alcohol testing. As Nicki Swift previously reported, Pitt is cooperating with investigators, and the actor's first drug test reportedly came back clean for both alcohol and drugs. Sources told TMZ that if the parties didn't agree to the DCFS recommendation, they'd have to go to court. After three weeks, DCFS can make a new agreement, continue the current agreement, or take the matters to court.
According to People, Judy Smith, who inspired Scandal's public relations wizard Olivia Pope, has signed on to help Jolie through the split. "Judy has been asked to consult with those working with Angelina on divorce negotiations," an insider said. "Judy and her firm have a long history of handling issues that have unfortunately garnered too much attention in the public eye, and she knows how to push towards resolutions that are swift and discreet." Insiders also told Page Six, "Smith has been a great help calming things down so the discussions between both sides can move forward."
Meanwhile, sources tell E! News that Pitt still hasn't seen the children since the split was announced after an in-flight incident involving an argument with Maddox and Jolie. "He really wants to see the kids and to work out an arrangement that is best for them," an insider said. "[He] wants to work things out privately and amicably."