Aubrey O'Day Fires Back At Photoshop Accusations With Eyebrow-Raising Post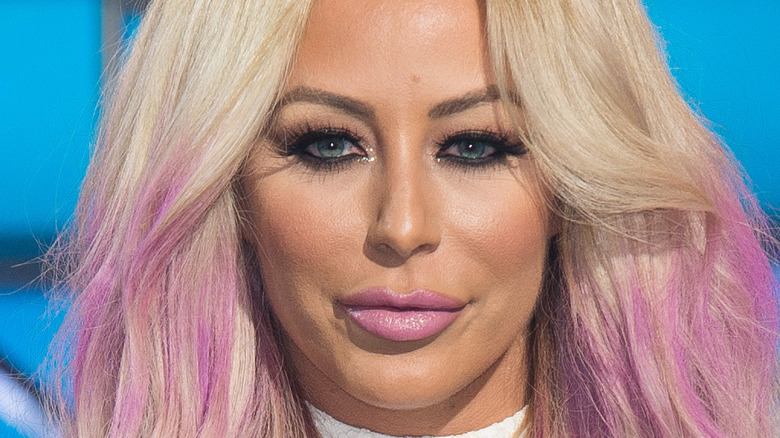 Jeff Spicer/Getty Images
Aubrey O'Day is a recording artist, but lately she's been making headlines for non-music related reasons. She was recently the subject of a viral video by the TikTok user @ResidualData. The creator, whose bio says she has "discussions on body image using empirical research & popular press," called O'Day out for what appeared to be photoshopped images on her Instagram feed.
In the deleted upload (via Radar Online), the Tiktoker drew attention to the fact that many of O'Day's exotic vacation photos seem to contain fake backgrounds. "So, here we have Aubrey O'Day, double-platinum recording artist and world traveler [as mentioned in her IG bio], who apparently went on this vacation around Bali ... by just Photoshopping herself into pictures," she said. "And it's truly, like, every single picture. I don't even know if she went to Indonesia, like, at all." She showed examples of O'Day reusing photos from other influencers or top Google search results. 
The images, which remain live on O'Day's Instagram account, have tagged locations like "Kaamala Resort" and "Raja Ampat Island," with the latter containing the hashtag "#bucketlistlife" in the caption. Now, O'Day is using her larger-than-life page to address the rumors.
Aubrey O'Day documented a recent trip to Heaven
Aubrey O'Day's isn't too worried about portraying reality on her Instagram feed. In the style of her iconic vacation photos, the singer photoshopped herself in front of an artistic portrayal of Heaven's gates. She paired it with a photo where she appeared to be hugging Jesus. "[T]ook the PJ to Heaven in the last 24.. wanted to share with y'all how beautiful it was," her sassy caption began. "[A]lso ran into Jesus and we hugged it out."
According to her recount of the trip, Jesus had quite the message for @ResidualData, and O'Day had some thoughts of her own. "I've been in this industry for over 20 years and have been traveling the world since I was 7. If I want my Instagram to be curated like a museum of ART then that's what the f*** is going to happen." She didn't seem to refute the photoshop claims as she explained that the weather doesn't always cooperate with photoshoots, and she often travels alone. "Respect my aesthetic, I work hard to give y'all beautiful content that feels the way places I travel vibrate."
While her post was widely received with praise, others felt she should have left religious imagery out of her internet beef. "Jesus did not approve this message," said one commenter. "Don't bring god into this smh," said another. Most, however, thought that O'Day shut down the speculation with perfect irony. "Haters will say it's photoshopped," quipped one fan.