What Savannah Guthrie's Husband Does For A Living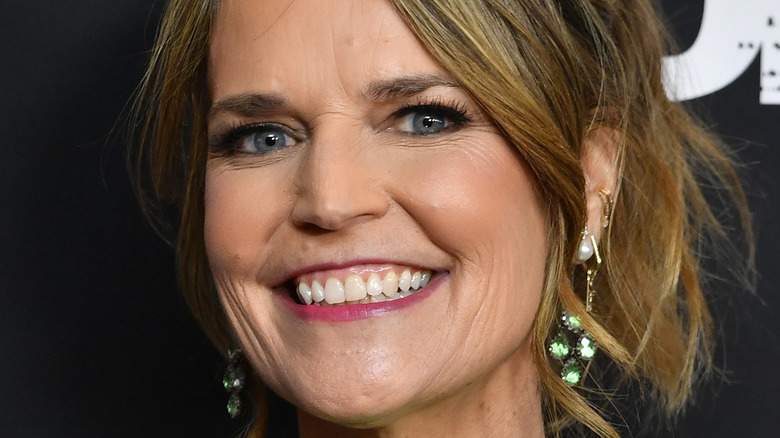 Roy Rochlin/Getty Images
Savannah Guthrie is an early bird, and she has little choice. NBC's flagship news franchise "Today" kicks off at the crack of dawn, and Guthrie — along with Hoda Kotb — are the star anchors. Guthrie wakes up at 3 a.m. on weekdays so she can arrive at 30 Rockefeller Plaza by 5:30. "I do my homework," she told Refinery29 of her morning routine, which she reviews in her office while being primped and preened by her glam team. She doesn't always make it on time — she is human, after all — but barring any blunders, Guthrie takes her place beside her co-anchor and greets viewers with a radiant smile at 7 a.m. sharp.
In case you've missed it, Guthrie and Kotb are reportedly in the middle of a feud. But it's a different story with her co-anchor in life, Michael Feldman, with whom she recently celebrated her 8th wedding anniversary. Fans welcome Guthrie into our homes every morning, but they may not know a ton about her husband or what he does for a living. And his career might surprise you.
Savannah Guthrie's husband worked for Johnny Depp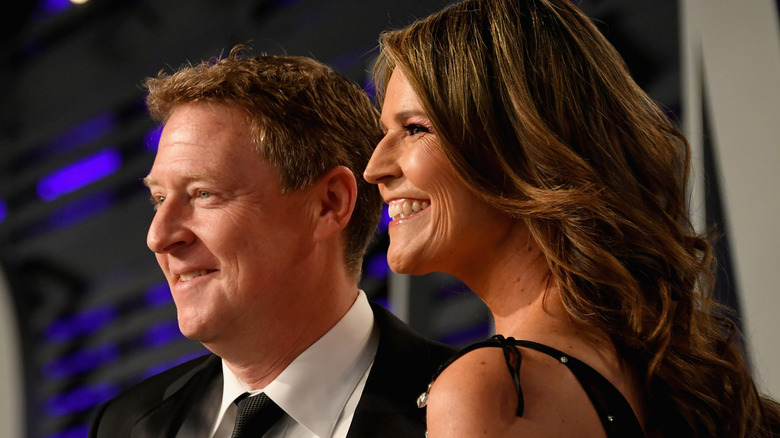 Mike Coppola/vf19/Getty Images
There's no doubt about it: The Johnny Depp-Amber Heard defamation trial kept us glued to our computers, tablets, and televisions. Following the verdict, Savannah Guthrie scored an exclusive interview with Depp's attorneys, Camille Vasquez and Benjamin Chew, but noted that she had a "quick disclosure" for viewers of the show. "My husband has done consulting work for the Depp legal team, but not in connection with this interview," she said. That's right, Michael Feldman is a public relations consultant and founding partner of The Glover Park Group, a major firm which — in addition to Depp — has counted filmmaker Michael Moore and former Secretary of State Hillary Clinton, per The Washington Post.
Feldman also worked as part of Bill Clinton's 1992 presidential campaign, according to Distractify. After Clinton made it to the White House, he worked as deputy director of legislative affairs for Vice President Al Gore before eventually landing a job as the former vice president's chief of staff.
She broke up with him on the day he proposed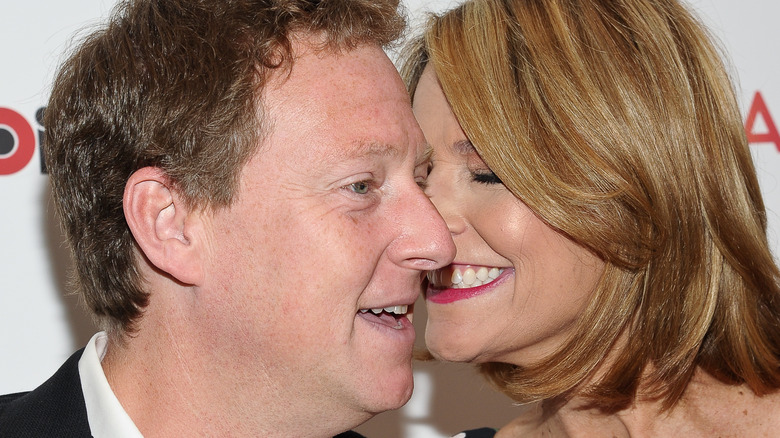 Rommel Demano/Getty Images
A year after Savannah Guthrie became a legal correspondent for NBC News, she met her future husband at a social gathering, where she quickly fell head-over-heels. "I met a man named Mike Feldman at a party, a political consultant who made me laugh. We fell in love," the reputed anchor wrote for Guideposts. In an interview with Drew + Jonathan Reveal, Guthrie recalled another surprising trait she admired about Feldman, and we're here for it. "When we first started dating, he came over and fixed my toilet, which I found to be very attractive," she told the outlet.
Feldman made Guthrie laugh —  and he knew his way around a plunger — but that didn't stop her from breaking up with him on the day he proposed. As she explained on "Today," per Hello!, the two were enjoying a getaway in Turks and Caicos after five years of dating, and they couldn't decide if they should get married or not. During the trip, Guthrie told Feldman that their relationship was over: "I love you so much, but if we can't decide, then I think we've decided." Little did she know, he planned on proposing all along; he did so over a bottle of champaign that night. "I thought about it for about 0.2 seconds," she recalled.
In 2014, the news anchor and the political consultant became husband and wife, as per Today. Later that year, the two welcomed a daughter, Vale Guthrie Feldman, and in 2016, their family grew again when they welcomed a son, Charles Max Feldman.